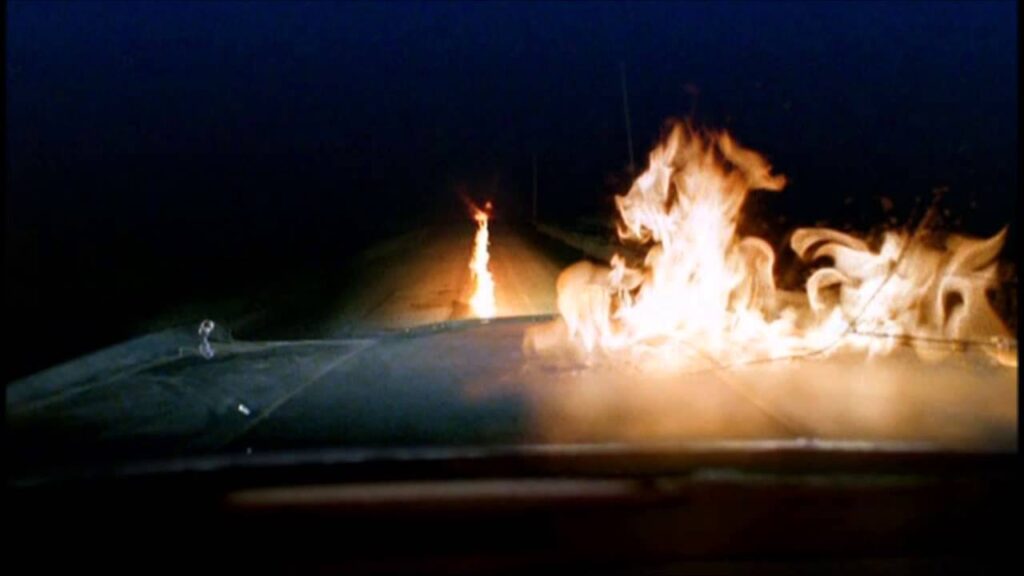 A shade over twenty years ago, a little indie band from Oxfordshire, England released their debut single. That single was "Creep," and it immediately put Radiohead on the map.
Having come out of the gate swinging, the band only grew in popularity and managed to stay ahead of the game thanks, in part, to a deep commitment to dramatically evolving their style along the way.
Thom Yorke and his merry band's penchant for experimentation hasn't solely been confined to music, either. Their accompanying music videos are also a strange mix—at times avant-garde, at others outright bizarre, but more often than not they've served as food for thought for both musicians and filmmakers alike.
With this in mind—and with the new album A Moon Shaped Pool has just landed with the film referencing music video for "Burn the Witch"—let's take a look back over Radiohead's five most thought-provoking music videos with a cinematographic eye.
Lotus Flower (2011)
Directed By: Garth Jennings
Black and white, sparsely shot, slightly unhinged, and not making a lick of sense. If that sounds like David Lynch to you, you're not the only one.
Going on to gain a Grammy nomination, the video was directed by Garth Jennings who notably directed 2005's Hitchhikers Guide to the Galaxy, which is pretty much the polar opposite in feel to the "Lotus Flower" short. Jennings has never revealed whether Yorke's white shirt and bowler hat is a nod to Stanley Kubrick.
No Surprises (1997)
Directed by: Grant Lee
Lo-fi simplicity is something of a hallmark of a good Radiohead video, as proven with this visually arresting, one-shot video for one of OK Computer's finest songs (and one that the band spontaneously played in one take on getting set up for the album's first recording session.)
While the song itself is inspired by the nursery rhyme, the music video is very reminiscent of Paul Thomas Anderson's cinematic style—simple ideas executed without distraction, preferring to put the subject at the forefront of the frame.
There's also a touch of David Fincher about it, owing to the moody palette and lighting, but the take-home here is that a captivating, suspenseful idea usually trumps any visual effects wizardry (and countless similar music videos have followed in the wake of "No Surprises").
We won't reveal how they minimized the risk of drowning poor ol' Thom; for that, you'll need to see the Radiohead documentary Meeting People is Easy.
Karma Police (1997)
Directed by: Jonathan Glazer
Following deftly on from "No Surprises" was the record's second single "Karma Police", which had an equally captivating video to match. Curiously, the idea was originally pitched to Marilyn Manson, who declined.
Directed by maestro Jonathan Glazer (who also directed "Street Spirit" and Jamiroquai's "Virtual Insanity," among feature films such as Under the Skin), the video is a typically surreal depiction of an antagonistic situation, and if it looks like it was inspired by some kind of fever dream, that's because it actually was. But in terms of presentation, the Coen Brothers is strong with this one but Glazer has also admitted borrowing liberally from Kubrick throughout his career.
Of the working process and of getting collaborators on board with bizarre ideas, Glazer says: "It starts with an idea that I'll be able to articulate, and then it's about almost putting that idea in a laboratory and inspecting it… and it's a long process. We don't start with a story, we start with a feeling, and [that feeling] is your North Star."
Alas, despite being one of most people's favorite Radiohead music videos, Glazer himself saw it as a failed experiment.
Just (1995)
Directed by: Jamie Thraves
Even Radiohead's most conventional music videos have an air of mystery around them.
The overdriven melodrama here is almost certainly inspired by Douglas Sirk, whose influence can also be seen in Pulp Fiction (and directly alluded to by Tarantino, also, when Vincent Vega orders the "Douglas Sirk steak.") Thraves was picked out especially by the band to direct the short after seeing his experimental University efforts; it was Thraves' first assignment, and he's gone on to work with the likes of Coldplay and Damien Rice since.
We can't help but wonder if the sidewalk guy's mysterious final line gave inspiration to Sofia Coppola—at the end of Lost in Translation, a similar scenario plays out and also drove viewers up the wall with intrigue.
Pretty clever marketing trick when you think of it.
Burn The Witch (2016)
Directed by: Chris Hopewell
At the time of writing, this one's fresh on the 'tubes, so it may be a little premature to call this an enduring Radiohead classic, but we suspect it will be and serves as a great point to close off.
Hugely different from everything that has come before for the band, The Wicker Man is clearly the main influence on this one. The story is as creepy as it always was, but made even more sinister here when presented in the style of a 1960s English kid TV show (a la Trumpton and Camberwick Green.)
In reference to the most glaring contrast between the bright art style and the sinister undertones, animator Virpi Kettu revealed that this was at the behest of the band themselves who wanted to satirize the idea of idyllic rural communities as espoused by right-wing politicians.
It'll be interesting to see which single follows from A Moon Shaped Pool, but in the meantime do let us know your thoughts—got a favorite Radiohead music video you wish had made the cut? Any neat film tricks you've been inspired to try out? We'll see you down in the comments!
[su_note]Learn more about the School of Cinematography at the New York Film Academy by clicking here.[/su_note]

by nyfa