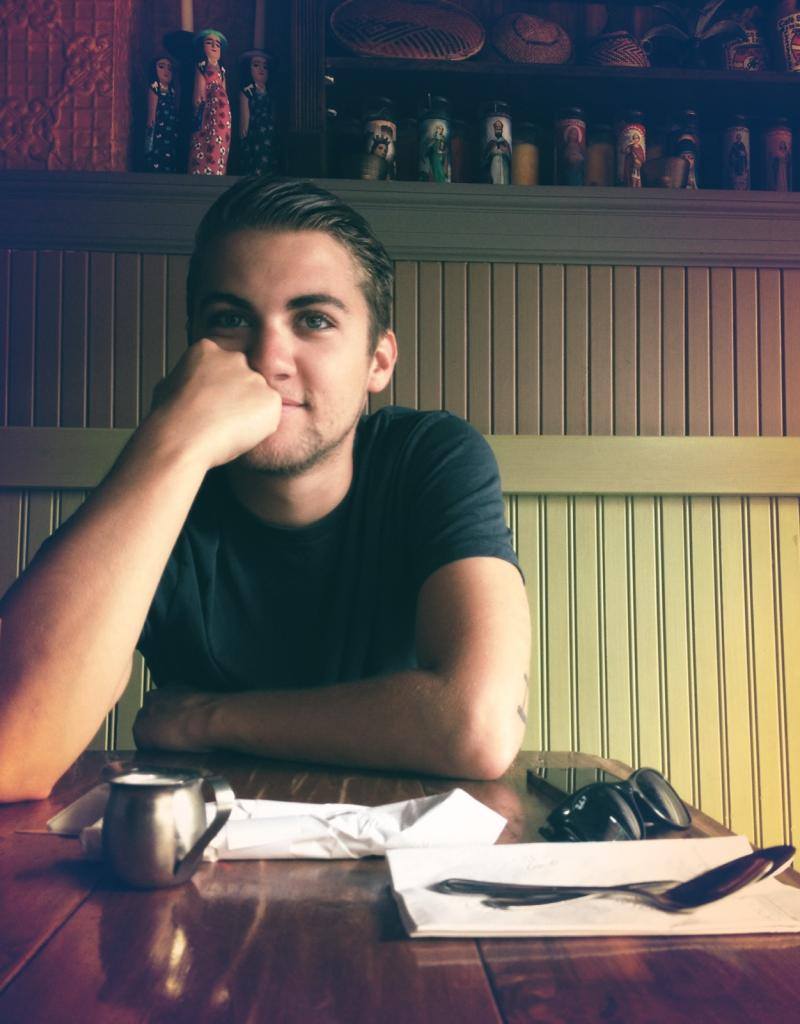 NYFA: Hi Jon, would you mind giving us a bit about your background and what drew you to NYFA's screenwriting program?
Jon Mann: Hi! Thanks for having me. I'm from Fredericton, New Brunswick, Canada originally, and grew up in a family of readers and movie-goers so I've always had an interest in film and have been writing for as far back as I can remember. The NYFA has such a strong presence in the film industry and their list of alumni speaks for itself. It made perfect sense for me.
NYFA: You received your undergraduate degree in Political Science, but half way through your education, you decided that filmmaking might be the career path for you. How do you see your political science training influencing and helping your documentary filmmaking work and vice versa?
JM
: It has definitely helped. One of the major lessons I took from my degree in political science that I have been able to use to help me as a
documentary filmmaker
is to realize that there are usually, at the very least, two sides to every story. It really gave me an open mind to not just accept headlines I'm seeing on TV or in newspapers as the be-all and end-all. It gave me a glimpse into the contemporary state of the world in different economies, different political systems, why they work, why they don't work. Studying political science was an exposure to issues and stories that I otherwise wouldn't have had, and that is now something I aim to do with my own documentaries.
I took a course called "Political Argument" which has been very helpful, too (laughs).
NYFA: You studied screenwriting at NYFA, but work in documentary films. How did you find the screenwriting program helped you as a documentary filmmaker?
JM: Well, I think whether it is a documentary or a feature film, the script and the story will always be the most important thing. Maybe one difference with documentaries is that you need to discover the character arcs, and the midpoint, and the climax, etc. as opposed to feature's where you write those yourself. But the way you tell the story on screen is the same. It's all the same equation. It's all filmmaking and it all starts with a story.
NYFA: Is there one lesson in particular that you learned while at NYFA that you find yourself continuing to apply to your work?
JM: In order to have a good script you need to make your character's motivation believable. It seems simple but it is so true. That goes for all characters, not necessarily just your protagonist. The best villains have believable motivation as well—look at Bane in The Dark Knight Rises. You almost end up feeling bad for him in the end. Brilliant.
NYFA: In your TEDx talk, you discuss how the characters and story structures of the film Jaws parallel the fact that many social movements—like the organic social movement again the sale of New Brunswick Power you document in your film Project Power—are comprised of seemingly ordinary individuals who band together to fight against the great white shark that is corporate power. Do you think that such films like Jaws can be used to galvanize reluctant activists into standing against seemingly insurmountable power? What other films do you consider illustrate this correlation?
JM: I think you can really make that argument for any film as long as the audience is open to being motivated by a film in that way. One thing I focus on in my Ted Talk is that every time I watch Jaws it has different meaning for me. It means something completely different to me now than it did the first time I saw it as a 4 year old. Since my Ted Talk was published I've had a lot of people give me their theory on Jaws and that is what makes the movie so great is that not only is it a scary movie about a shark terrorizing a small-town, is it has all of these great elements under the surface and it means different things to different people.
Harlan County U.S.A. is a great documentary from Barbara Kopple that really magnifies my theory on Jaws in a more obvious light. Gladiator could be used under the same umbrella—a man who is stripped of everything through a socially unjust system takes on the Roman Empire the only way he knows how.
I think the films themselves are important but it comes down to the audience and what they may be going through in a particular time in their lives when they watch them.
NYFA: You worked with a wide network of creative individuals on your Project Power including the New York Times best selling author Raj Patel who also narrated your first film, Drink 'Em Dry and a number of different musicians and bands from around the world. How do you forge these connections with seemingly disparate collaborators?
JM: I think one thing to remember is that the worst thing someone can say to you is "no." Which happens a lot. A lot. Some of these requests may seem risky, but they were all calculated. Drink 'Em Dry is the story of a group of brewery locals who were locked out from work, and during production there were massive protests in Wisconsin opposing legislation which would limit public employee collective bargaining. Dropkick Murphys had played a show in Madison and were right there in the thick of things so we told them about our project and they were excited for the opportunity to be part of the film and be able to lend any help they could to the cause. Steve Earle grew up in a union family, Billy Bragg has been a grassroots political activist punk-rocker for 30 plus years. Raj Patel is the greatest social justice writer on the planet. They all agreed with the subject matter.  Although they may seem like disparate collaborators, they all have the same values. I have nothing but great respect for all of them.
NYFA: What is your process for raising funds and marketing your documentary films? What do you consider the best methods for finding financing in the documentary industry, especially for filmmakers who are relatively new voices?
JM: The support I've received for the films I have done has been incredible. Much like the collaborators I've used on screen, I've been lucky enough to have a team off-screen who share the same values and who wanted to see these particular stories told as much as I did.
NYFA: As someone who seems to see documentary film as a potential catalyst for social change, what are some films in particular that you've drawn inspiration from and helped you to see the power of community activism?
JM: The first time I watched Bowling for Columbine I was frozen. I felt like I had just been hit by a truck. Inside Job is another film I always end up coming back to. In two very different ways, on two very different issues, those films peel back layers until you see the root of a problem, and it makes you sick to your stomach. They have a way of making you educated and angry, which is the perfect combination for social change.
You don't need to look any further than Blackfish to see what an impact films have in a community. SeaWorld is losing an uphill battle.
NYFA: Do you have any parting words of advice for aspiring documentary filmmakers who desire to use the medium as a catalyst for social change?
JM: Find a story you believe in. Like a well-written script, if people believe in you, they will be much more willing to listen. When someone says 'no,' use it as a learning experience. Why did they say 'no' to you? All you can do is try and get better every day. Learn to love the adversity.

кредит онлайн на карту долгий срок
zaymibistroru
онлайн кредит круглосуточно
быстрый кредит онлайн на карту
zaymibistroru
займ на карту срочно круглосуточно
by nyfa