NYFA MFA Acting for Film alum and Trinidad and Tobago native, Gina Parris, has had more than a decade of experience in the entertainment industry as an actress, writer, and producer. Her interest in the entertainment world began by writing poems, which then evolved into writing her own monologues that she would then perform on stage. 
During her early days as an actress in Trinidad, Parris would perform in the World Laugh Festival (2011, 2012, 2013), Yangatang Tent, Caribbean Woman (Dir. by Trinidad native Hollywood actor Sullivan Walker), Treasure Island: The Musical, and T.V series Starvey's Angels, where she played Gaga the Witch. 
Her talents springboarded her into other creative avenues like writing screenplays and going from stage acting to acting in film and television. Since her early days in the performing arts, she has lived by the motto, "take your career into your own hands," and it was that drive that led her to create her own production company, Gina Parris Entertainment Ltd, which will celebrate its 10th Year Anniversary this August.
New York Film Academy had the opportunity to speak with Parris about everything from her award-winning career to the many upcoming projects Parris is involved with:
New York Film Academy (NYFA): You've had many opportunities and had some previous training before coming to New York Film Academy. Tell us more about what brought you to study at NYFA?
Gina Parris (GP): I came to the New York Film Academy to pursue a Master's of Fine Arts (MFA) in Acting for Film (I graduated with Honors). The school was highly recommended by one of my friends from Trinidad, who had studied at the New York campus. I ended up deciding to attend NYFA at the Los Angeles campus because I would have eventually transferred there during my last year of study, and there felt like more opportunities for film acting in LA.
Before NYFA, I received formal training in acting with Trinbago icons such as Freddie Kissoon, Raymond Choo Kong, multiple Cacique award-winner Penelope Spencer (the Cacique award is the most prestigious acting award in Trinidad and Tobago), and Talent Factory Film, founded by talent manager and CEO of Question Mark Entertainment Ltd. Simon Baptiste. I still, however, wanted a professional degree in the field, especially since I have an entertainment company named Gina Parris Entertainment Ltd. I am also a member of the group Powerful Ladies of Trinidad and Tobago (PLOTT). PLOTT is a prestigious group of business women that support each other.
I am currently being mentored by celebrity Lisa Wickham, a media producer-director-TV personality in Trinidad and Tobago, and also creator of The Now Morning Show, which can be found on Facebook, Instagram and TTT (Broadcast channel in Trinidad and Tobago). 
While in the U.S, I became a member of Women in Film, where I was fortunate to be mentored by Sara Scott VP, of Production and Development at Universal Studios, and Randi Richmond SVP Production at NBCUniversal.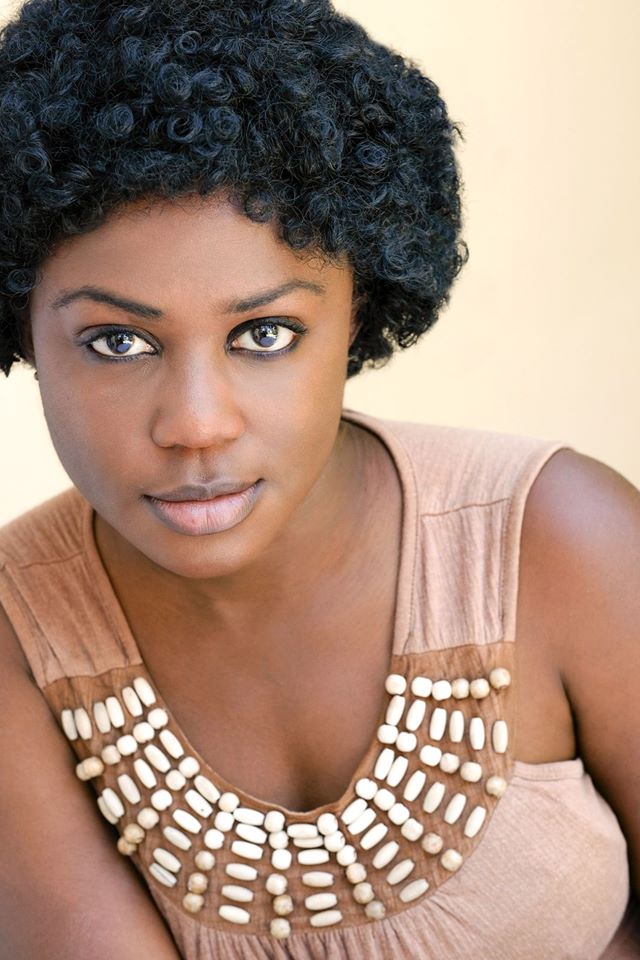 NYFA: Can you tell us about your short film A Twist of Life? 
GP: A Twist of Life is my thesis film, as well as the first short film that I ever wrote a script for and produced. I also acted as the lead. A Twist of Life is  also part of the official 2020 selection for the Palm Bay Caribe Film Festival. 
The film is about poliomyelitis victim Avyanna Wolf, who is unable to use her hands because they became deformed as a consequence of the disease. She has the ability to draw with her feet, but further complications arise when she is taken in from being being homeless by someone who takes advantage of her.
Acting in the lead role of Avyanna was a unique experience for me. As part of my role, I wore prosthetics created by Alonso aka Al Domino. I was on an extremely low budget, therefore instead of removing the prosthetics in between takes, I kept the prosthetics on from morning, until we wrapped at night, so I literally could not use my hands. My production assistant and classmate even volunteered to pull my pants down and back up (along with my underwear of course) when I had to use the bathroom. 
I also struggled to feed myself, so one of my cast members fed me, and when I was sniffling from a cold, my friend, Joy Ellison, put a tissue by my nose and said "blow." Joy was also kind enough to let me use her house to film and, since she is a dialect coach, helped me with my American accent. 
I had an amazing crew and the director, Shashank Varma, was excellent at executing my vision. I also had the pleasure of working alongside my amazing cast, including Trinidad actor and writer Gerry Bednob, known for films such as The 40-Year-Old Virgin, Walk Hard: The Dewey Cox Story, Encino Man, and Zack and Miri Make a Porno, amongst others. My cast also included talented NYFA alumni, including Natalie Whittle, known for films such as Much Ado About Nothing, Orbital Redux, and Speak Now. NYFA alum Chloe Paige Flowers, known for MVB Films' Halloween Horror Stories Vol II and Public Relations. 
The film premiered at the Indie Night Film Festival in Hollywood and also screened at the Equality International Film Festival. A Twist of Life won the 2018 Excellence award from Metro Film and TV Film Festival, making me an award-winning filmmaker and my first trophy I have ever received for a film. 
In the future, I plan to develop A Twist of Life into my first feature film.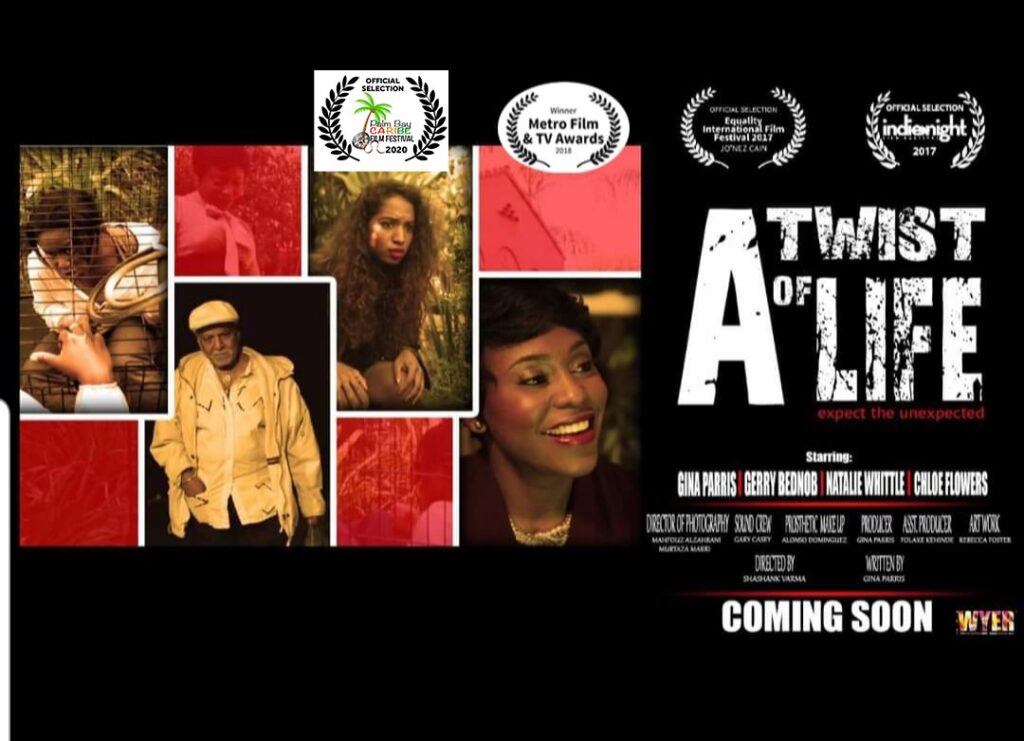 NYFA: Can you tell us about your short film Gangsters?
GP: Gangsters was the first short film I ever co-produced in the U.S. The co-creators of Gangsters are Freddie Basnight and Tiffany Lewis, who are also NYFA alum. 
I am proud of how the film project turned out, and it went on to win 12 awards across the following festivals: Mindfield Film Festival, Albuquerque, Queen Palm International Film Festival, Hollywood Guild Awards, Hollywood West Wing Film Competition, Pinnacle Film Awards, Indie Best Films Festival, LA Edge Film Awards, Hollywood Sun Awards, Hollywood Forever Film Festival, Alpha Film festival, and Dreamachine International film festival.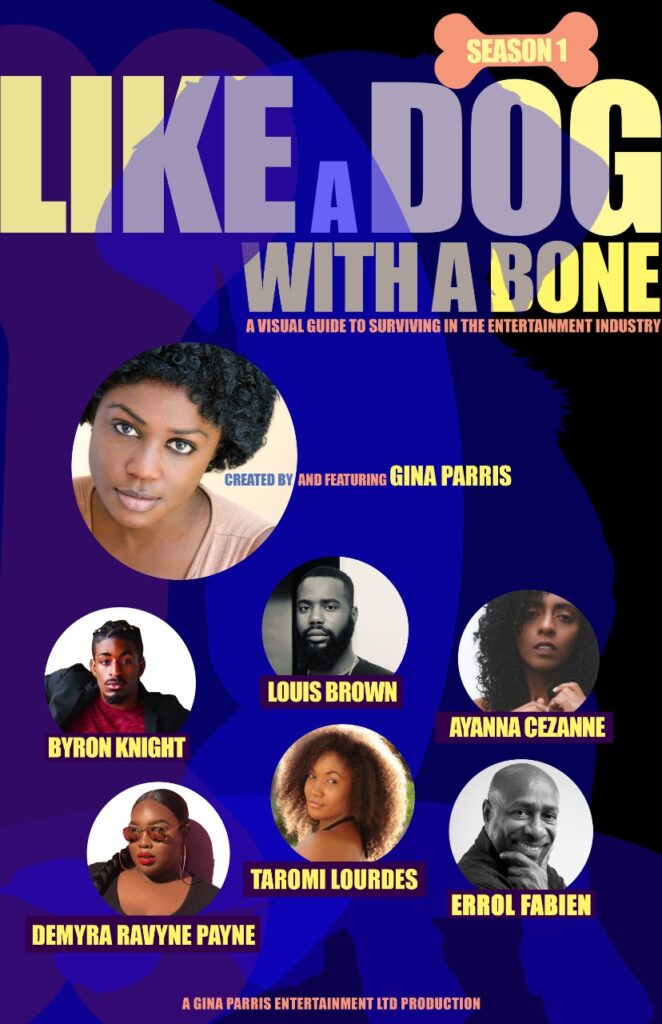 NYFA: Can you tell us about your latest series Like a Dog With a Bone?
GP: Like A Dog With A Bone: A Visual Guide to Surviving in the Entertainment Industry was influenced by my own homeless experience. When I moved into my car because of financial difficulties, I began filming my experience. It is an unfortunate reality that a lot of individuals become homeless while pursuing their dreams in entertainment. The series shows individuals that hit rock bottom, have experienced homelessness in the past, and those currently trying to make it in the entertainment field. 
I felt the need to create a series like this, so that other people can look at it and learn from the lives of others. Hopefully, in that way, they would not have to suffer like I did and they can use the survival skills that we implemented. 
Like A Dog With A Bone also features the following talented individuals: 
Ravyne Demyra Payne

(actress, director, NYFA Alum): Known for her work on films such as:

Moonlight Magnolia

,

Cover Girl

,

Honor Empty

, and

Casanova

. 

Taromi Lourdes

(actress and director from Trinidad and Tobago): An award-winning actress [World Wide Women's Film Festival, Palm Bay Caribe Film Festival] and filmmaker, she has acted in films screened at Cannes, Los Angeles and London. She has also acted alongside NAACP nominee and

Trinbagonian–American actor

Winston Duke (

Black Panther, Us

).

Ayanna Cezann (

producer, TV host, actress from Trinidad and Tobago): Ayanna is known for

A Story About Wendy 1&2

,

'Til Death

, and

The Honest Honestest Truth

.

Byron Knight

(host, dancer, actor): Byron was also a cinematographer for

The Honest Honestest Truth

.

Louis Brown

(producer, director, writer, NYFA alum): Louis is known for his work on

The Lady in the Red Dress

and

Charleston Harbor

. He has also done work on the show

Black Lightning,

and recently finished directing his series

Forbidden Fruit

.

Charles Parris (actor, cinematographer, director, radio host, editor from Trinidad and Tobago): Charles is another editor for Like A Dog With A Bone and is also known for his projects such as J Prince: Blood, J Prince: Turnaround and Trinity Isle, The Honest Honestest Truth, and A Twist of Life.

Freddie Basnight (actor, producer, director, writer, NYFA alumni): Freddie has appeared in Monster's Club, Aftermath, Karl and Riley Parras. Freddie also enjoys creating his own content and is the co creator of the award winning short film Gangsters.

Errol Fabien (television/radio personality from Trinidad and Tobago): He has over 40yrs in the entertainment industry and has showed his talent in the acting and comedic arena. Errol, along with Banyan Ltd, started the first community television station named Gayelle The Channel; where he is currently the CEO, Chairman and Co- Founder.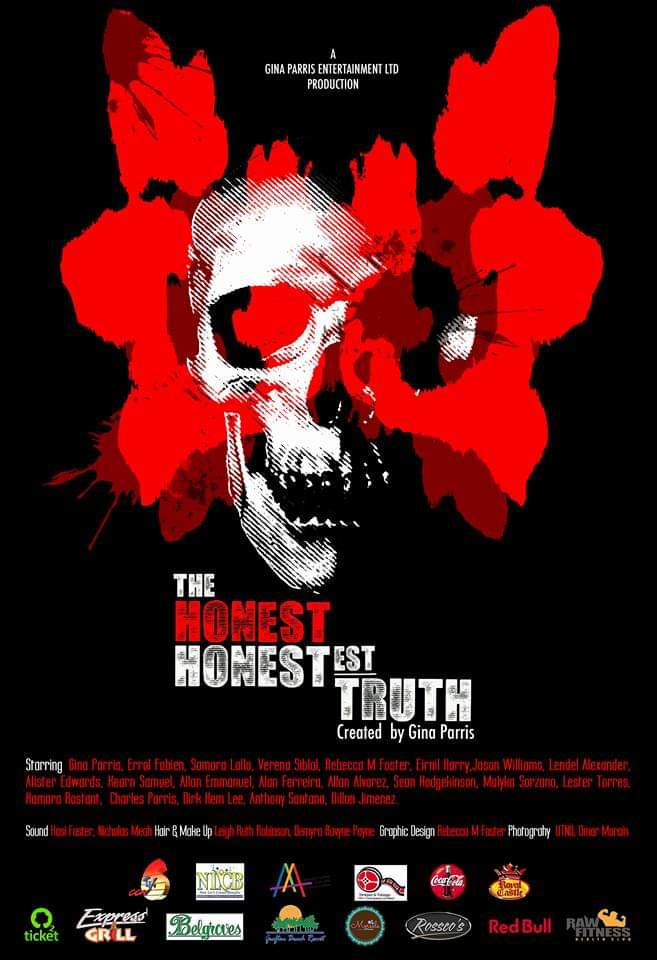 NYFA: What other projects are you working on or do you plan to work on?
GP: Like A Dog With A Bone is currently in production and I am still looking for more funding.
The pilot for my TV series,The Honest Honestest Truth, aired on national television in Trinidad and Tobago in 2016 and 2017, and it is considered by The Guardian Newspapers as the first crime drama in T&T. As the creator, producer and writer for The Honest Honestest Truth and my first major project under my company, Gina Parris Entertainment Ltd., I plan on continuing the series. 
I was fortunate to have an amazing cast, including: Rebecca Foster (@bexfoster), who also did the posters for The Honest Honestest Truth and Like A Dog With A Bone, Kearn Samuel, Allan Ferreira, Allan Alvarez, Ayanna Cezanne, the late Brett Bengochea, Dillon Jimenez, Lester Torres, Eirnil Harry, Alister Edwards, Charles Parris and Roxanne Omalo. 
The cast also included celebrities from Trinidad and Tobago such as Errol Fabien, Allan Emmanuel aka Cyclops, and Jason Williams aka J.W. I was also honored that the first black Miss Universe, Trinidad and Tobago's Janelle Penny Commissiong, showed her support for The Honest Honestest Truth. 
I will be collaborating with Jamaican born actress, producer, director and NYFA alum, Sherando Cupid, to bring Caribbean stories through film for the world to enjoy. Currently, Sherando and I are working on the film Caribbean Jew, which will be directed by Mikhail Marks and will be filmed in the U.S and Trinidad and Tobago. In addition to being one of the producers for the film, I will also be acting in it as well.
I am currently in discussions with Ms. Lesley- Ann Nelson, president of the Non-Profit Organization, Save Our Children Foundation, in Trinidad and Tobago about doing projects together to benefit children around the world. Ms. Nelson is also a member of Powerful Ladies of Trinidad and Tobago (PLOTT).
I will also be producing and acting in projects with Gold Piece films Inc. a production company founded by director, producer, writer and actor Andrew Lloyd Preston. I will be working with Gold Piece Films as a producer and actress for upcoming projects Brand and digital series Choices.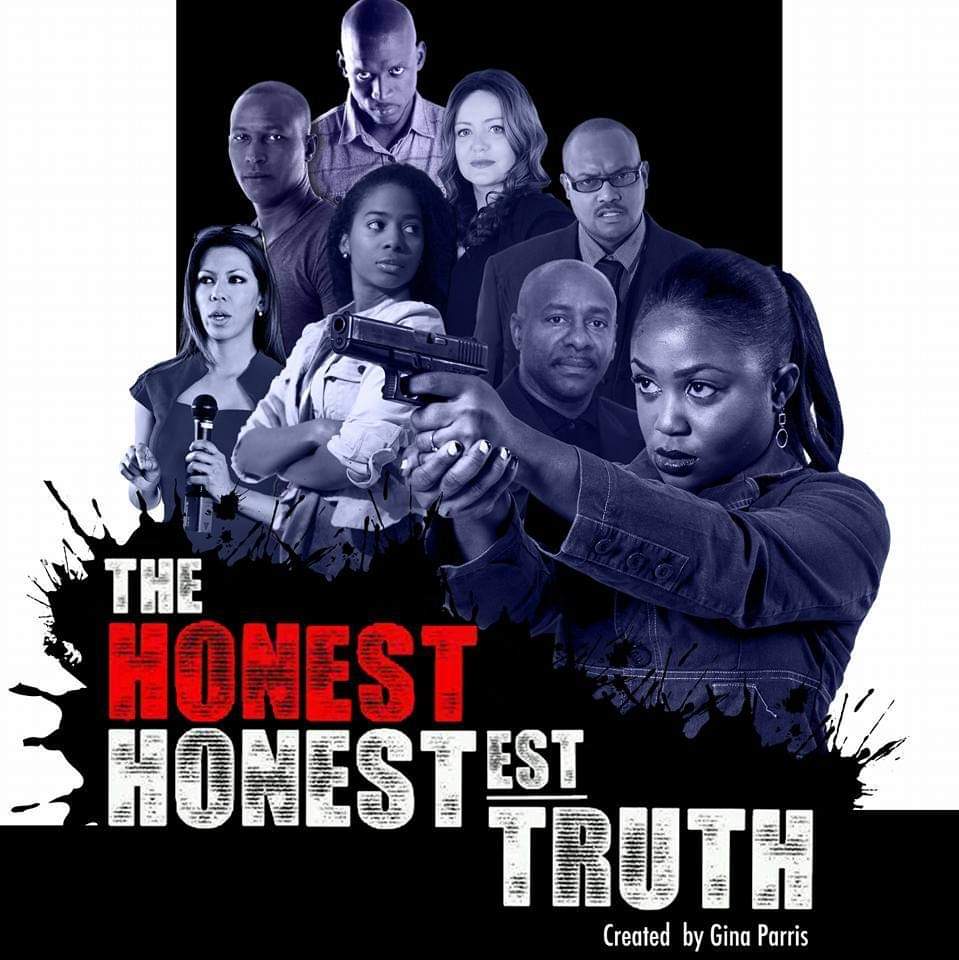 NYFA: What did you learn at NYFA that you applied directly to your work since graduating?
GP: I was fortunate that while pursuing my MFA in Acting for Film, I was taught various aspects of the film process. I applied the acting techniques editing skills and filmmaking fundamentals that I learned to my work after I graduated. These teachings also helped me while I was judging/screening films for Diversity in the Cannes Short Film and Web Series Showcase, which is supported by Oscar, Tony and Emmy award-winner Viola Davis and her husband.
NYFA: What advice would you give to students just starting out at NYFA?
GP: Come with an open mind. Do not only learn about what you are majoring in but also learn other areas of the filmmaking process and focus on creating your own content. In the entertainment industry, you will notice that a lot of celebrities that excel do not only focus on one entertainment discipline. People take up various roles in the entertainment industry in order for their talent to be showcased. 
Do not depend on someone else to make your dreams become a reality; take your career into your own hands.
New York Film Academy thanks actress, producer, writer, and NYFA alum Gina Parris for taking the time to speak with us and wishes her success in the near future as her career continues!
To keep up with NYFA alum Gina Parris, take a look at her social/contact links below:
Instagram: @gina_parris
Instagram (Like A Dog With A Bone): @likeadogwitha
Website (The Honest Honestest Truth): http://thehonesthonestesttruth.com/
by nyfa