New York Film Academy Australia alum Leroy Button started his professional career even before graduating the Filmmaking program in 2018. He's worked on several professional commercials and television shows as well as multiple blockbusters, including Aquaman, Fast & Furious 9, and Dora and the Lost City of Gold.
Button has found a niche in state-of-the-art drone cinematography, but has had a passion for all aspects of filmmaking since he was a child. His first (but not his last) success was his award-winning short film Sense, made while he was still in high school.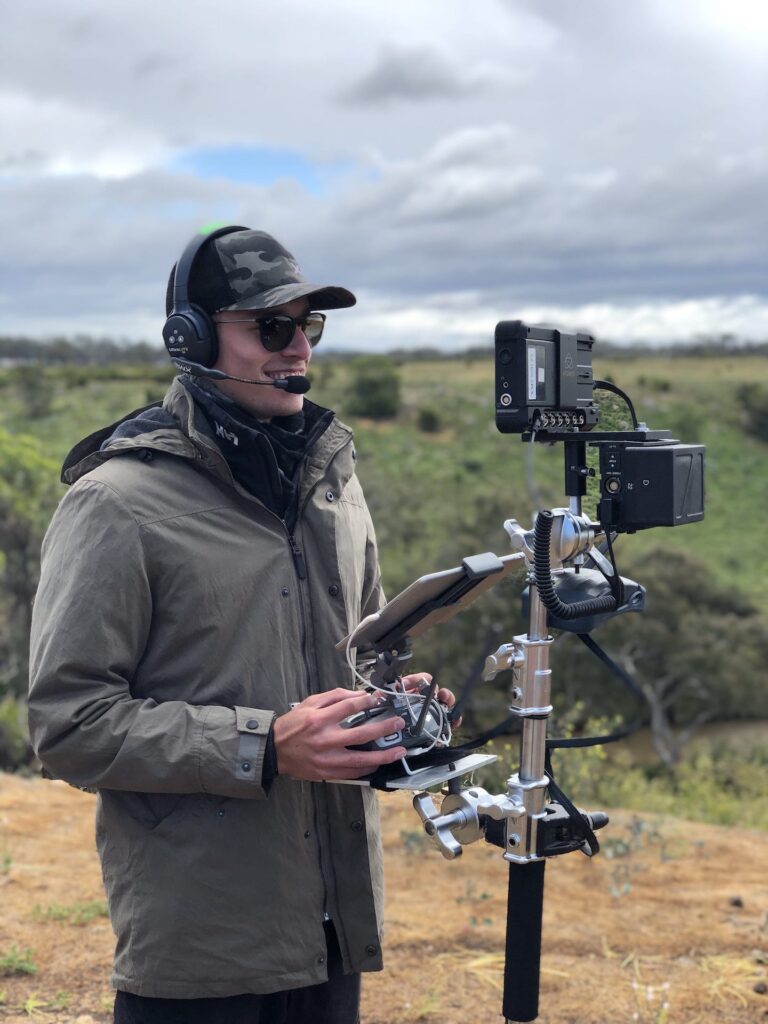 New York Film Academy spoke with NYFA Australia Filmmaking alum Leroy Button about Sense, his work on multimillion dollar film sets, and the best advice he's learned from both school and his fellow crewmembers:
New York Film Academy (NYFA): First, can you tell us a bit about yourself, where you're from, and what brought you to New York Film Academy Australia?
Leroy Button (LB): I'm 21 years old and hail from Cairns, a small city in Far North Queensland, Australia. The origins of my interest in the industry really started as soon as I was brought into the world,—well, that's at least what my dad claims as he recorded my birth on his brand new Hi8 camera. I've always had an interest in cameras, acting, and entertaining people—my dad was a frustrated filmmaker and he always had the latest digital camcorder, film camera, DSLR… you name it he had it, so naturally I was either in front of a camera or behind it as I grew up. We were always avid film goers, with Dad, my older brother, and myself always attending the latest blockbuster release—if it involved spies, sci-fi, superheroes, or a car chase we were there.
I really enjoyed all of my primary and secondary school years, I wasn't really a math or science guy, I just loved working with my hands making things and was considered by my teachers to be very artistic. Throughout high school I fell absolutely in love with movie making and film class, which was part of my curriculum from Year 9 at Cairns State High. 
My film teachers, Mr. Clyde Williams and Ms. Greta Evangelista, said that I had an eye for filmmaking and perhaps I should pursue it as a career. My teachers encouraged me to enter my films into film festivals and that ultimately brought me to what jump-started my career—my first short film, Sense. I entered Sense into the Understory Film Festival, which is a local festival in Cairns that had a student film category. I entered that film not knowing the freight train of success I was going to receive from it. 
On the night of the film festival, Sense won three awards—Best Student Film, Runner Up, Best Film, and the Audience Choice Award. To cap off a lovely evening, I also won $1000 prize money (of course I spent that on film equipment right away) and was filled with a feeling of elation that propelled me into pursuing a career in the film industry… With Sense winning the Understory Audience Choice Award, this led to its inclusion in another festival—winning the KickArts Curator Award, Cell Art Space Energy Exhibition Award, Creative Generation Award, and later 'Best Sense Film' at the Stuffit Film Festival. Because of the Creative Generation Award, Sense was put on display at the Gallery of Modern Art in Brisbane where it was shown on a screen loop for six months for the 2017 student exhibition.
These awards opened the doors at a number of universities and film academies and certainly helped secure my position at the New York Film Academy Australia, where I started my Diploma in Filmmaking. At NYFA Australia I continued to pursue my craft and the feeling of recognition and success that I craved. I shot both good films that won me more awards and some pretty questionable film—films I hope are never seen again, haha. I was loving every moment. I really started to hone my skills as a cinematographer and learned how to manage my own business by filming weddings, corporate videos, and promo events.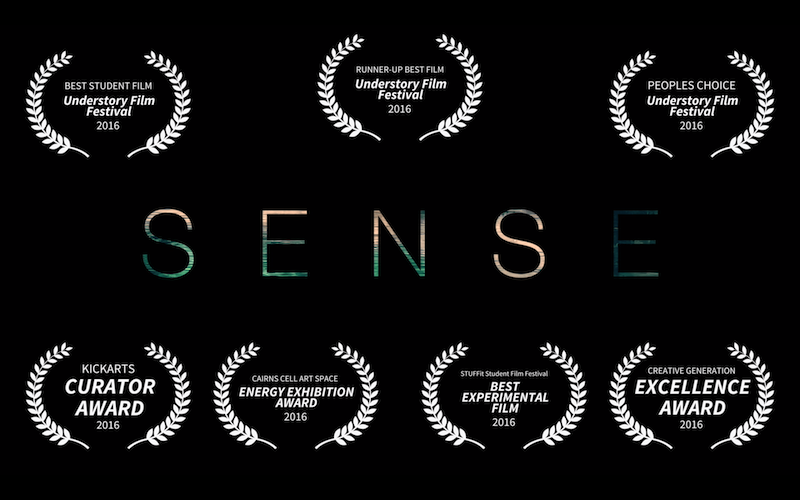 NYFA: What have you learned at NYFA Australia that you apply to your work today?
LB: I'd say the biggest thing that the New York Film Academy Australia taught me was that networking was everything.
For one of our cinematography lectures, we had the choice of going to Panavision Queensland at Village Roadshow Studios. I knew that this was an opportunity to mingle with the people who work with the biggest and best of what the Australian Film Industry has to offer. So I was there with bells on. It happened to be the one day I actually packed my lunch box and brought it with me—and that ultimately allowed me to stay behind whilst the rest of the class went out to get a feed during the break. So here I am, one-on-one with the manager of Panavision Queensland, Pat Auge. I had the opportunity to ask him anything I wanted to know. What do I need to do to get into the industry? This question, amongst many others, was asked in hopes of figuring out what I was going to do after I completed my diploma.
All I wanted to do was get on set and work on a major motion picture. Pat answered every single one of my questions, and told me "it's all about who you know." In addition to that, the biggest thing I learned from the New York Film Academy Australia was that networking is very important—this is an industry where who you know goes a very long way.
Pat contacted me the following week and said that he was impressed by my attitude, eagerness, and professionalism towards him and wanting to get into the industry. He asked if I would be interested in doing some work experience with them and initially got me in for three days—I was incredibly dedicated while there, as has always been my work ethic, drilled into me by family, and this lead to an offer of part-time work while studying at the Academy. 
During this time, Aquaman was filming at Village Roadshow Studios and the camera department contacted Panavision asking if they knew of anyone that could help out on set. They put my name forward and I jumped straight into the camera department on one of Australia's biggest feature films. Frankly, I was scared and crazy nervous but also really excited.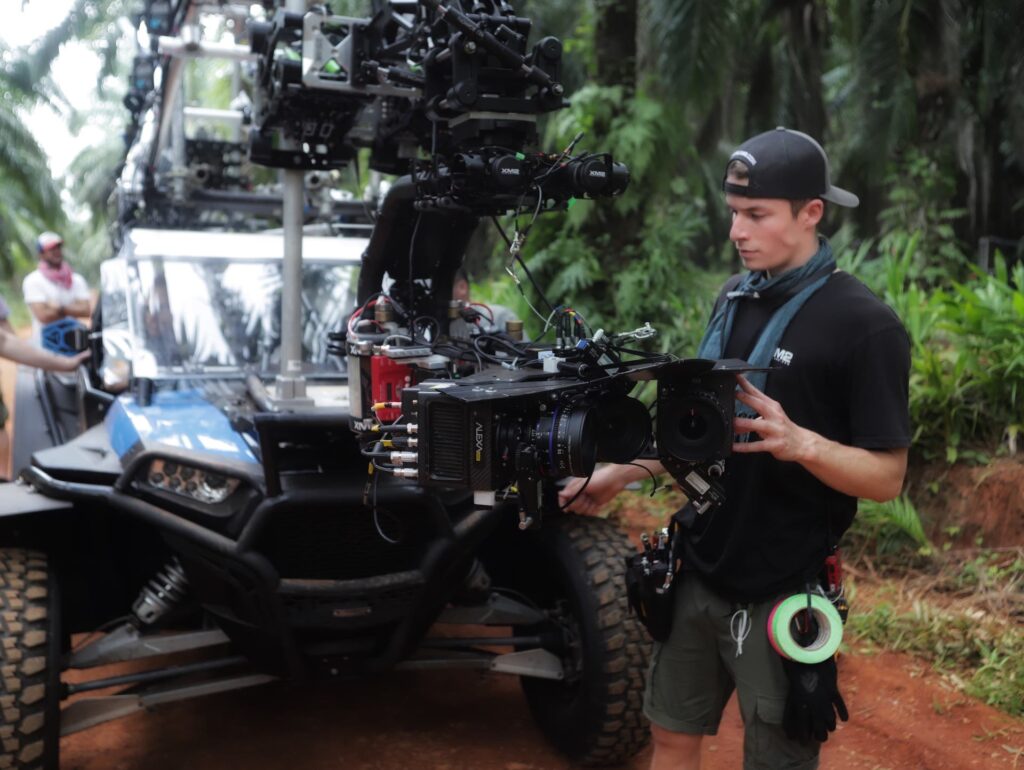 NYFA: Can you tell us a bit about what you've been doing and what your responsibilities have been on the sets of films like Aquaman, as well as Dora the Explorer, Fast & Furious, and others?
LB: I kept my cool with my head down and bum up. They had me camera assisting, splintering with second and third unit, slating scenes with Nicole Kidman and her stunties, on location at Hastings point for the lighthouse scenes—it was wild, some of the most unforgettable weeks of my life. I turned into a sponge metaphorically (and sometimes physically, thanks rain machines), absorbing as much information and technique as possible from the camera department. At the end of each day we wrapped and I felt like I could sleep for a week. Long hours, hard, stressful work—but I loved it. I knew I wanted to do this for the rest of my life.
I continued to juggle work for Panavision, Event Cinemas, and studying at NYFA Australia and I resigned from the Cinemas pretty soon after as I was asked to start working 5 days a week 9-5 at Panavision. Now that leads me to working for XM2—work after Aquaman slowly dried up, I was getting on commercial jobs and the odd TV show here and there as a 2nd AC, but things weren't looking too good…
One weekend I was returning some film equipment I had borrowed from Panavision to shoot a music video when Panavision called asking how far away I was. They told me that there were two gentlemen at the office right now and they wanted to talk to me—Stephen Oh and Aidan Kelly, the CEO and COO of XM2. I rushed into the studios knowing exactly who these guys were and well, Panavision opened another door for me. XM2 were looking for a young gun to join the team and manage their new office on the Gold Coast. I was pretty shocked. They asked if I wanted to help out on Dora the Explorer and there was no hesitation in my mind. I had just landed one of the coolest job opportunities that the industry has to offer.
A little background for you—XM2 specialises in aerial cinematography, lidar scanning, and VFX—catering to the major motion picture industry. As the only drone operator in the world with complete design, manufacture, build, and operational capabilities, XM2 can adapt and incorporate custom payloads onto aerial and ground-based platforms, creating constant advancements in performance and capability.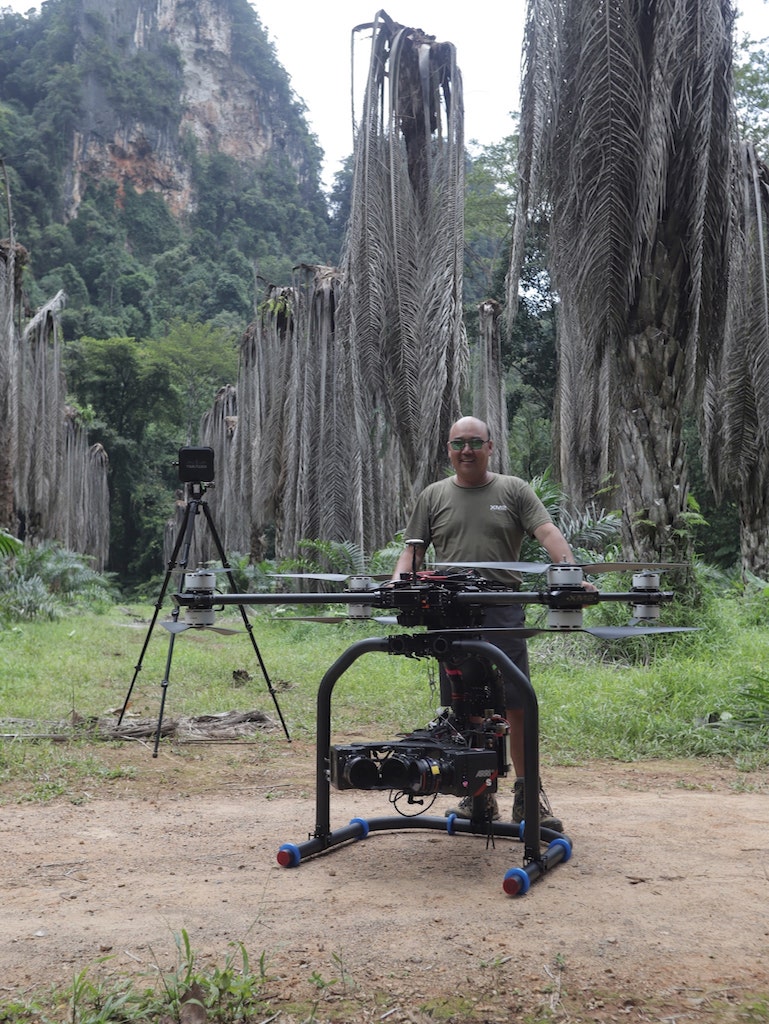 The team is comprised of pilots, camera operators, engineers, and creatives allowing for a unique service environment, taking care of all aspects of the operation. Constant technological developments combined with a deep understanding of on-set work-flow creates a highly-skilled, precise, and efficient unit that is able to produce any creative vision. We continue to demonstrate the ability to operate in the most technically, logistically, and environmentally demanding locations around the world. This is achieved while applying thorough risk mitigation and a safety-first culture that meets and exceeds international standards. I don't want to toot my own horn but… yeah, a pretty cool job. 
I completed those days with them on Dora, worked my ass off, and must have impressed them because they now have me working full time managing our Gold Coast office here in Queensland. I get to travel extensively between our other bases around the globe helping on productions wherever they may be. Two of our teams and I have just returned home from Georgia in Europe, Thailand, and Scotland after finishing principal photography on Fast & Furious 9 and the next James Bond film, No Time to Die. I am literally living the dream and I couldn't be happier with what I have achieved at my age.
On our latest project, Fast and Furious 9, I was a drone technician on second unit while also managing our custom VFX array head. We developed the "MANTA" stabilised remote head to hold three Alexa Minis in a toe-in position to achieve 220 degrees of stich-able horizontal angle. This rig ultimately became my pride and joy as I worked on Fast 9. Due to the shooting schedule I had to pull it apart and put it back together half a dozen times. The VFX department could use this rig to reframe shots, recreate reflections, and project the surrounding environments onto blue/green screens in studio sound stages. I was working one on one with the VFX supervisor, while camera operating this platform from an ATAV for the off-road portions of the film. 
I was also on splinter unit where I was camera operating our smaller drone. Those shots were my first shots on a feature film—a pretty awesome accomplishment. This was all thanks to my boss and mentor, Stephen Oh, for trusting my skills as a camera operator. Thanks to XM2 I get to travel the world doing what I love, working on major motion pictures.
These are the productions I have recently worked on (not in any particular order):
Aquaman (Feature Film) (2nd AC, Truck Loader)
Fast and Furious 9 (Feature Film) (Drone Technician, Drone Camera Op, VFX Array Op, and Technician)
Dora the Explorer (Feature Film) (2nd AC, Drone Technician)
Westworld Season 3 (HBO TV Series – Airing) (Drone Technician)
Godzilla Vs Kong (Feature Film – Post-production) (2nd AC)
Monster Problems (Feature Film – Post-production) (2nd AC)
Bloody Hell (Feature Film – Post-production) (Drone Technician & Drone

 

Camera Op)
Reef Break (TV Series – Airing) (Drone Camera Op)
At Last (Chinese/ Australia Co-Production) (2nd AC)
The End (TV Mini-Series – Post-production) (2nd AC)
Leaving Neverland (HBO Documentary) (Drone Technician)
QANTAS 2020 International Commercial (Post Production) (Drone

 

Camera Op)
Halifax Retribution (TV Series – Post Production) (Drone Camera Op)
Hyundai VENUE, USA TVC (Drone Technician, BTS)
KIA Telluride, USA TVC (Drone Technician, BTS)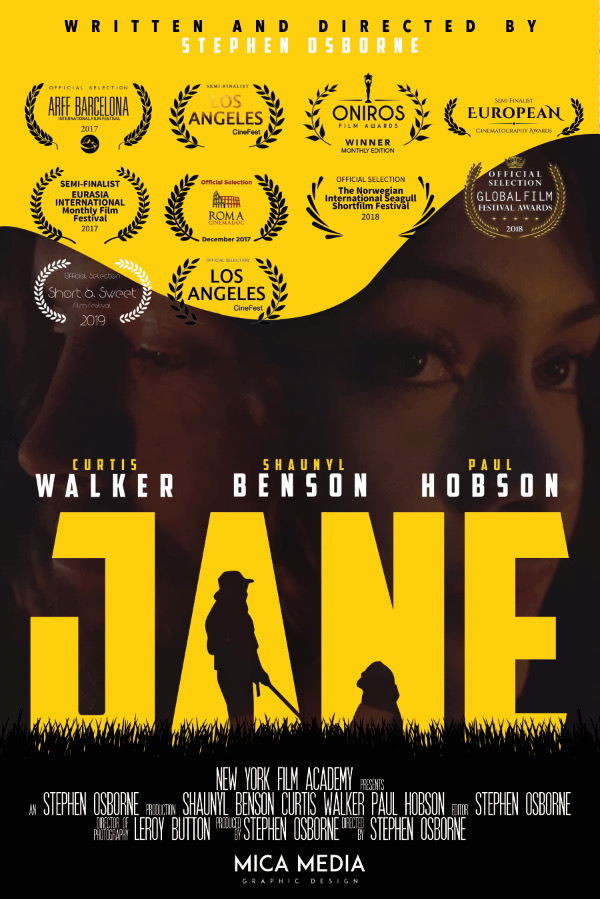 NYFA: What are some of the biggest differences you've noticed working on a blockbuster film set as opposed to an indie or student film set? What are some of the similarities?
LB: The biggest differences I've found between blockbuster features and indie/student films is obviously the budget.
Being on big sets is an interesting experience. It's fascinating and truly unbelievable how big some of the sets are and the lengths people go to get the shot how they want it—or how they compromise to achieve it another way. These crew members are truly professionals of their respected craft. Watching hundreds of people work for a common goal of completing the shot list for the day is like working in this complicated factory of cooperation, task mitigation, and frantic timed execution. 
Everyone has a role and that role is important in one way or another. There are literally hundreds of different jobs on set and they all matter and keep the production flowing. The PA that stays back to make the production coordinator a coffee might have just kept him/her awake an extra hour to recheck the SFX budget so they can afford to blow up an extra car the next day, which allows the director extra freedom with the cut and the rest of the crew get to see an extra explosion—thumbs up all round. 
Every role on set matters and they all affect the flow of production—no matter the size. The men and women on big sets usually have many, many years of on-set experience and this really shows when there's half an hour left in the shooting day and there are still five shots to get—as you can imagine, someone like me stepping in with the "big boys" was very daunting and quite nerve-racking. I learned pretty quickly to present yourself professionally, act older than you seem and keep your head down, mouth shut, and 'bum-up' as is always a good idea when trying to fit in and impress the varying crew.
The cool thing with crew on major feature films is that oftentimes once the working week had finished, a lot of the crew would split into their respected friend groups and shoot passion projects, music videos, or short films—a lot of the time asking anyone and everyone if they would be free to help out. In an industry where a good word and who you know goes a long way, these opportunities are sometimes just as good as the production you may be on. Yes, you might only get paid in pizza, but you might just get a chance at focus pulling or helping with lighting or branch out from your usual role to try something different. These guerrilla style films are a great way to make new friends and test your abilities, learn new skills, and have a good laugh outside of the pressure that big productions put on you.
On the other hand, the biggest similarity between big and small budget productions is passion. The passion for filmmaking is always there whether it's a low-budget indie or a multimillion-dollar action flick. One of the things I love about working in the film industry is the on-set etiquette. No matter the production, people are generally more than happy to lend a helping hand and impart some of their knowledge on to you. A lot of what I've learned about on-set lingo and practices has been through conversation between setups or while on lunch. The more time you spend in those environments with those varying levels of experience, the more you'll learn.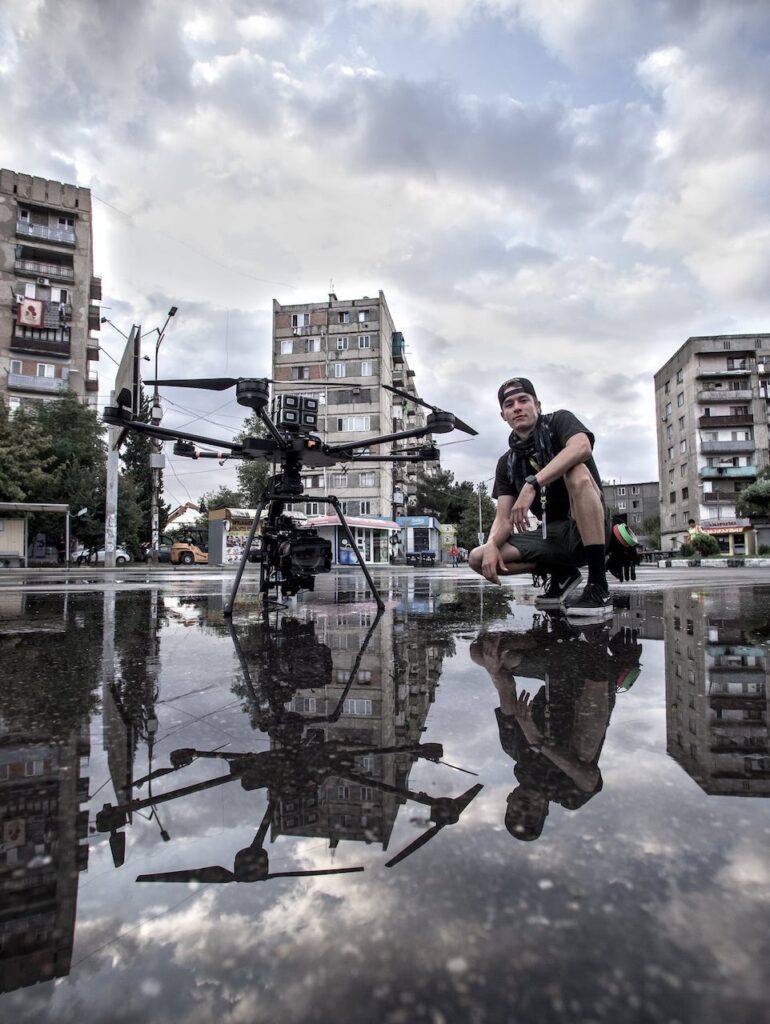 NYFA: What other projects are you working on or do you plan to work on, personal or otherwise?
LB: Unfortunately, I can't say what I'm working on with XM2 at the moment; however, I'm currently writing a sequel to one of my short films I shot while at NYFA Australia. It's being filmed with a bunch of fellow NYFA Australia graduates and alumni.
NYFA: What advice would you give to students just starting out at NYFA Australia?
LB: The best advice I could give to students starting out at NYFA Australia would be to get your films into film festivals. No matter how good or bad that film is, get it into a festival circuit and put your name on it. The more people that see your film, the more contacts you're connecting with—people talk and word spreads; if it's positive, then you'll become known and people will start calling you, it's that simple. 
Absorb as much as you can. Do research online and ask questions (even the stupid ones) because at the end of the day you'll either be none-the-wiser or know exactly what you're talking about. Finally, keep creating, every single time your camera is rolling you're learning something new—nine times out of ten it's because you did something wrong—learn from that and you'll become a better filmmaker.
Things to remember and be ready to answer:
Never "burn your bridges." It's a big industry, and everyone talks.
What is your attitude?
How are you different from the guy next to you?
And why should they get you on set?
NYFA: Anything I missed you'd like to speak on? 
LB: The film industry is a brutal beast – it can be so incredibly hard on you one day, yet so very rewarding the next—it's not for the faint-hearted. With short films and personal projects, I learned pretty quickly that you can't impress everyone. I decided to stop trying to impress others and began simply trying to impress myself and this worked out pretty well for me. I am very humbled with the opportunities that I have been given and I thank everyone for the part they have played in my story. Never forget to thank those who got you to where you are.
New York Film Academy thanks NYFA Australia alum Leroy Button for taking the time out of his busy schedule to talk to us about his burgeoning career on-set, and wishes him the best of luck moving forward!
by nyfa