Njoki Muhoho is a lover of growing organizations to support people and takes pleasure in scripting and producing films, so don't ask her to choose one career over the other. The Kenyan native is a member of the International Emmys, the Academy Director of MultiChoice Talent Factory East Africa, runs her own production company, was profiled by Business Daily Africa this year, and was named by the Women in Film Awards as the 'Most Influential Women Personality' in the Kenyan film industry. 
Earlier this year, NYFA had the opportunity to ask the MultiChoice East Africa Academy Director about her career behind the camera, studying at NYFA, and advice for aspiring filmmakers and creatives.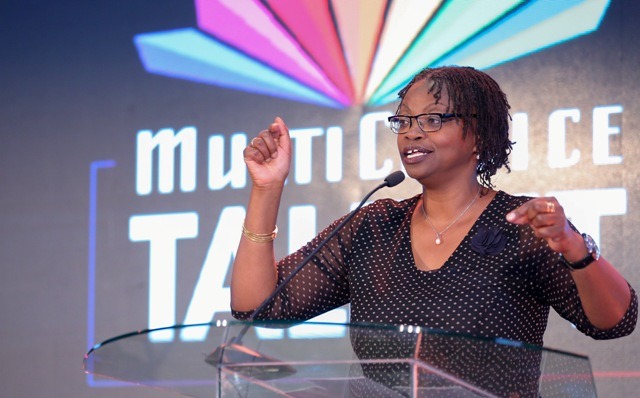 New York Film Academy (NYFA): Can you tell us more about yourself and what brought you to study at New York Film Academy back in the early 2000s?
Njoki Muhoho (NM): I am from Nairobi Kenya and I am the Academy Director for Multichoice Talent Factory EA. (MTF).  MTF is the film academy for Multichoice Africa Group.  We have 4 hubs. South Africa- Johannesburg, Southern Africa – Lusaka, East Africa – Nairobi, and West Africa – Lagos.  
In East Africa, our Hub caters to Kenya, Uganda, Tanzania, and Ethiopia.  I'm also the founder of – Zebra Productions Kenya Ltd where I am the Executive Producer. I have been in the film industry for about 18 years and I have a dual career in Management Consultancy, including a Pricewaterhouse background with 30 years of experience in Organisation Development. 
From my school days, I always enjoyed, creative writing. In 1996, while busy with my consulting career, Multichoice/Mnet launched a scriptwriting competition and I had never seen a film script let alone know a filmmaker. But I was confident in my ability to tell a story, so I entered the competition and ended up becoming the national winner. I remember thinking, 'This is a fluke or I might have innate talent.' I then promised myself that one day, I would take at least a six-month sabbatical and go away to learn filmmaking. I also promised myself that I would have to learn with the experts, no matter how much it cost. 
For over two years, I quietly researched. I wrote to institutions and finally decided on NYFA. I choose Los Angeles based on the weather. I did not want to experience a cold winter in New York!
NYFA: After finishing your studies, what was that transition like coming back to Kenya?
NM: There was fear that I may not get opportunities to apply the highest level of sophisticated skills that I had learned and I worried about how I would fund my productions. In the middle of planning for upcoming productions, I also needed to go back to consultancy just to make ends meet. 
NYFA: Can you tell us a bit about your current positions (MultiChoice, Zebra Productions, Emmy's) and what it's like juggling all of them? What keeps you inspired?
NM: Multichoice Talent Factory – Academy Director: This was an advertised and competitive job, but I got it. I run the academy of 20 students. The academy is a practical film immersion for adult students who already have a maximum of 2 years of experience in filmmaking.
Zebra Productions Kenya Ltd: I am the founder of this company. I was commissioned to produce the first high-end drama series in E.A by Mnet (Multichoice), I was also Co-Executive Producer for 75 made-for-tv, feature films for Multichoice channels. My first fully owned drama series, Mama Duka, won the prestigious Best Indigenous Film/TV Series East Africa 2014. It later went on to win four more awards. 
International Emmys:  I am a Member of the International Emmys. The only East and Central African.; a situation I am working hard to change. I have just endorsed 12 of my colleagues in the industry to join the International Emmys. I have also done Jury work for the International Emmys for the last four years. I find the experience very enriching and it provides a benchmark of the quality of content. I attended the International Emmys Festival and Gala last year. It was very educational with fantastic networking opportunities. 
NYFA: What are your goals and what's next for you?
NM: To ensure I streamline MTF and find a successor. Then, I will put full-time work in my production company. I want to produce proudly and authenticate African content for International and local audiences. I need to produce more. 
NYFA: What did you learn at NYFA that you are applying or plan to apply directly to your work?
NM: Plenty. Set standards in your work and stick to them. Let it be your brand. Tell your stories. Understand why others tell their stories in their own way (e.g. the Hollywood template), but not to copycat but, instead, benchmark and tailor. At the time, I was the only non-American student in my class. I constantly insisted on translating skills learned into Africa content. Not always easy, but I feel I stayed true to who I am, and learning from practicing filmmakers was an amazing experience. 
NYFA: What advice would you give to students just starting out at NYFA?
NM: Be truthful to yourself and your background. Learn everything and then learn more. There is more to learn at NYFA than just what is in your super busy schedule. Have curiosity. Talk to other students in other departments. Be open-minded. Accept criticism of your work as a means to grow. Don't waste time defending yourself.  Even when you do not agree, still learn how to do it differently.  Criticism of work comes hard-hitting at NYFA. Have a thick skin and a light attitude. Keep the contacts; they will come in handy later in your career.
New York Film Academy would like to thank NYFA alum Njoki Muhoho for taking the time to share about her life, experiences in the industry, and the importance of staying truthful when creating.
by nyfa