Kirk Douglas, Academy Award winner and icon of Hollywood 's Golden Era, passed away at the age of 103 on Wednesday, February 6. With a life that spanned over a century, Douglas made a name for himself as an actor, writer, and philanthropist, as well as the patriarch of an award-winning Hollywood dynasty. 
Douglas was born in Amsterdam, New York in 1916 to a large and impoverished immigrant family, and as a young man entered the United States Navy during World War II. He had a passion for acting from a very early age and had already decided to become a professional actor before graduating high school.
After being medically discharged from the Navy after an injury at sea, Douglas found work in the New York acting scene, specifically in theatre and radio, including commercials and soap operas. It was his friend Lauren Bacall that convinced him to try acting in the movies; her recommendation to director Hal B. Wallis earned Douglas his debut screen role in the 1946 film The Strange Love of Martha Ivers, opposite Barbara Stanwyck.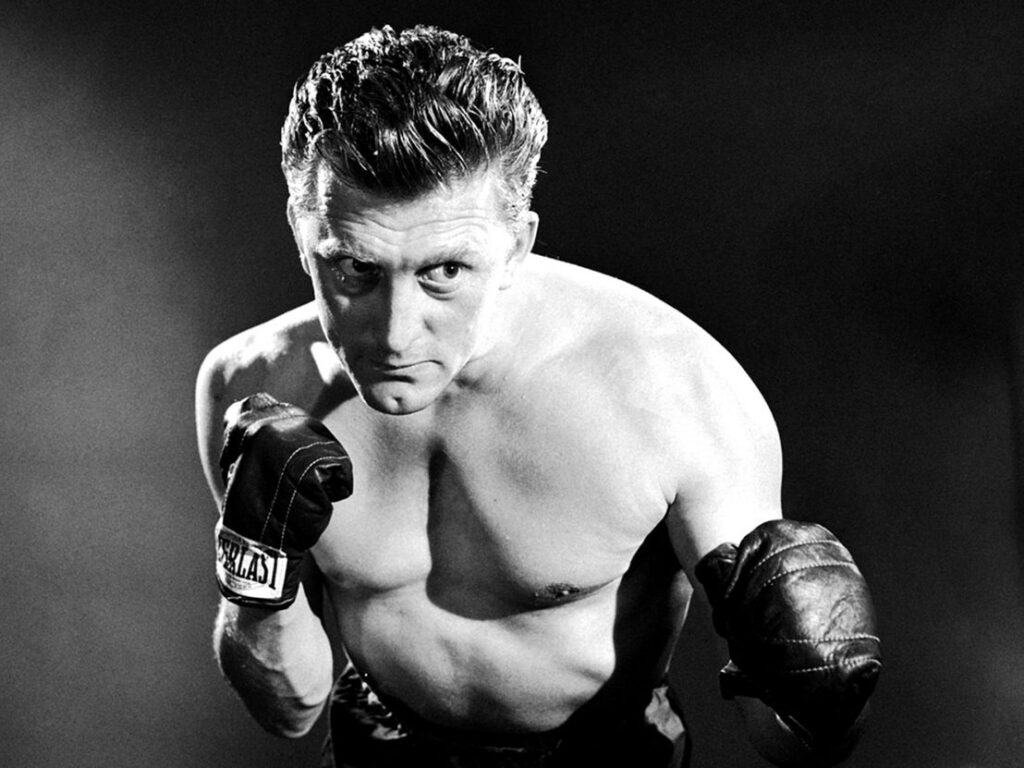 Douglas filmed several roles after that, including the 1949 film Champion, where he played a hardened boxer. The film earned him his first Academy Award nomination and taught Douglas how to boost his career by pairing his intense, muscular physicality and steel blue eyes with suitable tough guy roles.
The next two decades saw Douglas rise to become one of the Golden Age of Hollywood's biggest movie stars, in big studio films like Young Man with a Horn (1950), Detective Story (1951), Along the Great Divide (1951), Ulysses (1954), 20,000 Leagues Under the Sea (1954), The Vikings (1958), Lonely are the Brave (1962), Seven Days in May (1964), and The Arrangement (1969).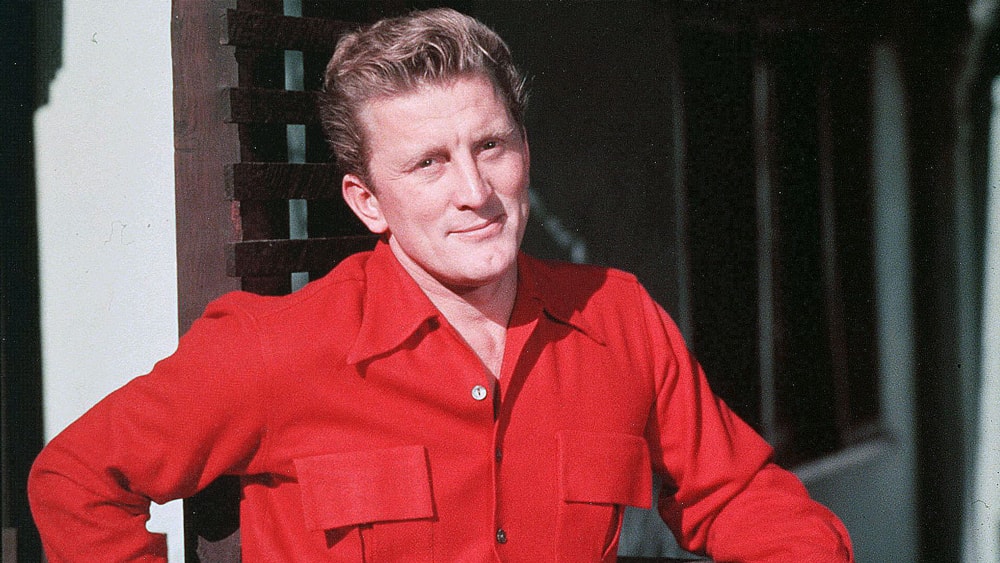 Several of his films have stood the test of time, including 1951's Ace in the Hole, director Billy Wilder's first credit as both writer and producer, which went on to win Best Foreign Film at the Venice Film Festival. Douglas earned another Oscar nomination for his role in The Bad and the Beautiful (1952), directed by Vincente Minnelli. Douglas paired with Minnelli again for 1956's Lust for Life, playing tragic artist Vincent van Gogh, earning him his third Academy Award nomination in a seven-year span.
Douglas wasn't afraid to use his star power for political statements. He produced two films directed by auteur Stanley Kubrick, both of which bucked from the trend of Hollywood's Golden Era; 1957's Paths of Glory was one of the few anti-war films of the period and 1960's epic Roman slave rebellion story, Spartacus, was written by Dalton Trumbo, the Hollywood screenwriter blacklisted during the McCarthy Era.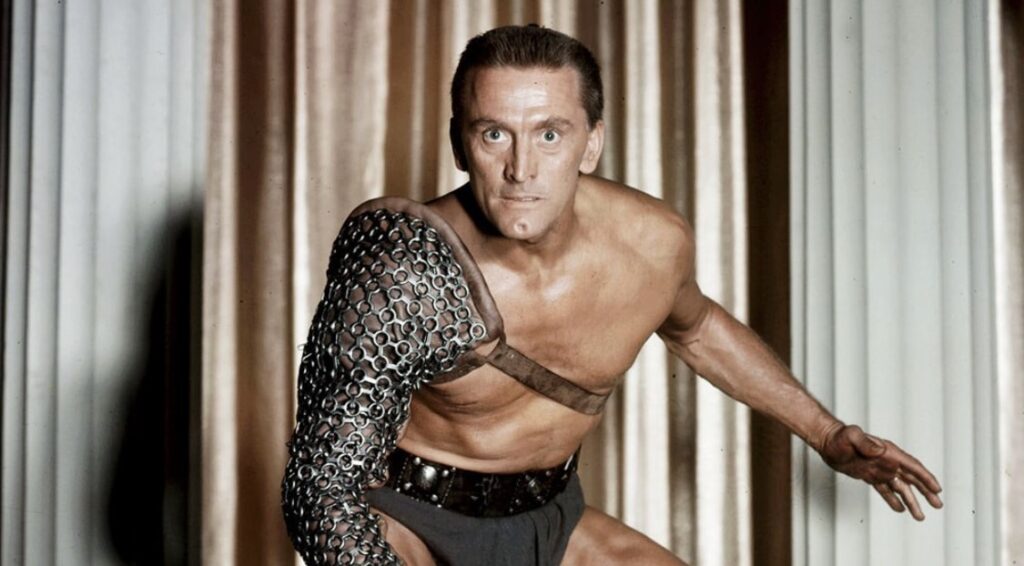 Even after his star power faded with age, Douglas still acted in dozens of films from 1970 to 2008, including There Was a Crooked Man… (1970), The Final Countdown (1980), The Man from Snowy River (1982), Tough Guys (1986), and both an episode of The Simpsons and a television adaptation of Inherit the Wind in 1996.
After suffering from a severe stroke in 1996, Douglas underwent years of physical therapy and returned to acting in 2003 alongside several of his family members in It Runs in the Family. The film co-starred his ex-wife Diana Dill, his grandson, and his son, Academy Award winner Michael Douglas. At the age of 101, he appeared onstage to present Best Screenplay alongside his daughter-in-law, Academy Award winner Catherine Zeta-Jones. Shortly after his 1996 stroke, Douglas received an honorary Academy Award in person.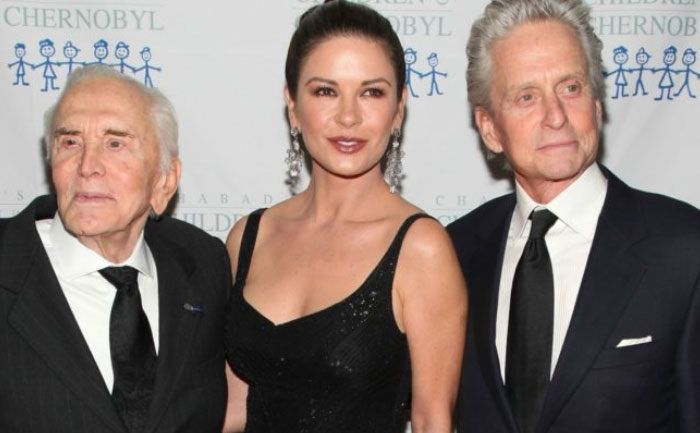 More than just an actor, Douglas and his wife Anne donated millions to numerous charitable organizations, schools, medical facilities, and much more. Douglas was also a writer, and penned the 1988 autobiography The Ragman's Son and the 2002 memoir My Stroke of Luck, detailing his recovery from his stroke. Douglas was even blogging on platforms such as Myspace and The Huffington Post as late as 2012. 
Through acting, writing, producing, and his broad philanthropic work, Douglas's impact on Hollywood and the world-at-large over the past several decades is immeasurable. His death in Beverly Hills was first made known by his son, Michael.
"It is with tremendous sadness that my brothers and I announce that Kirk Douglas left us today at the age of 103," wrote Michael Douglas on his Instagram. "To the world, he was a legend, an actor from the Golden Age of movies who lived well into his golden years, a humanitarian whose commitment to justice and the causes he believed in set a standard for all of us to aspire to."
New York Film Academy is deeply saddened by the loss of Hollywood legend and Academy Award winner Kirk Douglas and passes along our sincere condolences to his friends and to the Douglas family. Rest in Peace.
https://www.instagram.com/p/B8NCr7Ah40N/?utm_source=ig_web_copy_link
by nyfa