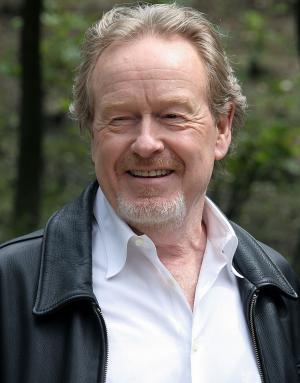 Name: Sir Ridley Scott
Essential DVDs: Alien (1979), Blade Runner (1982), Thelma & Louise (1991), Gladiator (2000), Matchstick Men (2003)
Oscars: Best Picture (Gladiator, 2000)
In His Own Words: "I'm a filmmaker, not a documentarian. I try to hit the truth."
Poor old Tony Scott. He may be one of the finest crafters of blockbuster action working today, but he will forever be huddled in the shadow of his elder brother; the auteur to his movie director. Even in their well-known childhood project, Boy On A Bicycle, it was older brother Ridley calling the shots.
Before music video directors were the great swirling pool from which future filmmakers would be fished, it was TV commercial directors who were prodded and preened for big-screen glory. Scott was one of the first to make the crossover, developing his ability to sell a product in 30 seconds into a knack for selling a story in 100 minutes. Scott's searing sense of style is what he will be remembered for.
Even without words, a Scott film is recognisable by its play of light and shadow and near-lascivious love of sprawling wide shots and intricate detail. So exacting and skilful is the look of his films, that in the early days he was much accused of favouring style over content. The worlds he created were much bigger than the characters he placed in them. Scott's cinematic debut, The Duellists, was praised, but for its visual sheen rather than its slight storyline. Even recognised classics Alien and Blade Runner focus far more on mood than on their heroes (it took James Cameron's Aliens to help us learn more about Ripley besides her penchants for mammoth handguns and scanty knickers). But it's in Scott's ability to immerse an audience in an unknown world and to make aloof characters fascinating that he created his cult following. Those are also the two films that illustrate the care he has for his projects even years after, both being subject to reworked Director's Cuts (a trend Scott popularised).
His power with visuals may be his trademark, but the former ad-man remains unafraid to venture into quieter character pieces. There's chick-flick Thelma & Louise –that most un-Scott-like of projects –in which he delicately examined the inner clockwork of his heroines, winning the praise of both sexes and critics. Or Gladiator, a roaring sandstorm of Roman architecture and violence come to life around the outwardly granite, inwardly sensitive Maximus. But perhaps it's the more recent Matchstick Men that shows his full versatility. A film with no room for flash, it's as delicate a character construction as the title suggests, with one of the best performances Scott has elicited in Alison Lohman's mysterious woman-child. The mark of a master of any field is that he never stops testing himself.
by nyfa