By Felipe Lara, NYFA Game Design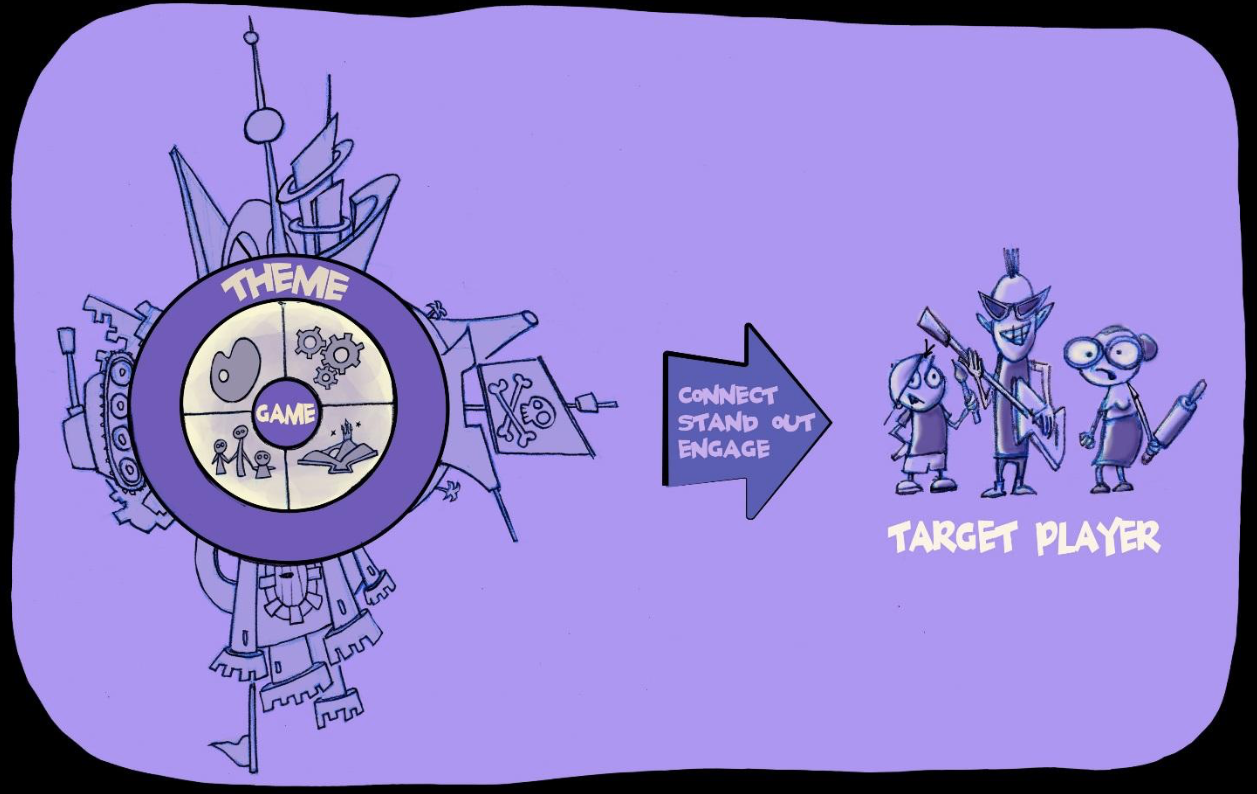 What makes a game successful? The answer depends on your goals. Sometimes it is revenue, sometimes it is number of downloads, impact on your players, etc. However, focusing on these outcomes is usually not very helpful as a developer. It is much more helpful to define success in terms of engagement, because engagement can be linked directly to the kinds of decisions we need to make during development.
In a previous article (link to "A Roadmap…" article) we talked about how engagement follows a 4-step sequence: stand out, connect, engage, and grow. The next layer is to figure out which ingredients in a game can help you do that. In this article, we'll look at five ingredients that will help your game or VR experience become more engaging in the long-term.
Your Ingredients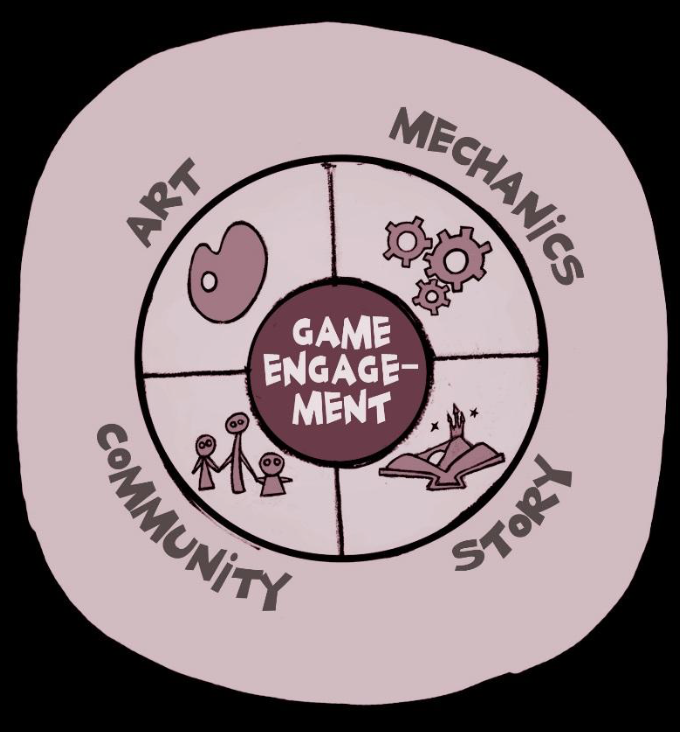 In the many years I spent developing MMOs for casual gamers (kids and families), I saw how there are four basic elements that can be combined very effectively to get the attention of players and make them want to stick around: art, fun mechanics, story, and community building:
ART: Art is what first catches your players' eye and makes them want to take a closer look at your game. At first, players won't know much about the specific mechanics and stories in your game. They decide to pay more attention after experiencing visuals that resonate with them.

FUN: Art by itself, no matter how cool it is, won't keep your players for long. Finding fun stuff to do that is easy to understand, with clear goals, is what makes players want to stay more than a few seconds.

STORY: Even fun activities get repetitive unless there is a larger meaning and purpose behind them. Having a longer-term purpose or story that players can relate to is what makes them want to keep coming back. Shooting hoops is fun, but doing it everyday for hours can get boring quickly unless the activity is part of a larger story — like training to defeat an old rival team.

COMMUNITY: All good stories need an ending, but the meaning and purpose that you get from being part of a community can last for years. The games that we keep going back to over and over are the ones that let us form connections with people that we care about.
All these four elements are important to create a successful game that follows the sequence:
Stand Out

Connect

Engage

Grow
The importance of art, fun, story, and community may shift from one step of this sequence to another. For example, standing out depends much more on the art and how things look like than on the details of the story. Then again, engagement depends much more on the mechanics and story than the art, and growing depends heavily on the community building aspect. I've seen many good games that don't succeed because they lacked one or more of these important elements.
Power Up With a Theme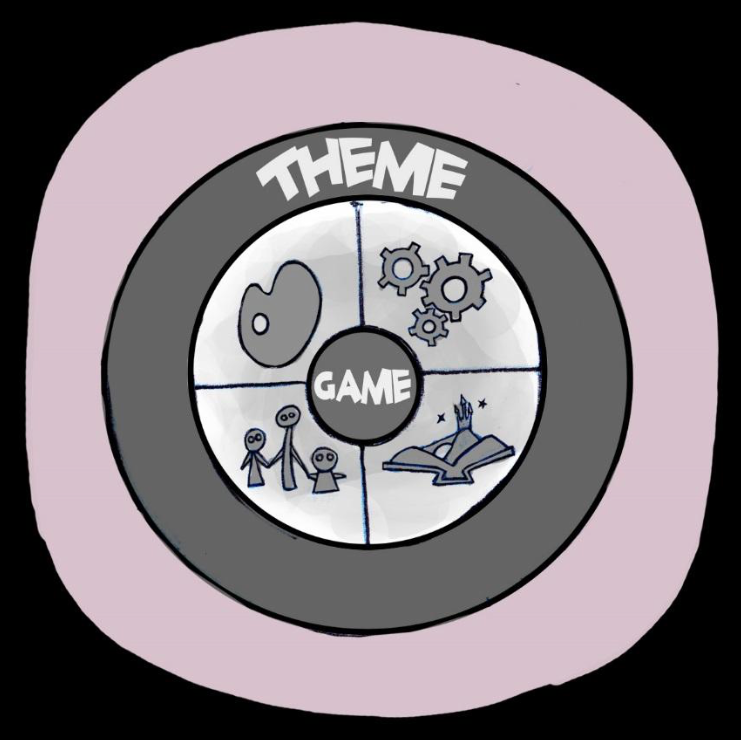 What I've noticed through the years is that games are much more powerful and effective at engaging players when all the elements mentioned above (art, mechanics, story, and community) work together and reinforce each other.
Having a strong theme will help tie together the elements of your game and will make it much easier to connect emotionally with your players. But for a theme to do that, you need to have the right understanding of what a theme is.
Theme is not topic. Saying you want to do a pirate game is not enough. There are many different potential approaches to a pirate game: is it about gathering treasure? Is it about fighting the law? Is it about ship battles?
Theme is not about a conflict, either. Defining your theme as the conflict between pirates and the Spanish Armada is not enough. You need to pick a side, you need to have an opinion about the topic or conflict you are talking about, for example, "A pirate's life is a wonderful life, because it is more free and exciting."
When you state your theme as a clear point of view you get a much clearer idea of what you need from your mechanics and story. In this case, the elements would all need to revolve around the excitement of being a pirate and feeling free of responsibilities and commitments.
In his book "The Art of Game Design," Jesse Schell relates an example from when we worked on a pirate's virtual reality ride for Walt Disney Imagineering and DisneyQuest. In his book, he writes that as soon as they nailed down a theme for the ride, many of the design decisions about art style, game mechanics, story, and even technology became clear. As a result of clarifying the theme, all these ingredients ended up supporting each other to create a much more powerful and award-winning VR experience.
Conclusion
There are five ingredients that combine to help your game become much more engaging and successful: art, mechanics, story, community, and theme. When you put these ingredients together in a game or VR experience — art that resonates with your audience, mechanics that are fun and have clear goals, a story that adds meaning and context, a community makes you feel part of something larger than yourself, and a theme that ties it all together and connects to points of view with which your target audience can resonate — you get a much more engaging experience, and your chances of success grow exponentially.
Ready to learn more about virtual reality and game design? Check out NYFA's VR programs and game design programs!
by nyfa