Tis the season to stream!
Cinephiles flock to Netflix, HBO Max, Hulu, Apple TV+, and Amazon Prime to watch their favorite flicks through the holidays and new year. We love to watch classics like Meet Me in St. Louis (1944) alongside unconventional movies like When Harry Met Sally (1989). In the spirit of the holidays, we share our pick of the best movies to stream this season, taken from our NYFA faculty.
The Best Holiday Movies to Stream This Year
What makes a movie a holiday movie? Some viewers prefer a film focused on a specific holiday, while others prefer watching something familiar each year. Of course, there is the typical Die Hard debate.
(Is it a holiday movie? Is it not?)
This year, we included something for everyone – traditional holiday classics, feel-good movies with holiday scenes, and unconventional choices.
1. Meet Me in St. Louis (1944)
For those who enjoy classic films, Meet Me in St. Louis is a fantastic romantic musical comedy starring Judy Garland. The film takes place in St. Louis, Missouri, the year before the 1904 Louisiana Purchase Exposition World's Fair, and tells the stories of love and close relationships between sisters. The story predominantly takes place around the Christmas season, with an elegant Christmas Eve ball that pushes many plot points forward.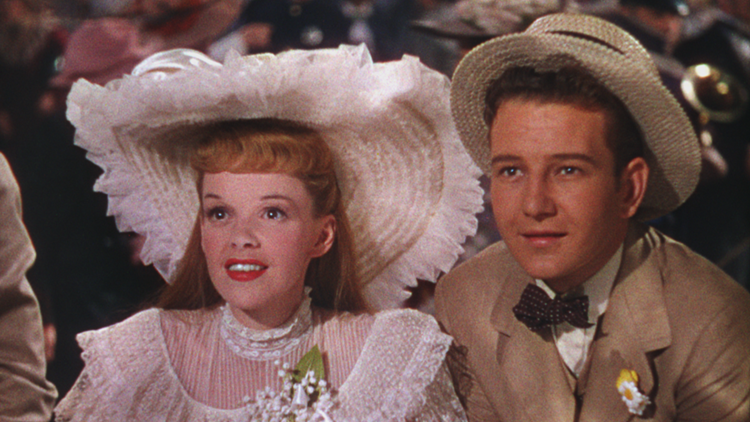 Younger filmgoers may recognize the title from the first Sex and the City (2008) movie, as it's the DVD Carrie Bradshaw's assistant (played by Jennifer Hudson) gifts to her before moving back to (you guessed it) St. Louis.
Rent or purchase to stream on Amazon Instant Video.
2. National Lampoon's Christmas Vacation (1989)
"After much deliberation, I have to go with National Lampoon's Christmas Vacation," Jonathan Whittaker, Chair of Short-term Programs at NYFA. "As a film professor, I wanted to submit a more highbrow and esoteric title, but the truth is, when I think of the holidays and movies, I think of Christmas Vacation. Because there are so many memorable scenes and lines, watching it feels like going home again. I can still hear, clear as if it were yesterday, my dad's laughter filling the living room lit by the warm glow of the Christmas tree."
"While not a deep story," he adds, "There were elements of the script, most specifically the characters, that still resonate with me. Clark Griswold is not the only one with a "Cousin Eddy." "It's Christmas, and we're all in misery."
Stream it on HBO Max.
3. Jingle Jangle (2020)
Jingle Jangle is one of the highest-ranked, top 20 holiday films on Rotten Tomatoes, making it a must-see for anyone who's missed it so far. With an all-star cast including Anika Noni Rose, Forest Whittaker, Keegan Michael-Key, and Ricky Martin, the movie follows the journey of a crestfallen toymaker who is inspired by his energetic granddaughter.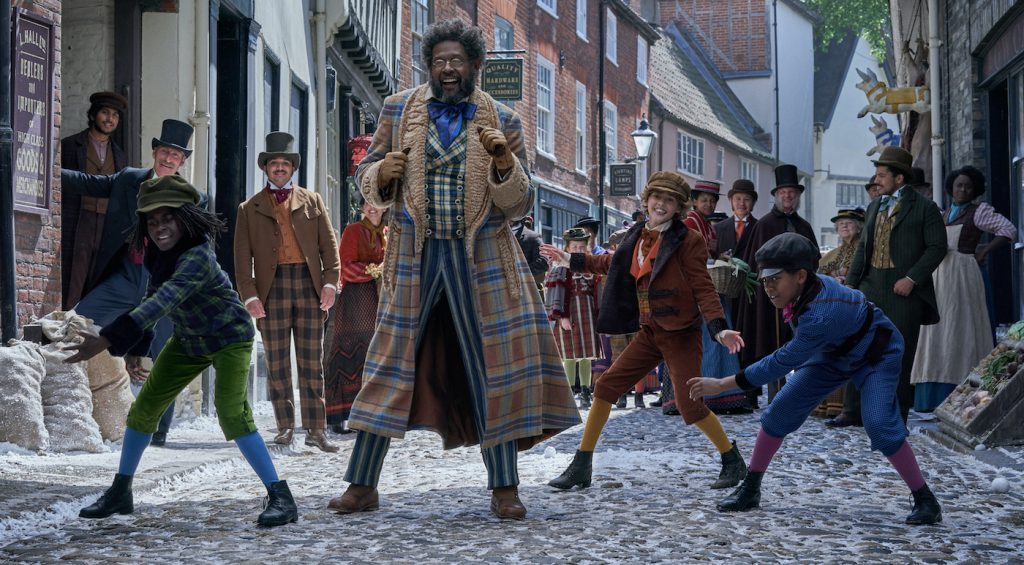 The animated movie is an excellent film for anyone who enjoys holiday flicks with an element of magic, such as The Polar Express (2004) or The Grinch (1966).
Stream it on Netflix.
4. Little Women (2019)
The newest version of Louisa May-Alcott's classic story, starring Saoirse Ronan, Emma Watson, Florence Pugh, and Eliza Scanlen as Meg, Jo, Amy, and Beth, is a cozy yet bold retelling of the story. The warmth of the March family, combined with the close-knit relationship between the sisters (for the most part), makes this a film perfect for watching around the holiday season.
Although not a holiday movie, the film partially takes place during Christmas. We see the March girls celebrating the holiday with their dear Mother, who inspires them to help others and express gratitude for the little they do have while their father is away at war. For traditionalists, there are seven different adaptations, including a 1933 version with Katharine Hepburn as Jo, and the well-known 1994 version with Winona Ryder as Jo, Samantha Mathis, Kirsten Dunst as Amy, Trini Alvarado as Meg, and Claire Danes as Beth.
Rent or purchase to stream on Amazon Instant Video or Apple TV.
5. Young Frankenstein (1974)
While not a holiday movie, one of Naomi White's favorite films to watch around the holidays is Young Frankenstein. The NYFA Los Angeles Photography Chair says, "My family and I watched it growing up, and now we watch it with our son."
It could be worse; it could be raining. (Cue thunder followed by rain).
Naomi's selection shows that a film doesn't have to be holiday themed to be one of the best holiday movies to stream. All that matters is spending time with family and friends and passing on important traditions.
Stream it on HBO Max, Hulu, The Roku Channel, Amazon Prime Video.
6. Carol (2015)
Carol is a breathtaking film that reviewers called "the best lesbian movie ever made."  Adapted from Patricia Highsmith's novel, The Price of Salt, the romantic movie stars Cate Blanchett and Rooney Mara as two women who fall in love during the 1950s. The two characters meet during Christmas in a holiday department store. Rooney Mara's character, Therese, works in the department store, meeting Blanchett's character, the titular Carol after she enters to purchase her daughter a gift. The two bond and proceed to have an affair. 
The film is a beautiful story love story. It encapsulates many of the challenges that many LGBTQ+ community members still face today.
Stream it on Tubi, Amazon Prime Video.
7. The Shop Around the Corner (1940)
While many are familiar with the Meg Ryan and Tom Hanks romcom, You've Got Mail, many aren't as familiar with the charming classic film that inspired it, The Shop Around the Corner. Starring Jimmy Stewart and Margaret Sullivan, the film differs from You've Got Mail in many ways, such as taking place in Budapest instead of New York City. It's also a holiday movie, taking place around the Christmas season.
It's not surprising that many people overlook this film around the holidays, as Jimmy Stewart also stars in the Christmas classic It's A Wonderful Life. The plot is also much more in line with a romantic comedy rather than a holiday film. Similar to the 90s version, the film follows two professionals at odds who are also penpals, unbeknownst to each other. These mysterious penpals are drawn to each other's poetic views of the world while simultaneously irritated by their real-life counterpart.
The film is preserved in the United States National Film Registry by the Library of Congress and was based on a play 1937 play, Parfumerie.
Stream it on HBO Max, Hulu, Amazon Prime Video.
8. When Harry Met Sally (1989)
Speaking of Meg Ryan, Herschel Faber, the Chair of Filmmaking at NYFA South Beach, adds a not-quite-a-holiday movie into the mix: When Harry Met Sally.
"I'm a sucker for a well-made rom-com, and this one hits all the right notes, including a convention-defining last sequence where Harry finally professes his love for Sally in the most charming of ways as the ball drops on Manhattan. Pure movie magic."
You heard it here first. Feel free to add When Harry Met Sally to the list of New Year's Eve movies!
Stream it on HBO Max and Amazon Prime Video.
9. Tokyo Godfathers (2003)
Tokyo Godfathers (Tôkyô goddofâzâzu) is an animated film (anime) about two homeless men and a woman who finds an abandoned infant while living on the streets. They explore Tokyo around the holidays, hoping to find the child's parents, with the story hitting a perfect balance of comedy and drama.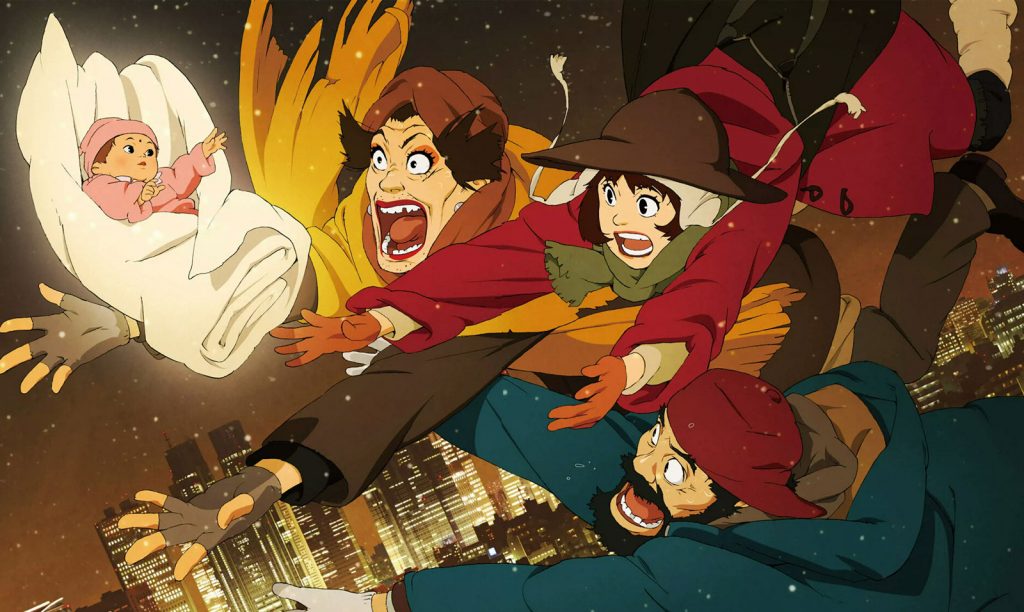 Directed by Satoshi Kon, the film is a heartwarming adventure and a reminder that, sometimes, miracles can happen on the holidays.
Stream it on Tubi and YouTube.
10. The Nightmare Before Christmas (1993)
The Nightmare Before Christmas is one of the most beloved nontraditional holiday films out there. Directed by Tim Burton, this stop-motion animated film was one of the first of its kind, bringing us into the spooky world of Halloween. We meet a cast of colorful characters, including the "Pumpkin King," Jack Skellington, who has become tired of the scary holiday. By mistake, he discovers the Christmas holiday and is instantly enchanted.
Despite having no experience with holiday cheer, Skellington decides to take it upon himself to take over Christmas, much to the dismay of Santa and children all over the world.
Stream it on Disney+.
11. Die Hard (1988)
"My favorite holiday movie is the best holiday movie of all time – Die Hard!" says NYFA New York Screenwriting Chair Randall Dottin. "Lots of action, witty dialogue, great characters, and lots of fun," he adds. "I think the film endures because it's ultimately about arriving at redemption and reclaiming love through forgiveness."
Answering the ultimate question – whether or not Die Hard is a holiday flick, Dottin seems strongly on Team McClane. For viewers still on the fence, this may be one of the best holiday movies to stream!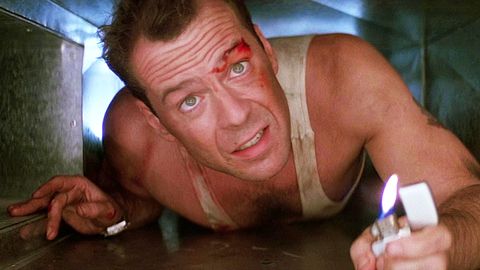 However, Nunzio DeFilippis, the NYFA Los Angeles Screenwriting Chair, also loves Die Hard but disagrees that it's a holiday movie.
"I know there is the eternal debate as to whether or not this is a holiday movie. I don't think it is because I think holiday movies need to be ABOUT a specific holiday. They shouldn't work (or at least not work as well) if not set during that holiday. And Die Hard would work just as well if John were visiting his family and there just happened to be a different office party. All of that being said, it does use the holiday very well to create and enhance mood, so it's kind of fun to watch it during the holidays. Plus, it's Die Hard – a near-perfect action movie. Why not watch it?"
Stream it on Amazon Prime or Starz.
Learn How To Tell Memorable Stories at NYFA
There are a variety of feel-good films across genres perfect for the holiday season. If you have your own idea for an inspiring movie, check out our available filmmaking programs in the new year.
by nyfa