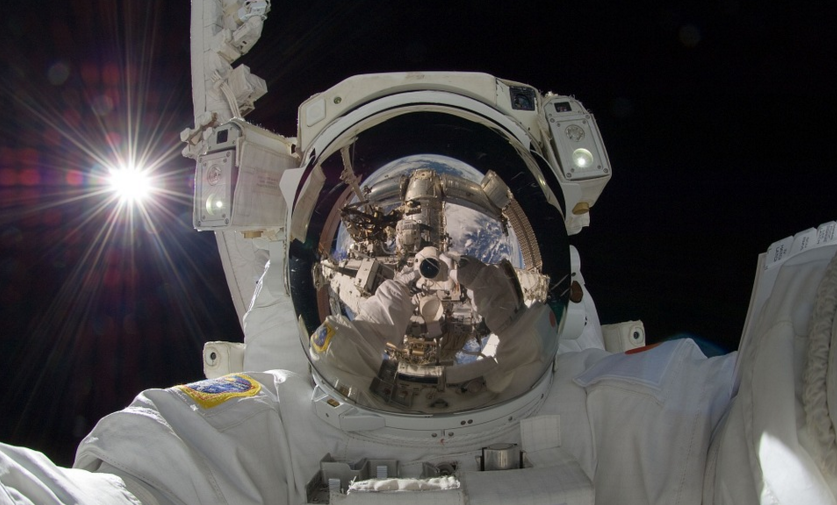 July 20 marks the 48th anniversary of Neil Armstrong setting foot on the moon — prompting the well known quote, "That's one small step for man, one giant leap for mankind." But that wasn't the first or last time that space played a major role in motion pictures.
Today, we'll look at some significant moments for space in film, beginning with the New York Film Academy itself.
In celebration of the 48th anniversary and the launch of JSWT, here's a list of space movies in Hollywood and how they've evolved over the years.
"Apollo 13" (1995)
Ron Howard directed the 1995 docudrama space adventure, "Apollo 13," featuring Tom Hanks, Kevin Bacon, Bill Paxton, Gary Sinise and Ed Harris. The film dramatizes the 1970 mission for American's third Moon landing. Astronauts Jim Lovell, Jack Swigert, and Fred Haise aborted the mission, after an on-board explosion left the astronauts without most of their oxygen supply and electric power.
"Apollo 13" was considered a technically accurate movie—Howard sought NASA's assistance in astronaut and flight controller training for the cast. Howard even had permission to film scenes aboard a reduced gravity aircraft to give a more realistic feel to the movie.
The movie was nominated for nine Academy Awards and won awards for Best Film Editing and Best Sound.
"Mission to Mars" (2000)
https://youtu.be/dgFN0U380vk
"Mission to Mars," directed by Brian De Palma, takes place in 2020 when a manned Mars exploration mission goes wrong. An American astronaut, played by Gary Sinise, coordinates a rescue mission to save those who were on the exploration missions.
The film employed special effects that involved the NASA spacecraft and Martian vortex, which were created by various digital effects companies. More than 400 technicians were involved in the production of special effects, which ranged from visuals to miniatures, and animation.
"Gravity" (2013)
What happens when a space shuttle is destroyed after mid-orbit destruction? Director Alfonso Cuarón's 2013 movie, "Gravity." Sandra Bullock and George Clooney portray two American astronauts who are stranded in space and can't return home because of their damaged space shuttle.
The cinematography, musical score, Bullock's performance, visual effects, and the use of 3D all contributed to the critics' positive reviews. "Gravity" received 10 Academy Award nominations and won seven, and was awarded six BAFTA Awards.
"Interstellar" (2014)
"Interstellar" is a movie focusing on the survival of mankind—a team of astronauts travel through a wormhole to find a new planet that can sustain human life. The science fiction film was directed, co-written, and co-produced by Christopher Nolan. The movie's cast included Matthew McConaughey, Anne Hathaway, Jessica Chastain, Bill Irwin, Casey Affleck, Ellen Burstyn, John Lithgow, and Michael Caine.
The film was shot on 35 mm in anamorphic format and IMAX 70 mm in Alberta, Iceland, and Los Angeles. Extensive practical and miniature effects were used in the film, and Double Negative created additional effects.
"Interstellar" won the Academy Award for Best Visual Effects, and was nominated for Best Original Score, Best Sound Mixing, Best Sound Editing, and Best Production Design.  
"The Martian" (2015)
Matt Damon portrays a stranded astronaut in the 2015 film, "Martian," directed by Ridley Scott and based on Andy Weir's novel, "The Martian." The film follows Damon, whose character is presumed dead and left behind on Mars, and struggles to survive while others attempt to rescue him.
Twenty sets were built on a soundstage in Budapest, Hungary, and Wadi Rum, Jordan was also used as a backdrop for filming. The movie won a Golden Globe Award for Best Motion Picture and nominated for seven Academy Awards.
NYFA & NASA
Did you know the New York Film Academy has worked with NASA?
In 2014, the New York Film Academy collaborated with National Aeronautics and Space Administration (NASA) to help raise awareness for the James Webb Space Telescope (JWST).
NYFA, NASA, and Northrop Grumman used visual storytelling to give the audience insight into the development of JWST. The telescope is scheduled for completion and launch in 2018 — and JWST will replace the famous Hubble Space Telescope. New technology will allow scientists to continue studying galaxies, the formation of stars and planets, and the possibility of extraterrestrial life.
Do you have a favorite movie about space? Let us know below! Learn more about filmmaking at the New York Film Academy.
займ на карту быстро онлайн
zaymibistroru
займ до зарплаты онлайн на карту
деньги на карту без отказов срочно
zaymibistroru
взять займ на карту без отказа онлайн
by nyfa