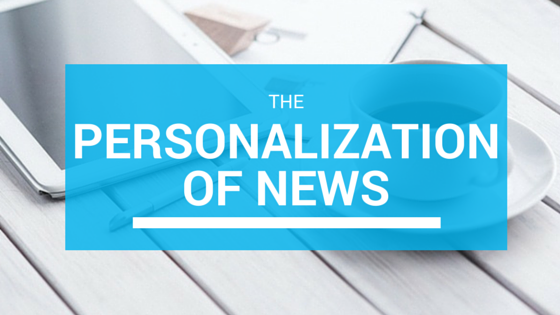 While news broadcasts are still aimed at the masses, broadcasters are finding new ways to personalize how viewers get their news. After watching the evening newscast, viewers can follow a story on the station's Facebook page or sign up for text updates on its website. Not only does this keep viewers engaged by giving them more of the stories that interest them (and less of the ones that don't), it also gives broadcasters data they can use to produce more relevant stories.
General Broadcasts, Personalized Updates
News broadcasts contain a mixture of news about politics, sports, health, weather, business, and local events. Not all of these stories are interesting to everyone in the audience, but with websites and social media pages, TV stations can make it easier for viewers to get more info about the topics that do interest them. When the digital video revolution first began, viewers still had to visit a broadcaster's website or  search for a topic on YouTube to learn more, but now TV journalists are finding new ways to seek out audience members.
[su_note]Learn more about the School of Broadcast Journalism at the New York Film Academy by clicking here.[/su_note]
Social Media Personalization
Viewers who want more info after seeing a package on the local news can check the station's Facebook page or Twitter feed for a link to the story. Even though the link may only show the same video from the earlier newscast, by liking or commenting on it, audience members can get updates as they become available—even in between newscasts, as most broadcasters post breaking news in ongoing stories as it becomes available. Aside from getting more information from the broadcaster, they can read comments from other viewers and, in some cases, learn more about a topic through the anecdotes of other viewers (although comments on social media should probably be taken with a grain of salt).
What does this mean for the broadcaster? More viewer interest in future stories or updates on previous packages, more opportunities to sell ad space, and the chance to engage with viewers.
Not Just a Social Media Phenomenon
While social media is great for personalizing the news experience, many stations also offer text or email updates. Again, personalization is key. Viewers who just sign up for updates without specifying what topics or stories they want, often get deluged with so many emails/texts that they quickly opt out.
Due to this issue, most stations now offer a customized experience for audience members who want to sign up for digital updates. They're asked what topics they want to receive updates about—sports, weather, the stock market, etc.—and sometimes what kind of updates they want on those topics. For example: do you want a text every time your station covers a story about sports, or do you only want updates about your local football team? How about your local football team plus major national stories about baseball?
Not all TV stations offer this level of customization for subscription alerts, but the more specific they make the process, the more likely it is that viewers will stick with their updates.
Other Ways Broadcasters Can Personalize the News Experience
While it's not yet possible to tailor whole TV broadcasts to specific viewers, that could eventually happen in the digital platform, with websites like Reuters already attempting to curate news for each viewer. Last year the news organization released an app called Reuters TV, which chooses news based on subscribers' usage data, location, and whether they want short, medium, or long videos.
The downside is the app comes with a monthly fee, and some viewers might prefer to find their own news for free. It's also currently only available for iOS devices.
Is this an option for local TV stations? Many have their own apps, but most couldn't afford the cost of curating algorithms or support for such a sophisticated endeavor. Most local stations would also balk at the idea of charging for their app. Broadcaster apps are usually valued for the wealth of data they provide, and the opportunity to sell advertising.
While a fully curated app may not be possible for most smaller stations, some level of customization usually is. When a viewer downloads a broadcaster's app, he or she is often asked to give the app permission to do all sorts of things, including using the device's location and other data. Some versions of local TV apps can use this information to recommend stories to each user or decide which updates are most important to that particular user.
[su_note]For more on how to personalize the news experience in a multimedia world, please click here.[/su_note]
by nyfa