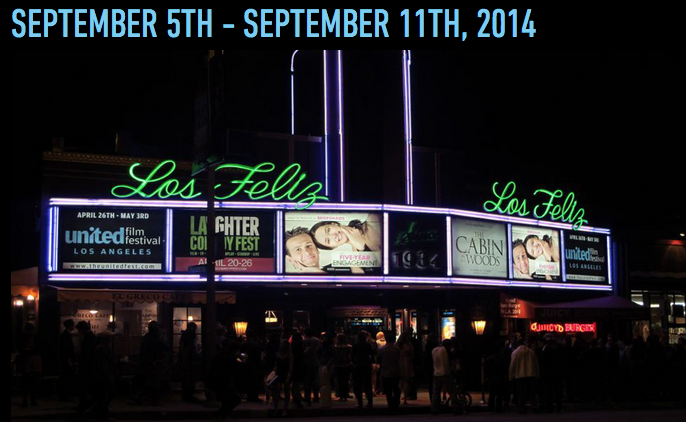 The United Film Festival Los Angeles will be returning to the City of Angels for its 7th year at the Los Feliz 3 from September 5th through the 11th. The festival will be screening great independent films, both features and shorts, and a midnight screening of their cult classic documentary, The Rock- afire Explosion.
Selections include:
Live-In Fear on Friday, September 5th at 9:30pm (In order to escape the anxieties and fears of their normal lives, four emotionally distant friends travel to the Utah mountains to try and reconnect but it only ends up driving them further apart. They soon find the world coming down on them as they must face their fears and a deranged cult hell-bent on waking something ancient and evil up from a thousand years of sleep.)
Chasing Notes on Saturday, September 6th at 7:00pm, (The first documentary of its kind – focusing on the real-life challenges and demands faced by film composers who apply their craft in an intensely competitive field. Broader than that, however, it captures the spirit of chasing one's dreams, which is an aspect of life that everyone can relate to. This film will allow you to meet the personalities of those who write the music we love in our movies, showing you a human side of an overlooked industry. As you get to know the key players of film composing, and hear their widely entertaining (and at times painful) tales of experience, you will also witness the emotional journey of an emerging composer attempting to break through into the industry at all costs. Capturing the very essence of the independent spirit, Chasing Notes shares candid stories intertwined with behind-the- scenes access about what it's really like to be a composer in Hollywood today, and how some will brake for nothing to succeed at it.)
Legend of the Red Reaper on Sunday, September 7th at 6:30pm (For a thousand years, the Reapers guarded mankind from the demons that wait in the dark. Now, at the beginning of a new age, the Reapers are betrayed and slaughtered. Only one Reaper remains – Red, and she's out to exact revenge.)
Echoes on Tuesday, September 9th at 7:00pm (Struggling with horrifying, sleep-paralysis induced visions, a young writer retreats with her boyfriend to an isolated desert house. As the visions intensify, she finds herself on the verge of losing her mind…or uncovering a life-threatening secret.)
Furthest From The Wild on Wednesday, September 10th at 7:00pm (Chronicling the many struggles that non-profit animal sanctuaries must face, Furthest From the Wild is a window into the world of captive animals. It offers a unique look at the lives of those who care for beautiful, and at times, dangerous creatures.)
Jason Connell is the founder and director of the United Film Festival, which started in Tulsa in 2002 and then spread to Los Angeles & New York in 2007 and next to San Francisco, Chicago & London in 2009. The festivals have a rich tradition of screening exceptional independent films and have gained a respectable reputation in only a few years time. Connell's distribution division, the appropriately named United Films, has grown rapidly and now represents an impressive and constantly expanding library of independent films.
If you'd like to check out the full schedule or buy tickets, visit: theunitedfest.com/LosAngeles!
NOTE: Tickets for most screenings are $10, with the only exception being the midnight screening, which is 2 for $10.
by nyfa