On the evening of January 23, New York Film Academy's Principal Jean Sherlock, President and CEO Michael Young, and Greater China Region Vice President Joy Zhu attended the 2020 Lunar New Year Reception to celebrate the Year of the Rat at the Consulate General of the People's Republic of China in New York. Consul General Huang Ping and his wife Zhang Aiping hosted the event and welcomed more than 300 guests from various institutions and industries.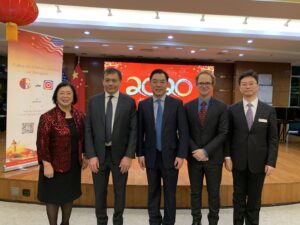 Decorated with an array of lanterns and streamers, the reception was held an atmosphere of joy, peace, and harmony. Huang Ping gave an impassioned speech, sending holiday greetings and best wishes to guests, the vast number of overseas Chinese in the eastern United States, international students, and personnel of Chinese enterprises.
At the reception, a theatre group from the High School Affiliated to Renmin University of China put on a wonderful dance. Young artist Baicheng Wu gave performances including the singing of Auld Lang Syne, pianist Haochen Zhang performed one of Claude Debussy's Préludes and other classical songs. Guests exchanged greetings and conversed with each other in a warm and friendly atmosphere.
Around 8:15 p.m., the highly anticipated Lunar New Year fireworks show started. The Manhattan night sky shined with colorful, majestic fireworks. The consulate hall was full of cheers and happiness. The background music for the fireworks show included traditional Chinese songs that reflect the Silk Road spirit and Dunhuang culture. Large crowds watched the show from both sides of the Hudson River.
New York Film Academy wishes everyone a warm and happy Lunar New Year!
[su_carousel source="media: 33663,33661,33659,33662,33658,33660″ limit="60″ link="lightbox" target="blank" width="780″ height="360″ title="no" autoplay="0″]
by nyfa