Michael Tanner Cusumano has been a student at the New York Film Academy for five years. He is only 16 but his work has already garnered him several awards of merit at festivals including Metropolitan Film Festival of NYC, Burbank International Film Festival, Los Angeles Cinema Festival of Hollywood, and Santa Clarita Valley Film Festival. The NYFA Blog was lucky to catch up with Michael this week….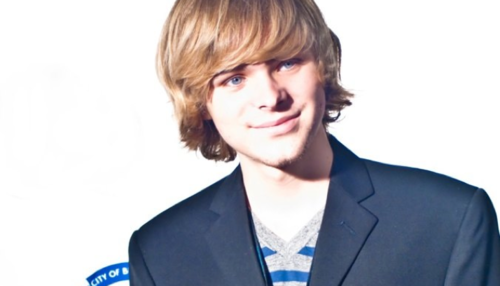 Michael, thanks so much for sitting down with us. It is my understanding that you have done several programs with the New York Film Academy?
I've taken two years of the tween programs, and so far I've done three years of the High School Advanced HD Program. I first heard about NYFA from a family friend and they just said great things about the school. I went and checked them out and I just fell in love with NYFA. The New York Film Academy teen program is extremely unique – there's really no program I've seen quite like it. The New York Film Academy gives its students amazing production equipment to work with and without NYFA, I wouldn't have access to these amazing tools.
Do you have a favorite experience at NYFA so far?
That's I really tough question because NYFA is an amazing experience in itself. For one of my projects, Sage, we filmed on location at The Queen Mary in Long Beach and that was really fun. The Queen Mary treated us really well because we were NYFA students. Sage just won Best Film Noir at Burbank International Film Festival 2010 and also showed at the Red Rock Film Festival.
Out of the five films you have created in your time at NYFA, which have you been most proud of?
I'm really proud of the way Amanda turned out. We had an amazing cast and crew and we were able to get a stunt in the film, which was awesome. Amanda deals with teenage drinking and driving, which I feel is a really important issue. I think this film might help detour people from making a life-changing mistake. As a director, it's good to make a film that you have a relationship with and that you're passionate about. With Amanda, a friend of mine was killed by a drunk driver and that's what led me to make the film.
***Amanda premiered at the Santa Clarita Valley Film Festival 2011 and has since screened at New York Filmmaker's New York Film Festival, Urban Suburban Film Festival, Mountain Film Festival, and Buffalo Niagara Film Festival. It won Best High School Film at Santa Clarita Valley Film Festival, an Award of Merit at Los Angeles Cinema Festival of Hollywood, and Honorable Mention at the Metropolitan Film Festival of New York City.
So what comes next?
Right now I'm working on a new short film called Impetuous, which deals with the issue of peer pressure and bullying. We are planning to film at the end of March. My dream since I was a little kid was to get work as a director in the industry. I think it's important to do something you love, and for me that's definitely film.
For more information on Michael and his films, check out his website at http://tannercusumano.com/
by nyfa