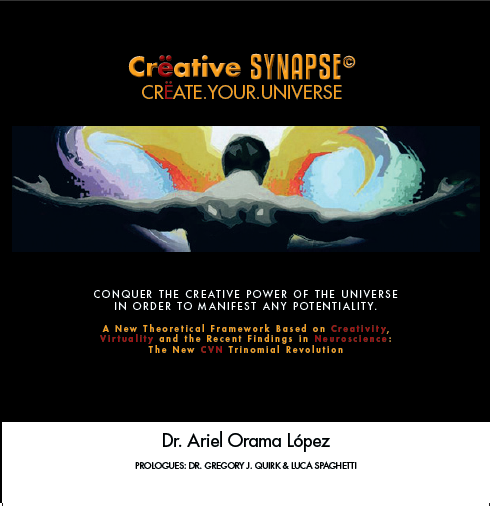 One year after his book presentation at Museo de Arte de Puerto Rico, New York Film Academy Acting for Film graduate, Dr. Ariel Orama Lopez, published his new theoretical framework in an English Collection Edition: CRËATIVE SYNAPSE: CRËATE.YOUR.UNIVERSE© (English Ed., 2014). It is the first theoretical framework that explains the behavior of the human being by integrating the following variables: creativity, the recent findings in neuroscience, and the new influence of the virtual universe. The English version of the book includes new applications and exercises for the development of creativity from different perspectives, directed to actors, filmmakers, artists in general, parents, students, academics and scientists. The book made him an honoree of various recognitions, among them the dedicatory for his approach, engagement and investigation in creativity. This honor was received on behalf of the Universidad Politécnica de Puerto Rico and Pontifical Catholic University of Puerto Rico (5to Premio del Presidente) for his approaches in the arts, coaching and psychology.
During his time at NYFA Los Angeles' Acting for the Film school, Ariel performed in fourteen short-films. Now, he is a collegiate actor of the Colegio de Actores of Puerto Rico, a certified Executive Coach (specialized in Crëative Life Coaching) from TISOC, Barcelona, Spain and a licensed clinical psychologist. He was selected as a finalist of Taller TELEMUNDO: Actores, in Miami, directed by Oscar nominated Mexican actress, Adriana Barraza.
Ariel hopes that someday his book will be used as a reference by NYFA's acting and filmmaking students.
by nyfa