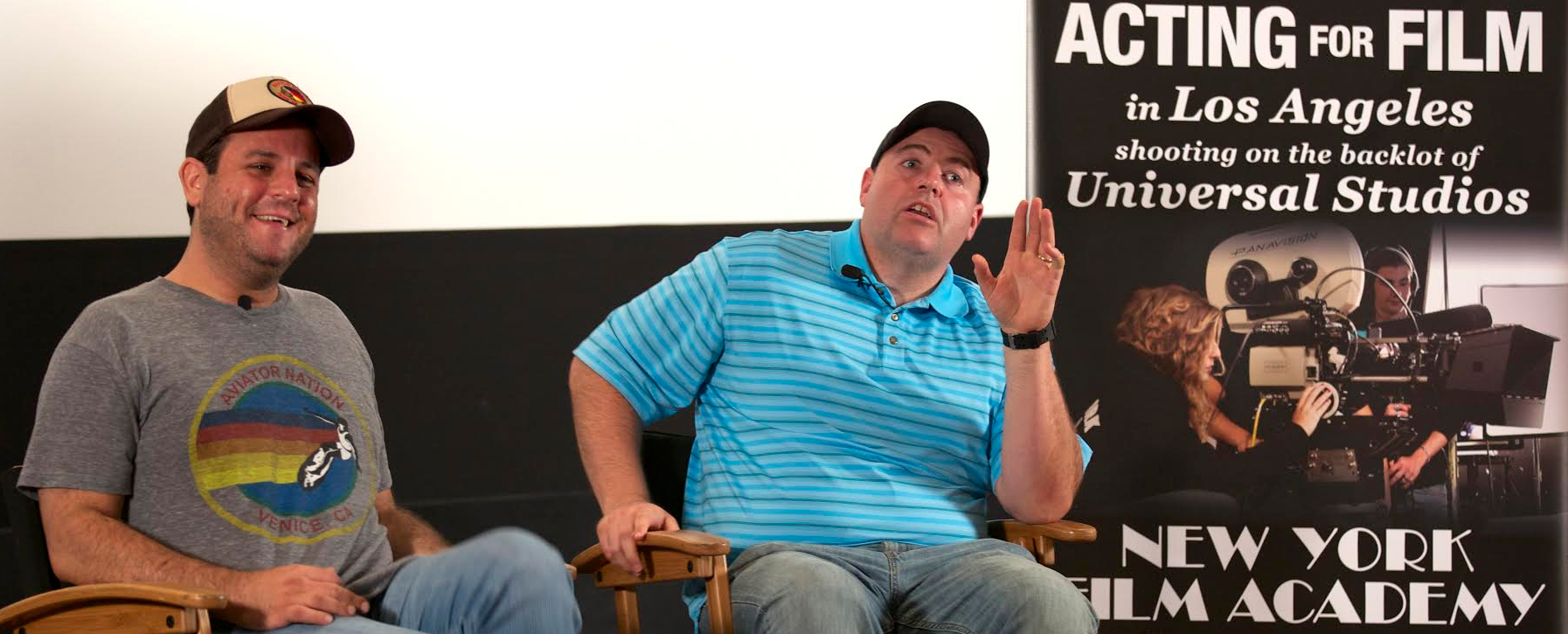 This week, New York Film Academy Los Angeles students had the opportunity to see a sneak peek screening of the highly anticipated indie film Affluenza at Warner Bros. Studios followed by a Q&A, moderated by Tova Laiter, with the director Kevin Asch and screenwriter Antonio Macia.
The film follows aspiring photographer Fisher Miller (Ben Rosenfield) who in the summer of 2008 escapes for the moneyed mansions of Great Neck, while applying to college in Manhattan. Finding himself on the outside looking in at his beautiful cousin Kate's (Nicola Peltz) circle of indulged friends, he ingratiates himself with high-quality weed and a vintage camera to document their hard-partying exploits until the financial hit, and the glamorous veneer implodes.
Kevin Asch (Director and Producer) develops and produces projects through his Lookbook Films production company, including Asch's feature directorial debut, Holy Rollers. The film premiered in the dramatic competition at the 2010 Sundance Film Festival, was released in North America to critical acclaim and played in theaters worldwide throughout 2011. For this debut, Asch won Breakthrough Director at the 2010 Gotham Independent Film Awards and Most Promising New Director at the 2010 Deauville American Film Festival. Antonio Macia (Writer and Co-Producer) has more than 10 years of experience as an independent filmmaker. In 2003, he wrote and co-starred in his first feature, Anne B. Real. This coming-of-age drama won several prizes and was nominated for the John Cassavetes Award at the Independent Spirit Awards.
Kevin Asch and Antonio Macia embody the spirit of true indie filmmakers. The two films they've collaborated on to date, Affluenza and Holy Rollers, were passion projects of theirs from the films' first conception. They make movies for one simple reason and one alone—they LOVE it. This is an obvious fact when you hear them speak. They have a "no matter what" attitude when it comes to seeing their films brought to life and their enthusiasm for filmmaking is downright contagious.
Kevin and Antonio offered some true words of wisdom for aspiring filmmakers. For instance, although Kevin and Antonio consider themselves equal partners, when on set Kevin is captain of the ship because he is the director. They stressed the importance of maintaining one voice of authority in front of the cast and crew. So if Antonio has a suggestion for Kevin while shooting, he will quietly pull him aside and offer the idea. They advise actors to research the filmmakers they audition for. Nothing is more of a turnoff for a director than if the actor who's reading for them doesn't have a clue as to who they are or what they've done. A little investigation in this respect can go a long way. Kevin and Antonio also recommended to students to not allow fundraising for movies to intimidate them. They raised over a million dollars for Affluenza. Instead of asking themselves whether they could raise one million dollars, which seems like an impossibility, they viewed it as raising $50,000 twenty times. After exhausting their resources and contacts (and their contacts' contacts) they realized it wasn't as impossible as it seemed…
Kevin Asch and Antonio Macia are already on to their next project—a movie entitled King's Highway for Leonardo DiCaprio's Appian Way Productions, which Antonio is writing and Kevin is slated to direct. Set in the 1980s, this gritty crime drama centers on a former Mossad agent living in New York. We wish them continued success with this film and future ones that their passion is sure to bring them.
by nyfa