Five years ago, NYFA Teen Filmmaking alum Allan Ungar, a new director at the time, was sent scripts for films "people thought [he] wanted to make." Ultimately, these scripts did not resonate. Ungar, a Toronto native, was searching for a way to incorporate his hometown into his work. "I always wanted to find bold and audacious stories to tell that … [had] some connection to that "home." He continued to work on developing his skills as a director while searching for that story. "With a country so rich in its history, I felt that it was only a matter of time before I would come across a story that had all the right elements to make a powerful and convincing film that people could relate to."
In Bandit, Ungar found a story that captured the essence of his home country and captivated him. Bandit is based on the exploits of Gilbert Galvan Jr., an American who escaped from a Michigan prison and crossed the border to Canada. Upon arriving in the northern territory, Galvan, alias Robert Whiteman, planned and executed 59 heists in banks and jewelry stores in almost every province from Vancouver to Halifax. The director shared that he read the Bandit script in one sitting. "I called my agent that night and said, 'I have to make this film.'
Allan Ungar, the mastermind behind
Uncharted: Live Action Fan Film
, has always been a fan of the heist genre. The classics "employed an inherent and organic ability to entertain, thrill, and excite audiences. Whether there was action, drama or romance involved, I always felt that there was a heightened sense of authenticity that was relatable." With
Bandit
, Ungar found a film that possessed all of these qualities. "It had heart," he said. In the film, Gilbert Galvan Jr. (Josh Duhamel), turns to robbing banks and jewelry stores after falling in love with a woman (Elisha Cuthbert) whom he cannot provide for. As it turns out, love is what motivated one of the most notorious heist-men in Canadian history. "It was a story about a real human being who had a dream and went for it. No matter the cost."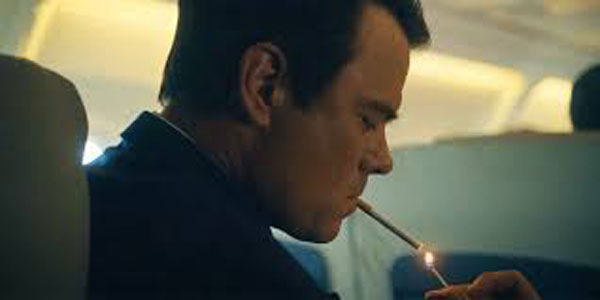 Bandit gets its title from The Flying Bandit, the book by Robert Knuckle with Ed Arnold that inspired the screenplay by Kraig Wenman. Gilbert Galvan Jr., was dubbed "the Flying Bandit" because he was a member of a frequent flyer program; and under the pseudonym Robert Whiteman, a computer salesman, Galvan would fly first class to different cities across Canada to rob up to 3 banks in the same day before flying back home to his wife. Galvan was one of the most productive heist-man and still holds the record for most consecutive robberies in Canada's 155-year history. In his three-year spree, he amassed over $2 million.
View this post on Instagram
The Toronto native would have preferred to film Bandit in and around Canada, but 2020 had other plans for Allan Ungar and his crew. Due to the pandemic, Ungar was forced to relocate. He had to "recreate 1980's Ottawa, Vancouver, Toronto, Winnipeg and Edmonton all in modern-day Georgia." The task was no easy feat, but Ungar affirms it was "one of the most … rewarding experiences of my career."
Bandit was purchased at the Cannes Marché du Film, the business counterpart of the legendary Cannes Film Festival, earlier this year. As the world's largest film market, Marché du Film is where producers, directors and distributors from all over the world gather in droves looking to buy and acquire the rights to the next big film. Highland Group closed on an array of international deals and sold the rights for Bandit to Signature Entertainment for distribution in the UK and Scandinavia, Originals Factory for France and French-speaking Switzerland, Eagle Films for the Middle East and many more distributors.
"I can't wait to see the way it resonates with [people]. Because at the end of the day, that's why we make movies."
Bandit will premiere in theaters on September 23, 2022.
New York Film Academy congratulates Allan Ungar on all of his work and success!
Please note: NYFA does not represent that these are typical or guaranteed career outcomes. The success of our graduates in any chosen professional pathway depends on multiple factors, and the achievements of NYFA alumni are the result of their hard work, perseverance, talent and circumstances.
by nyfa