Most New Yorkers and countless tourists to the city have seen the Naked Cowboy, but probably never outside of Times Square; New York Film Academy (NYFA) Photography Alum Denice Flores is changing that with her new exhibition, Naked Cowboy: The Backstory.
The body of work is the latest from Flores, who hails from Honduras and graduated from NYFA's 8-Week Photography Workshop at our New York campus in 2014. Naked Cowboy: The Backstory is Flores's first at the Soho Photo Gallery in Tribeca and opened on December 3.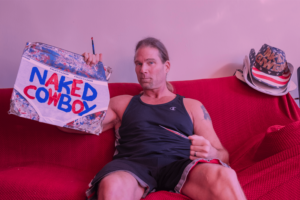 Naked Cowboy: The Backstory includes an installation as well as a slideshow that follows the life of Robert Burck, who has made himself a New York icon by performing as the Naked Cowboy in Times Square for years. Included in the exhibition will be some of his personal belongings, which will be on display in a recreated version of his living room. 
Flores mixed traditional photographic methods with audio to create a digital presentation for Naked Cowboy, that together with the installation, gives a look into the subject's life as an ordinary man, as well as his life as a performer and all that goes into it. The project continues the documentation of people's inner lives that she has provided in her work since studying at NYFA.
Flores's work will be displayed until December 21, and is her second exhibition in the US; her first, The Last Italians, was showcased at New York's International Center of Photography in 2016. 
New York FIlm Academy congratulates Photography alum Denice Flores on her latest exhibition and encourages everyone to check out Naked Cowboy: The Backstory at the Soho Photo Gallery.
by nyfa