Rachael Pelzer and William Nestlehutt, both alumni of New York Film Academy's Documentary Filmmaking school, have worked on the buzzworthy new documentary miniseries from CNN, The Movies!
The Movies! is a documentary miniseries that premiered on CNN on July 7. Produced by Tom Hanks and Gary Goetzman's studio Playtone, the six-part series chronicles a bird's-eye-view of American cinema, ranging from the Golden Age of Hollywood to present day.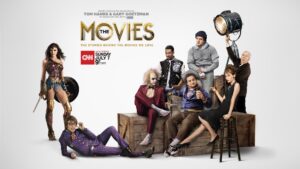 Rachel Pelzer worked on the series as a post production coordinator. Pelzer attended NYFA's 1-Year Documentary Filmmaking conservatory at our Burbank-based campus in 2014. Since graduating, Pelzer has worked on hit TV docuseries including The Nineties, 1968: The Year That Changed America, HBO First Look, and The 2000s.
William Nestlehutt was a classmate of Pelzer's, also attending NYFA's 1-Year Documentary Filmmaking conservatory at our Los Angeles campus in 2014. He's worked on some of the same projects as Pelzer, including The 2000s and 1968, as well as Cola Wars and College Football 150.
New York Film Academy (NYFA) congratulates alumni Rachel Pelzer and William Nestlehutt on their work on CNN's The Movies! and encourages film lovers everywhere to check out the docuseries!
by nyfa