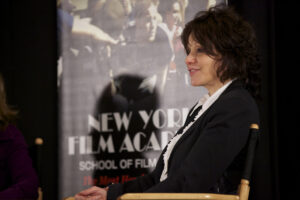 Amy Heckerling visited students at the New York Film Academy for a screening of her hit film Clueless. The writer/director garnered both critical praise and impressive box office success with movies including Fast Times at Ridgemont High, Look Who's Talking, and National Lampoon's European Vacation.
Heckerling became a successful director at a time when female directors were a novelty. Asked about what it was like being a woman in Hollywood in the 80's, she responded, "I'm psychotic. I don't care how the world works. I do what I want to do…. If you want to do it, you can't listen to what the world is telling you. You do what you want. If I tell you what I feel truthfully, there will be a [ton] of people who respond to that."
When asked about Clueless, Heckerling recalled, "They told me, 'We want to do something about the cool kids,' and I thought, 'Well that sounds stupid… But what if the cool kids were nice.' I remembered Emma, which I read in college. I always wanted to do something where the character was just happy. It seemed so strange to me. Then I got into her head and it wasn't so strange." The script came soon after, but it was initially met with rejection by a number of studios. "Everyone will try to say you can't do something," she said, "but there's only one person who has to believe in you, and that's you…. You may have to find another door to take you there. Take your shot. Be aggressive. As long as you believe in you, you'll find others to believe in you."
Do you have the same passion for directing as Amy? Learn directing at the New York Film Academy!
by nyfa