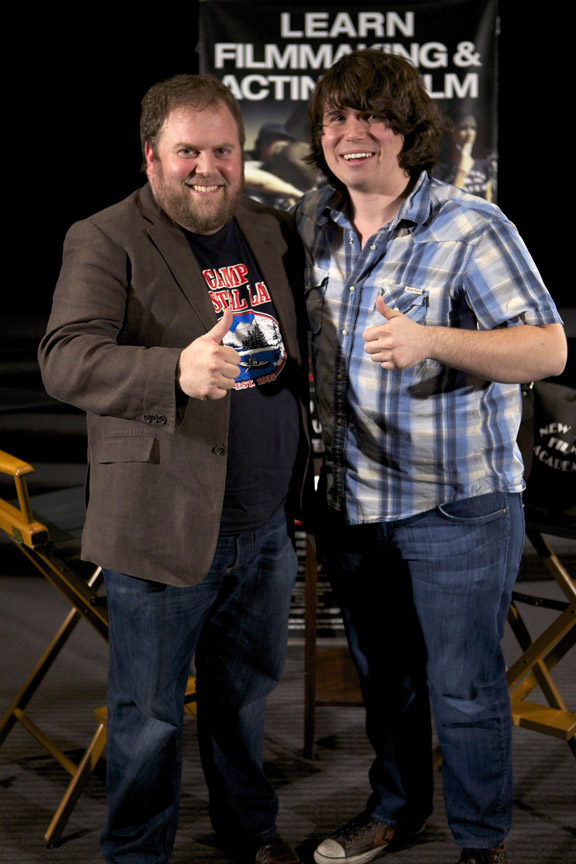 Director Michael Gallagher attended summer camps at New York Film Academy's Universal Studios campus 3 times as a youngster. He started making short films, music videos, and documentaries while in high school. Since then, he has started a wildly popular web series called Totally Sketch, which has over 850,000 subscribers on YouTube.
During a recent guest speaker event at New York Film Academy, Gallagher shared his recently-released horror film, Smiley, which was released in theaters nationwide. He described how his experience with internet shorts helped prepare him for his first feature length film. "Most of the sketches I shoot are like little scenes," he said. "It was like 110 sketches in a row." Working with a tight budget, the indie film was shot in just 15 days, and the filmmakers were shooting as many as 8 pages of the script per day. But as Gallagher puts it, "Horror movies fit the low budget. You can do a lot more with a little."
Gallagher cast friends and actors with large YouTube followings to help build buzz around the film. To date, the trailer has racked up over 21 million views on YouTube. At just 23 years old, his first feature length film was about to be released in AMC theaters across the nation. Things were going well until users of the website 4Chan got wind of the film's plot.

Gallagher said he was going for authenticity when he decided to make 4Chan users the villains of his film. In an interview with Huffington Post, he said, "I anticipated a minor backlash of people leaving harassing comments online." But he didn't anticipate the website's users posting his home address, his personal information, and leaving dozens of death threats on his cell.
After interviews with the TODAY Show, Inside Edition, Variety, Paste (and the FBI), 4Chan users realized they were only giving him free publicity. Just as the movie was released in theaters nationwide, the threats disappeared.
Much to 4Chan's chagrin, we're happy to report the Smiley DVD is now available for pre-order.
by nyfa