The words were simple, yet dramatically impactful: "We are all in the same boat, I have just been in it longer," said the world renowned photographer Ralph Gibson this past Saturday at the New York Film Academy's campus at Battery Place in New York City. The crowd eased back into their seats now relaxed and eager to listen to more.
The New York Film Academy (NYFA) was delighted to host a sensational event featuring Mr. Gibson, who is the Chair of NYFA Department of Contemporary Photography. The renowned photographer provided an exhilarating presentation and demonstration to more than 160 guests; the NYFA photography studio was packed with prospective photography students, hobbyists, and professional photographers.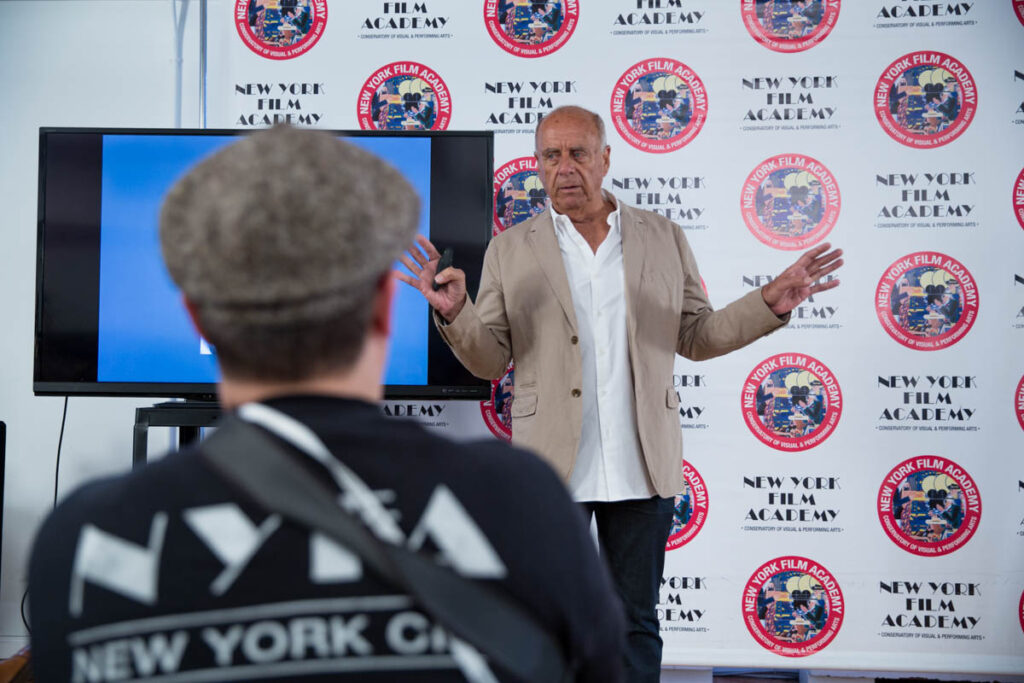 Mr. Gibson began by introducing himself and his background through an informal lecture and slide show that represented the last 50+ years of his illustrious career woven into six decades of contemporary fine art photography. At times the stories matching the iconic Gibson images were very personal, such as a photograph that he shot years after the death of his mother that led to a delayed mourning of her loss in a profound way.
While in the US Navy, Mr. Gibson became immensely adept at the technical skills associated with photography by working (and practically living) in the darkroom located deep in the hull of the ship. After his service he attended the San Francisco Art Institute and soon after began working as an assistant to the legendary FSA photographer Dorothea Lange. Mr. Gibson printed many of Ms. Lange's iconic photographs and admits that while she was a terrible technician it was "the sheer force of her will" that her masterful images immersed from the darkroom's chemicals. He gives credit to Ms. Lange for teaching him the concept that every great photograph is made only if by having a "point of departure" and that it is always important to have a destination in mind. Early in his career he had the great opportunity to work with the great photographer and filmmaker Robert Frank, of whom he is a still friend with today. He met other luminaries in the world of photography such as Mary Ellen Mark, the legendary photographer who passed away this past May. Mr. Gibson and Ms. Mark arrived in New York City as young struggling artists around the same time.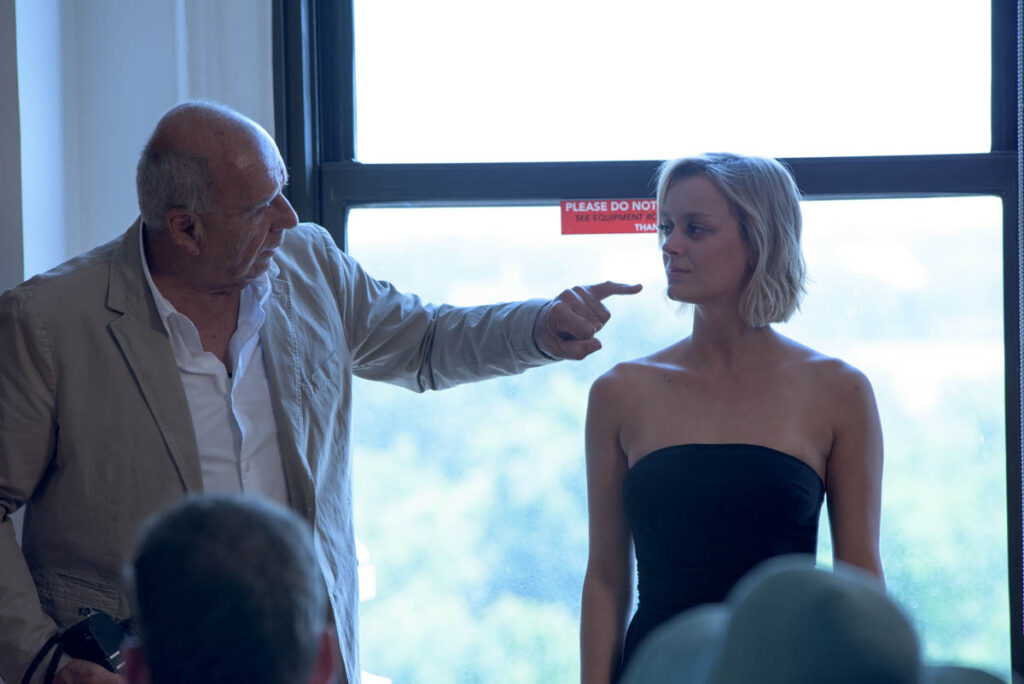 Through Mr. Gibson's photographs that were displayed on two large screens, we were taken on a visual walk through many distinct periods of his work, and exposed to the world through his life of travel with his ever-present 50mm lens. Of particular interest was the photographer's transition from film to working digitally and more recently creating work combining still and video. After the lecture he provided a demonstration based on the theme of "natural light" where Mr. Gibson provided the audience with tips ranging from camera handling to how the body and light are captured in the frame of the picture. His lecture stressed his strong preference for the use of natural light in his work. In fact, he says he hardly ever uses artificial light. He proudly displayed the "Gibson Special Edition" camera that the Leica Company produced in his honor.
Mr. Gibson challenged the participants to become immersed deeply in art, music, literature, history, and geography in order to become better visual thinkers. He said that everyone in the room is capable of creating a masterpiece, an icon photographic, but it must be intentional!
Not only will Mr. Gibson be teaching Master Classes to NYFA's Photography Programs in New York City, Los Angeles, and South Beach campuses, he will also open his New York studio to students on an individual basis.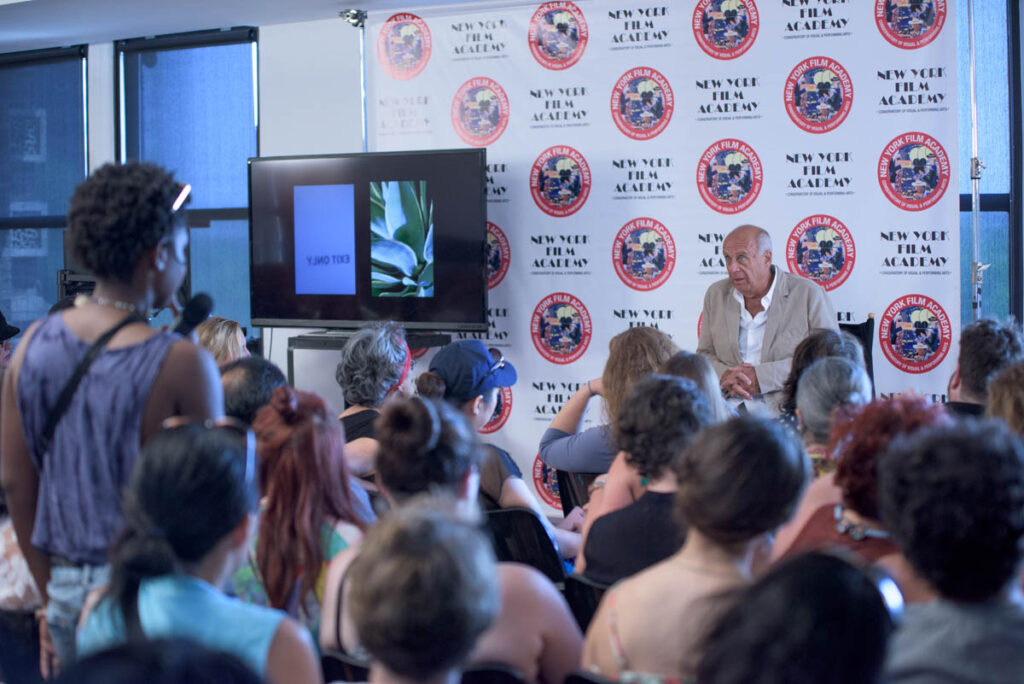 It's an honor and a pleasure for the New York Film Academy to introduce Mr. Gibson to our current and prospective students. His experience and pearls of wisdom are invaluable assets, and we look forward to a bright, naturally lit, future for our photography program!
More About Ralph Gibson
Mr. Gibson holds two Honorary Doctorate degrees and his awards include fellowships from the John Simon Guggenheim Foundation and the National Endowment for the Arts, as well as the Leica Medal of Excellence, the Lucie Lifetime Award and the Silver Plumb Award. He is a Commandeur de l'Ordre des Arts et des Lettres of France, and this spring Gibson was honored with the Guild Hall Academy of the Arts Lifetime Achievement Award. Later this year, the Mary Boone Gallery will host a retrospective exhibition of his work.
NYFA's BFA Photography degree program is offered at all three domestic campuses of New York Film Academy: New York, Los Angeles, and South Beach, Miami.
by nyfa