A red carpet, lights beaming into the sky, celebrities and local dignitaries posing for photographs—this was the scene this past Saturday night at the City of Miami's historic Manuel Artime Theater, where the New York Film Academy College of Visual & Performing Arts (NYFA) South Beach campus held a Hollywood-style film event in support of the veterans community of South Florida.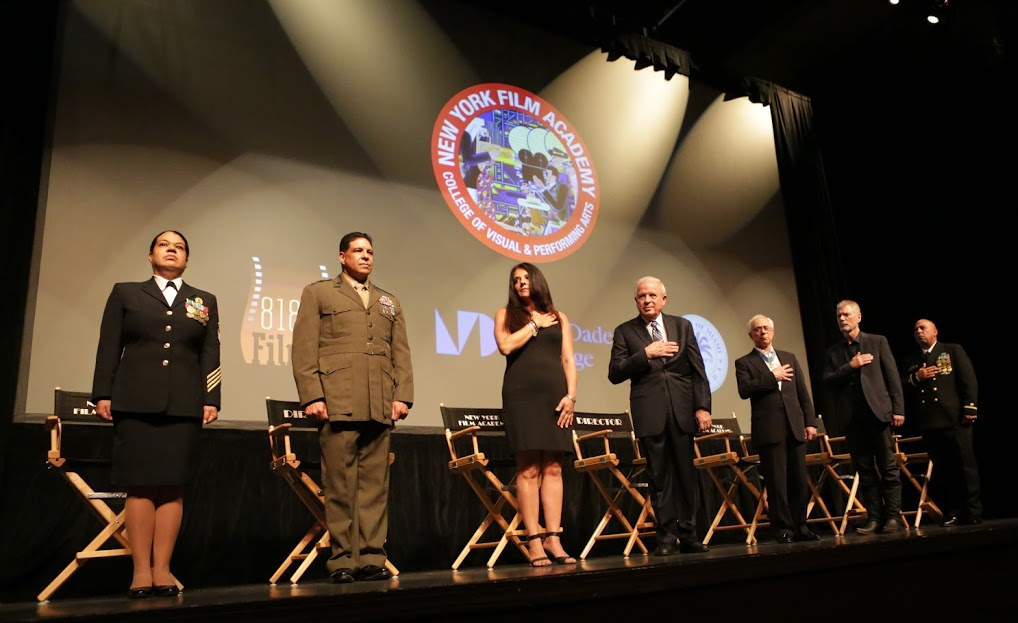 NYFA is grateful to have partnered with the City of Miami's Office of Film & Television, Miami Dade College, and 8180 Films in presenting the documentary film, Beyond Glory, written and performed by the award-winning stage and screen star, Stephen Lang. The film was directed by Larry Brand, narrated by Gary Sinise, and was executive-produced by multiple film-industry award-winners, James Cameron and Jon Landau.
Beyond Glory tells the stories of eight veterans from World War II, Korea, and Vietnam. It renders first-hand accounts of valor that resulted in the awarding of the nation's highest military award, the Medal of Honor. The oral histories of these eight men are brought to life through Lang's commanding performance. The Wall Street Journal's entertainment critic reported the experience as, "One of the richest, most complex pieces of acting I've seen in my theater-going life". On hand Saturday for the Q & A with Mr. Lang was NYFA's-own Colonel Jack Jacobs, the College's Chair of the Veteran's Advancement Program. The conversation, which was moderated by Maylen Dominquez, Associate Chair of Filmmaking at NYFA's South Beach campus, was an inspirational exchange between the actor and Colonel Jacob's, who is one of 75 living Medal of Honor recipients. Both Col. Jacobs and Mr. Lang personally knew the Medal of Honor recipients portrayed in the film, and there was a wonderful exchange of stories both of the battlefield valor and the colorful characters of the men.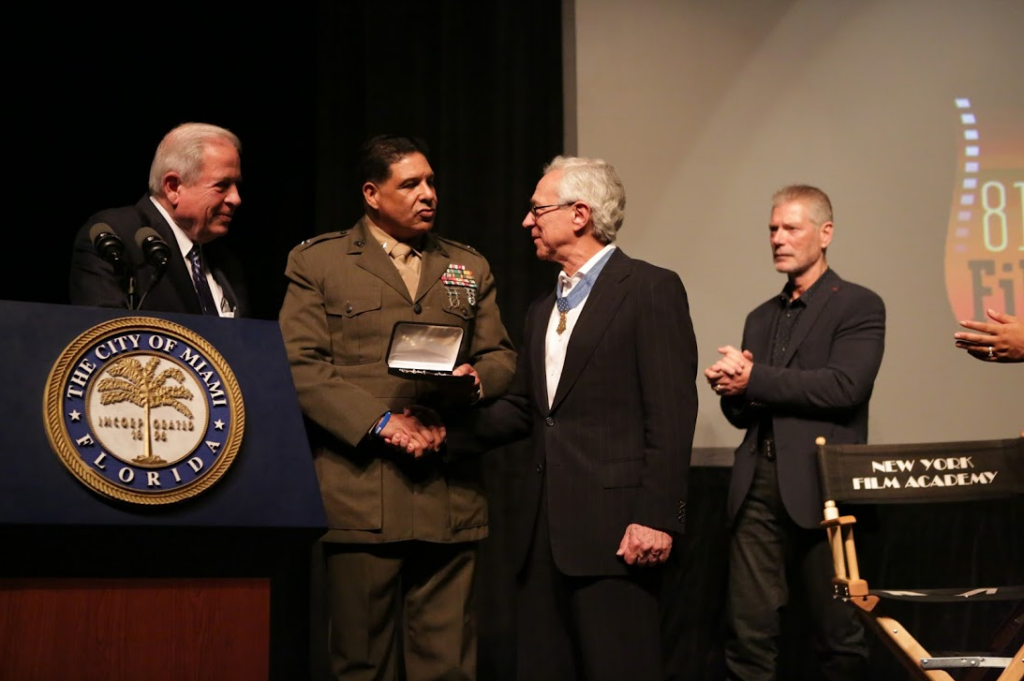 The program began with a celebration of the collaboration between the City of Miami and NYFA. Mayor Tomas Regalado presented the key to the City of Miami to Colonel Jacobs in recognition of his valor in service to the country. The Mayor also presented Mr. Lang with a special certificate of appreciation. Lt. Col. Antonio Colmenares, the Director of Veteran Services in the City of Miami, spoke passionately about the need to support local veterans and joined the Mayor and others in welcoming the New York Film Academy to the South Florida community. NYFA's VP and South Beach Director, Elli Ventouras, spoke about the College's facility in South Beach, opened last September, which offers degree programs and workshops in filmmaking, acting, and photography, among other professional disciplines.
It was a special evening, enjoyed by many Miami citizens—including those in military service—as well as NYFA faculty and students.
You may view the entire photo album of our photo booth on the NYFA Facebook page by clicking HERE.
For more images from the event, please click HERE.
by nyfa