On June 2, members of the Broadcast Club at New York Film Academy (NYFA) attended the 2019 National Geographic Contenders Showcase. The club is one of many co-curricular activities available to students at our Burbank-based Los Angeles campus.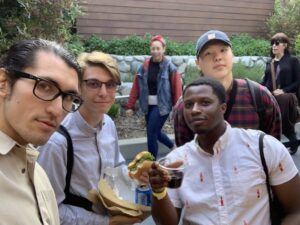 The 2019 National Geographic Contenders Showcase is a one-of-a-kind event held outside, featuring concerts, screenings, and other fascinating, interactive events. This year's Showcase was held at the Greek Theatre.
The Showcase began with a picnic in the early evening. Additionally, it featured a VR experience and photo exhibit to bring people up close and personal with the animals of NatGeo's Hostile Planet, as well as puppies up for adoption.
Also offered was a unique cryo-spa with ice cold facials to show off the NatGeo production Life Below Zero. The Broadcast Club students and other attendees were also able to get henna tattoos and create their own charms as they spoke with the producers of The Story of God, featuring Morgan Freeman. For 90s arcades fans there were nostalgia-inducing games inspired by NatGeo's Valley of the Boom.
Along with a behind-the-scenes look at hit Julianna Margulies medical thriller The Hot Zone was a picture and sound editing demo of Academy Award-winning documentary Free Solo. Attendees could feel what it was like first hand when New York Film Academy editing instructor for the Documentary department Bob Eisenhardt sat down and put the film together. Additionally, Free Solo subject and record-breaking rock climber Alex Honnold was on hand to meet everyone and sign his book.
The night ended with a final live concert event hosted by Morgan Freeman and featuring footage from Free Solo; Hostile Planet; and The Flood, narrated by Angela Bassett.
Check out photos of the Broadcast Club taking in the Showcase below!
[su_carousel source="media: 31563,31562,31560,31559,31558,31561,31557″ limit="60″ link="lightbox" target="blank" width="780″ height="360″ title="no" autoplay="0″]
by nyfa