Isabel Padilla, recent graduate of the 1-Year Cinematography conservatory at New York Film Academy (NYFA), served as director of photography on the short film The Red Balloon, recently published on the official YouTube channel of the Empire State Building.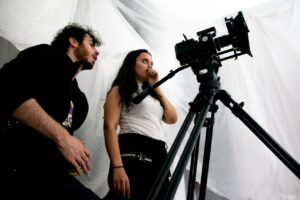 The film, directed by Pedro Tamames, was the winner of a contest sponsored by the iconic New York skyscraper. Tamames submitted his ideas and storyboards a year ago, and was chosen to make the film out of all the submissions. Padilla has worked with Tamames for over three years, shooting all of his films—The Red Balloon was no exception.
The film shot for two days in April and one in September on site at the Empire State Building. Padilla calls the shoot "a very unique and unforgettable experience for somebody who just moved to New York. The purpose of the project is to show students' talent and to show the new Empire State facilities through a short film that everybody can enjoy. It was a great opportunity and a challenge, from which we all learned a lot through preparation and teamwork."
Padilla originally hails from Spain and attended the 1-Year Cinematography conservatory in Fall 2018 at NYFA's New York campus in downtown Manhattan. She attributes her NYFA education and especially the lessons on delegating roles on set to the successful production of The Red Balloon despite its very tight schedule. 
"Being able to delegate to other people was extremely helpful to be able to achieve the number of shots planned," Padilla tells NYFA. "Communication is key, and both my ACs were from NYFA as well (Alejandro León and Beth Ribeiro), which, since we learned from the same place, made everything go smoother and more effectively."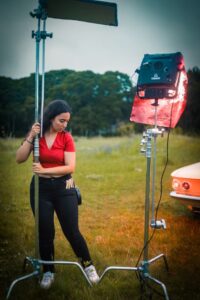 Padilla has kept busy since graduating NYFA and is working hard to push herself both professionally and creatively. When asked what she would tell current students looking to pursue careers in cinematography, Padilla says, "My main advice is to get out there, to shoot with people you feel you have a creative connection with and to experiment with people from other atmospheres … Moreover, to create a good relationship with the director, be their friend. As a cinematographer, with a director you have to connect and see the project together as one, and to do that, you don't just have two meetings but a full journey to get to the goal with both of you being happy and satisfied."
New York Film Academy congratulates Cinematography alumni Isabel Padilla, Alejandro León, and Beth Ribeiro on seeing their work published by the Empire State Building and looks forward to seeing their future projects! 
by nyfa