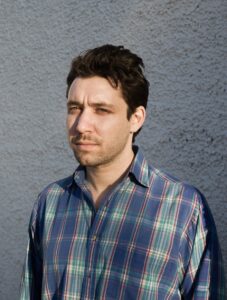 On January 13, 2015, composer Daniel Wohl sat down with New York Film Academy's Business of Screenwriting class to offer up his unique perspective on how he broke into the entertainment business as a composer, and what he looks for when he's designing the music for his film projects.
"I didn't go to school for film composing, I just went for composing generally," Wohl explained. That he did…Wohl holds a BFA from Bard College, an MFA from the University of Michigan, and is in the process of getting his Doctorate in Music Composition from Yale University, an honor awarded to only a few musicians a year. His academic background in music theory and technique is vast.
"I knew I wanted to make my own albums," Wohl stated, "but I always have had a strong interest in writing music for film, TV and other forms of entertainment and being a part of the storytelling process. It's something I've really grown to love."
Wohl's 2013 debut album, the New Amsterdam Records' Corps Exquis, a multi-media, chamber and electronics project created in conjunction with the TRANSIT new music ensemble and a collective of New York-based video artists, was hailed by the New York Times, Pitchfork and many others, and earned Wohl a coveted spot on NPR's Top 100 Songs of the Year.
Wohl also makes a living off commissions and music grants, of which he's been awarded many. "In some ways, the music world is sort of the reverse of the visual arts world. Someone will commission you to write a piece, and then you get to make something, and it can be whatever you want it to be. In film, where, if you're hired by a director, producers or studio execs, they have a real say over what your music turns out to be. The music world isn't like that as much. That's one of the freeing things about the professional music community, they really trust their artists and let them — encourage them really — to do their best work as they see it."
More recently, Wohl has become involved in the world of film composing, working on some impressive projects. He was the composer on The Color of Time, starring Mila Kunis, and Jessica Chastain, a poetic road trip through Pulitzer-Prize winning C.K. Williams' life.  He also composed the music for the surreal drama Elixir, a film by Brodie Higgs, which recently premiered at the Berlin Film Festival, and The Fly Room, which was an official selection at the 2014 Woodstock Film Festival.
Wohl explained that he's basically "the third to last person to work on the film." "It's a close collaboration with the director. You usually have about six weeks to write the music. Sometimes, the director will give you a 'temp track', so you know sort of the tone they're going for, but it's really about figuring out what the director wants. All directors know what they don't want and what they don't like, but not all know what they want — until they hear it," Wohl explained. "It's part of my work to help get them there."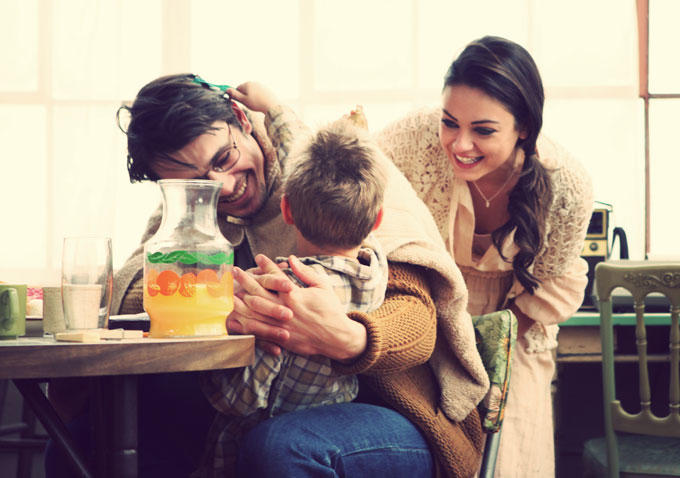 Wohl will often watch an early cut of the movie and/or read the script when he's preparing to craft the musical tracks that will become the melodic pulse of the film."The story and the music are intricately linked." Wohl played selections from the recent films he scored, allowing the students to see some of his finished products.
"Music definitely helps tell the story, and cue the audience into how to feel. Sometimes, it can save a scene, and deliver meaning that really isn't obvious without the music. I definitely look for those moments of emotional catharsis and shift in the storytelling, so that the music works with the story seamlessly." Wohl explained how on some projects the director might want a musical theme for each main character, and how his background in musical composition really helps generally.  "Films, like music, have a real rhythm, and you definitely have to listen for that. Even if you're not an expert on a given style — say jazz — you may still have to write something in that style to go with intrinsic rhythm and mood of the scene."
Wohl has received support from grants including New Music USA, Meet the Composer/Commissioning Music USA, the American Composers Forum / Jerome Foundation, C.A.P, the Barlow Endowment, MET Life Creative Connections, and the Brooklyn Arts Council, amongst many others.
His music has been heard at venues such as Carnegie Hall, Webster Hall,  Dia Beacon, Cincinnati Contemporary Art Center, Mass MoCA, Disney Hall's REDCAT, the Chelsea Art Museum, MoMA, Arsenal de Metz (France), Warhol Museum, as well as over media outlets such as NPR, PBS, WQXR, CANAL +, TFI and FRANCE 2.
Wohl is also passionate about bringing music to younger artists and has taught courses in composition, orchestration, and theory at Sarah Lawrence College and at Yale, and — in addition to NYFA — has given talks at NYU, Brooklyn College, Juilliard (evening division), and Amherst College.
More info on Daniel Wohl can be found at his website www.danielwohlmusic.com. Born and raised outside Paris, France, Daniel Wohl currently resides in Brooklyn, NY.
by nyfa