It was a bright and sunny California day on Saturday, January 30th when New York Film Academy students receiving their MFA, AFA, MA and BFA degrees in Filmmaking, Acting, Producing, Screenwriting, Photography, Game Design, Documentary, Cinematography and Feature Track studies, gathered at the Harmony Gold Preview house in West Hollywood for their degree program commencement ceremonies. Graduations at 10:00am, 2:00pm, and 6:00pm were packed with family and friends of the graduating students showing their support.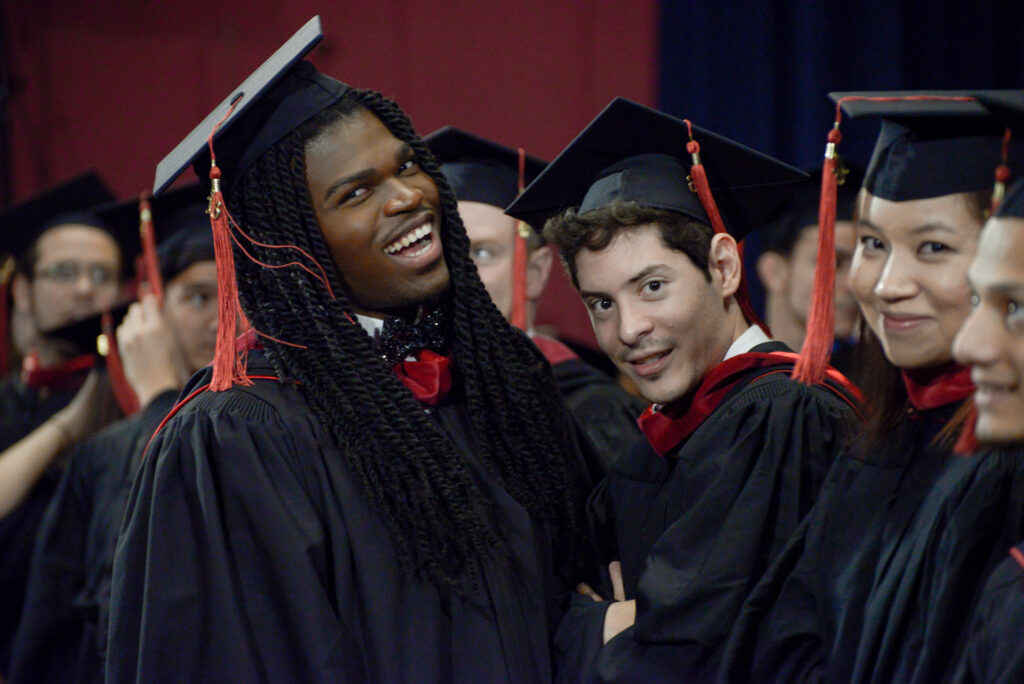 Commencement speakers actress Heather Hemmens (Hellcats, The Vampire Diaries, The Dukes of Hazard, etc.), writer Courtney Lilly (Black-ish, The Cleveland Show, I'm Through with White Girls, etc.) and writer/director/actress Cathryn Michon (A Dog's Purpose, Muffintop: A Love Story, etc.) as well as NYFA department chairs and deans gave encouraging words of advice for navigating the entertainment industry and life in general.
Congratulations to all of NYFA Los Angeles 2016 degree program graduates!
10:00am Graduation
MFA in Acting
Logan Arneson
Darrell Bernard Bailey
Amy Burzak
Cristina Castano Brunet
Carla D'Errico
Rishi Das
Feifei Di
Jose Antonio Gil Vigna
Xavier Keither Hatten
Timothy Hildebrand
Zane Shah Kanampuram
Tin-Yu Lien
Israel James Lister
Patricia Luiza Coeli Medeiros de Carvalho Peixoto Diego Medellin
Meghan Modrovsky
Lauren Mosley
Anthony Mottola
Quentin L. Murphy
Sabrina Pecario
Jennifer Michelle Scruggs
S. Alicia Seecharan
Jazmine Wilson
Yuqing Wu
Qiner Zhang
Nila Zojaji
BFA in Acting
Joseline Angulo
David Bradberry
Alberto Coutinho Aguiar
Schuyler Dalenberg
Kaitlyn Hill
Katie Mejia
Joshua Moore
Christin Muuli
Mara Topic
AFA in Acting
Sigfrido Bobonis Jr.
Avik Bose
Raiyah Jane Brown
Katarina Czabafy
Shaundel Davis
Jens Engels
Ahmad Wais Feroogh
Jazmin Hamilton
Robert Hughes
Sarah Lea
Phoebe Munford
Daniel L. Nordling
Gabriella Pretto
Grecia Salamon Rodriguez
Kyler Charles Sawyer
Maisie Grace
Alvarez Seavill
Sofia Steen
Oliver Villeta
MFA in Screenwriting
Louis Cooley
Brittany Crawley
Korbinian Hegele
John Leary
Sisan McNeil
Aleksandra Milanova
José Abel
Rangel Osorio
Beatriz Irene Romero Cuellar
Julian Santos
Nil Simsek
Nidheya Suresh
Peter Szaraz
Yue Xu
BFA in Screenwriting
David Castillo
Axel Ruelas
Shari Thakar
MFA in Photography
Hadeel Ali B Alahmari
Hongbin Dai
Zhuoqun Jiang
Khulud Muath
Parth Sutaria
MFA in Game Design
Yimeng Du
Anand Menon
Edward William Penn
Yuanyuan Zhu
MFA in Documentary
Michelle Flores
Raed Salagoor
Alejandro Talens
2:00pm Graduation
BFA in Filmmaking
Rakan AlJabr
Aman Anand
Arthur Baptista Galvão
Maan Binabdulrahman
Juliana Isa Biondi Gomes
Santiago Caicedo Valencia
Jaime Carbajal
Lucas Diercouff
Pedro Jose Duran Fernandez
Tammy-Anne Fortuin
Renato Gontijo
Kayd Hildebrandt
Atinuke Ilupeju
Jeremy Jimenez
Keline Kanoui
Ryan Kenny
Joshua King
Yassein Koptane
Chenyang Li
Seng Jee Low
Yulia Melnikova
Kamila Razykova
Ilya Rozhkov
Ruperto Sanchez
Nicholas Seeley
Maria Florencia Serrao
Medet Shayakhmetov
Jiaojiao Wang
Mengfei Wang
Haifeng Wang
Li Wei
John Willment-Knowles
Jarod Dean Winchester
AFA in Filmmaking
Matheus Ronn Leite
Xing Li
Shantanu Paranji
Louis-Edouard Tete
MFA in Producing
María Lea Aevarsdóttir
Apurva Agarwal
Zainab Abdullah
Alzori Kristel Boulos
Yue Duan
Abraham Dunmeyer
Laura Gutiérrez Rozo Paul-Felix Heinisch
Laura Hurtado Gomez
Karina Ibragimova
Lu Jia
Ontonio Karam
Matthew Daniel Koss
Qi Liu
Yijian Lou
Yu Meng
Tarilate Owei
Sean Parker
Katja Lucie Sophie Reventlow-Grinling Takamasa Saito
Christina Sawyer
Jiajun Song
Maria Teresa Velez Pinto
Lin Wang
Kristopher Welcome
Yan Yan
Gang Yang
Sile Zhang
MFA in Producing – Feature Track
Abdullah Kurashi
BFA in Producing
Barbara dos Santos
Ribeiro Vitor Faria Hage
AFA in Producing
Guillermo Padilla
Raza Servia
Paige Elizabeth White
MFA in Cinematography
Maram Al Jaoser
Belal Albadr
Joseph Bornilla
Marvin Geovanny Dubon
Liu Han
Giovanni Andres Hernandez
Dhruv Jayant Lapsia
Ernesto Pletsch
Haozhe Zhang
6:00pm Graduation
MFA in Filmmaking
Dina Abdel Aziz
Mohamad Al Yamani
Tariq Abdullah Almoqati
Hiroshi Azuma
Sonia Bajaj
Erik Carlson
Simon Grinde Drivdal
Shagun Goel
Mengxue Hu
David Johnson
Dennis Larkin
Alexandra Lebona
Dong Lei
Bowen Li
Xiaoxiao Li
Xi Ling
Qi Lu
Xiaoyun Luo
Hyunjung Moon
Ibrahim Nada
Li Niu
Yufei Qiao
Minghao Shen
Ruowei Wang
Shuhe Wang
Xinyi Wang
Zhengduo Wang
Konrad Weixelbraun
Jun Xia
Hui Yuan
Li Yuan
Yi Zhang
ZhiHua Zhong
Yuqing Zhu
MFA in Filmmaking – Feature Track
Michael James Dominguez
Yul Gatewood
Adam Marson
Gehan Naber
Aloaye Omoake
Assaad Yacoub
MA in Film & Media Production
Cyndell Addison
Omoladun Adenuga
Ruslan Baitenov
Chelsea Blaire Charles
Maytus Chernpipat
Raymond Lenny Kiston Clarisse
Anthony Charles A. Coralejo
Sara Maria Duque Restrepo
Sherando Ferril Cupid
Julio García Escames
Daniel Gomez
Sudesh Kumar Jayaraj
David Khodzhamiryan
Georgy Khodzhamiryan
Ekaterina Kostina
Thirati Kulyingwattanavit
Adriana Ledesma
Xi Li
Binyue Liu
Jiping Liu
Dingmaomao Ma
Vasha Narace
Jose Diego Nava Moreno
Cheuk Yan Ng
Zolbayar Odkhuu
Mema Ojukwu
Joana Prata Pereira de Mattos
Grazielle Simoes
Ronda Suder
Kehao Sun
Arvind Venugopal
Zexia Wang
Shang Wu
Weiwei Xie
Yue Yang
Zichao Yang
Uzma Zakaria
by nyfa