The New York Film Academy Los Angeles welcomed Disney animator Eric Goldberg to its theatre this week. The Guest Speaker Series event included an exclusive behind-the-scenes look at Disney's latest project, "Moana," for an enthusiastic audience of NYFA students. Animation Chair Mark Sawicki moderated the event.
Goldberg's specialty is 2D animation, and the scope of his career is extensive, including work on classic animated television shows like "Looney Tunes" and "The Simpsons" as well as iconic Disney films. Highlights include supervising the dance sequences in Disney's "The Princess and the Frog" and serving as supervising animator for the Genie in "Aladdin." For the upcoming "Moana," Goldberg oversaw the animation of Mini Maui, the mobile tattoo of Dwayne Johnson's larger-than-life character, Maui.
The NYFA theater was filled with animation and game design students both eager to hear from an industry expert with over 25 years of experience in the business and excited to catch a sneak peak of "Moana." Goldberg treated students over an hour of behind-the-scenes footage — including messages from the cast and crew, works in progress, and clips from the film.
During the Q&A, Goldberg assured students curious about the survival of 2D animation in a 3D world that the fundamentals wouldn't be disappearing from animation anytime soon.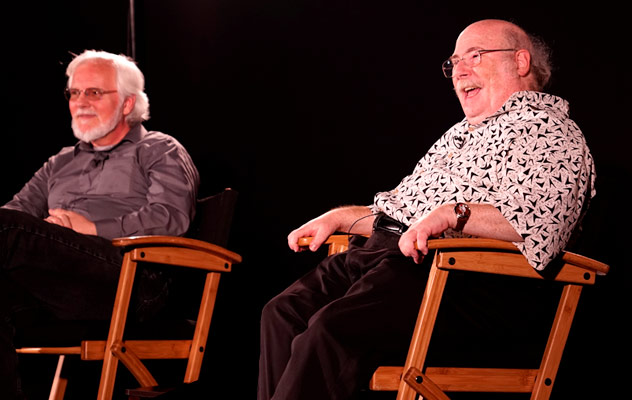 "I always encourage people to look at the principals," Goldberg said. "They've held together for 100 years." Mock up, character design, and landscaping are still all animation jobs that are originally drawn by hand. "It's about creating characters people can identify with. It's a blend of both sensibilities: theatric and artistic."
For students interested in a career with Disney, Goldberg had words of encouragement: "Disney is always looking for talent." His advice to aspiring professionals was to study the portfolio requirements on the Disney website and to practice a tactic that he called "observe and caricature." To explain this exercise, Goldberg asked students, "How can you identify a friend in a crowd from behind and 20 yards away? It's their walk. You know how they carry their weight. How they walk when they're sad or mad." Goldberg recommends practicing capturing those walks and gestures in order to strengthen animation skills.
The New York Film Academy would like to thank Mr. Goldberg for sharing his wealth of knowledge with humor and humility. NYFA would also like to thank Tova Laiter for bringing this presentation to the school.
Audiences can enjoy Disney's "Moana" in theaters near you on Nov. 23, 2016.
by nyfa