As much as the Oscars are Hollywood's Big Night and a chance for the industry's vanguard to applaud the year's accomplishments in film, they are equally notorious for creating bizarre pop cultural moments that extend far beyond film. You might not remember that The King's Speech won Best Picture in 2011, but you probably do remember Anne Hathaway's cringe-worthy hosting duties. With the 86th edition of the Academy Awards coming up this Sunday, we've decided to take a look back at some of the more controversial, bizarre, and memorable moments in Oscar history.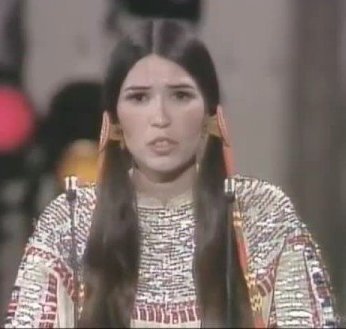 Phoning It In
Since many critics and filmmakers consider the 70s to be Hollywood's Golden Age, it should come as no surprise that many of the daring moves being made on screen would spill over into awards season. George C. Scott made history in 1971 when he turned down the Best Actor award, choosing to stay home in New York City and watch a hockey game, while famously declaring the event as a "two-hour meat parade." Two years later, Marlon Brando made an even bolder move when in lieu of accepting his Oscar for his role in The Godfather, he requested that Sacheen Littlefeather represent him and decline the award on his behalf, decrying "the poor treatment of Native Americans in the film industry."
Snow White Crashes the Oscars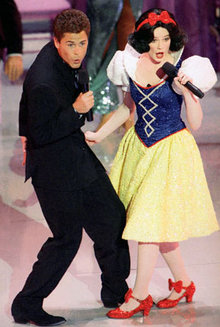 The Oscars are full of misguided or just plain awkward musical numbers, but 1989's trainwreck takes the cake by a long shot. In a show helmed by Grease producer Allan Carr, the opening number featured Rob Lowe, who was in a protracted PR effort to rehab his image after a sex tape scandal, and aspiring 22-year-old actress Eileen Bowman who pranced down the Shrine Auditorium dressed as Snow White while greeting clearly uncomfortable guests. Things only got worse from there as the performance dragged on for an insufferable 15 minutes, resulting in Carr being shunned by the industry, Disney suing ABC for their unlicensed use of the trademarked Snow White character, and Bowman leaving Hollywood for good.
Running Naked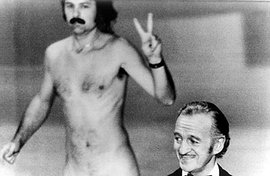 The 70s are an absolute treasure trove for crazy Oscar moments, but at the 41st edition in 1974, conceptual artist and gay rights activist Robert Opel made a permanent impression on many Oscar viewers when he streaked across the stage prior to the announcement for Best Picture.
Seth MacFarlane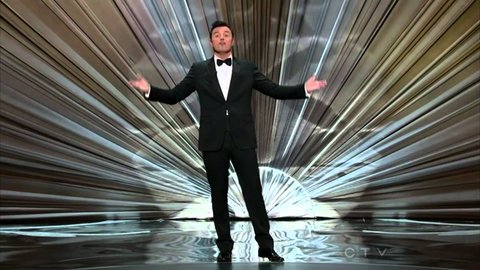 It's hard to imagine many people having high hopes when it was announced Family Guy creator Seth MacFarlane's brand of bro humor would be hosting the 85th ceremony. But he hit rock bottom almost instantly with the insensitive and infantile number "We Saw Your Boobs", a song about, you guess it, the fact that viewers had seen the breasts of certain actresses sitting uncomfortably in the theater. With roughly half of the audience consisting of women, the ensuing backlash from the likes of Jane Fonda and Lena Dunham should have come as no surprise to MacFarlane.
Brotherly Love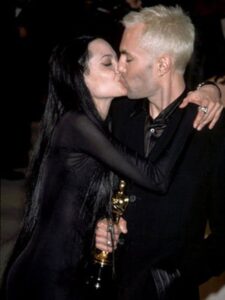 While Angelina Jolie is pretty much universally admired at this point, it's hard not to remember her 'bad girl' antics during her rise to fame in the 90s, which reached their peak when during her acceptance speech for Best Actress in a Supporting Role for her turn in Girl, Interrupted, she declared "I'm so in love with my brother right now". The jaw-dropping moment came later in the evening when images of the kissing siblings emerged, making many people uncomfortable.
Marisa Tomei's Win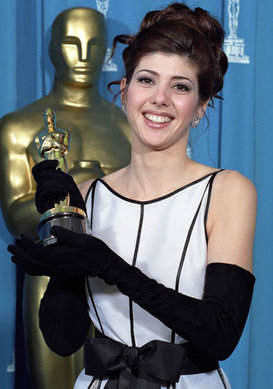 Having served as fodder for Oscar conspiracy theorists for over twenty years, one could literally hear a collective gasp in the audience when presenter Jack Palance announced the Best Actress in a Supporting Role Oscar for the My Cousin Vinny star when most had assumed Vanessa Redgrave would win for her part in Howards End. While many speculated that Palance had simply read the wrong name and the Academy was forced to award the wrong person, they have claimed again and again that Tomei was indeed the winner. And yet, there remains considerable doubt about the veracity of the claims. Either way, it's hard to argue with Tomei's great performance in the film.
Red Carpet Rebels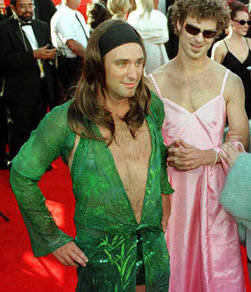 Outside of fashion week, there are few more influential runways for fashion watchers than the Oscars' red carpet. While there are countless examples of iconic dresses, two of the most memorable fashion moments came from a trio of artistic renegades. First, in 2000, South Park creators Trey Parker and Matt Stone chose to lampoon the inflated aura that red carpet fashion promotes by dressing in drag in two iconic dresses: Jennifer Lopez's revealing Grammy outfit and Gwenyth Paltrow's famous pink dress that she wore to the previous year's Oscars. Not to be outdone, the following year Icelandic singer Björk stunned fashionistas the world over by showing up in a dress designed like a swan, which the singer took one step further by pretending to lay an egg on the red carpet.
JLaw's Fall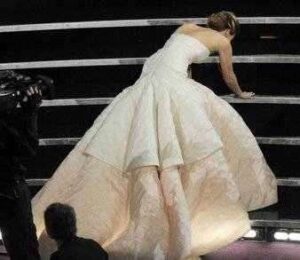 Cue the moment when the world collectively fell in love with Jennifer Lawrence. What could have been (and probably was for her) the most embarrassing moment for a young actress only helped to bolster her image when she tripped on her sprawling Dior dress and fell while walking up the stairs to receive her award for her role in Silver Linings Playbook. Lawrence showed nothing but grace and humility, remarking to the applauding office, "You guys are only standing up because I fell and you feel bad."
by nyfa