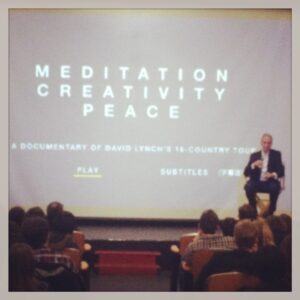 This past Saturday and Monday evening, the New York Film Academy hosted a screening event with the David Lynch Foundation at our Union Square campus. The documentary covers renowned filmmaker, David Lynch's 16 country tour as he spreads his philosophy of transcendental meditation.
"I have been 'diving within' through the Transcendental Meditation technique for over 30 years," says David Lynch. "It has changed my life, my world. I am not alone. Millions of other people of all ages, religions, and walks of life practice the technique and enjoy incredible benefits."
The meditation techniques are aimed to alleviate, and hopefully eliminate, anxiety, depression, insomnia, and other stress-related disorders. The unique benefits of TM technique are well documented by extensive research.
Saturday's event was represented by David Lynch Foundation's Lil Malinich, Jessica Wisk, and Executive Director Bob Roth. While Monday's event was hosted by Director of Programs, Peter Trivelas. "NYFA students are passionate, courageous, and genuinely curious to know more about what can enlighten and strengthen their work as artists," said Lil Malinich from the David Lynch Foundation. We couldn't agree more.
Both events were a tremendous success, with a full house of curious students and transcendental meditation enthusiasts. We want to thank the David Lynch Foundation for setting up two enlightening evenings to share with our community at the New York Film Academy.
by nyfa