In a case of art imitating life imitating art, Henry Winkler who co-stars as acting teacher Gene Cousineau on the hit HBO dark comedy, Barry, came to the NYFA campus in Los Angeles, to reveal he not only plays an acting teacher, but he truly is a gifted acting teacher in real life.
In 2018, Henry Winkler won his first Primetime Emmy Award for Best Supporting Actor in a Comedy for his role on Barry, which stars Emmy award-winning actor, and NYFA alumnus, Bill Hader.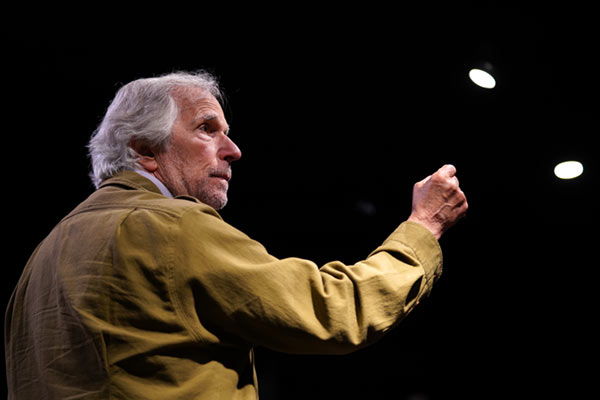 A 1973 audition in Los Angeles forever changed the life of the Yale School of Drama graduate when producer Garry Marshall and Tom Miller cast Winkler in the iconic role of Arthur Fonzarelli, aka "The Fonz," in the TV series Happy Days. During his 10 years on the popular sitcom, he won two Golden Globe Awards, was nominated three times for an Emmy Award and was also honored with a star on the Hollywood Walk of Fame. Winkler has enjoyed over four decades of success in Hollywood and continues to be in demand as an actor, producer, and director.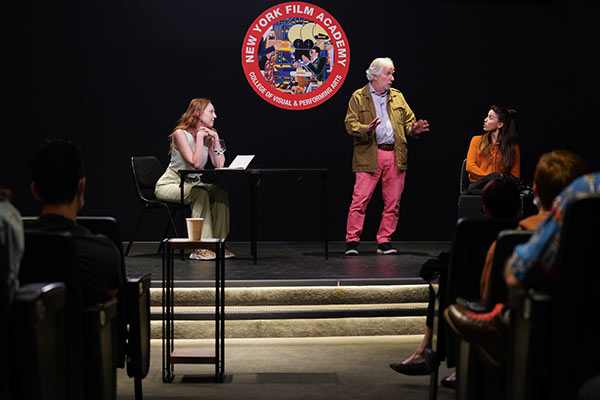 On June 30, Henry gave the acting students at the Los Angeles campus an inspiring Master acting class, working with MFA actors Clara Navarro De Mora-Granados, Ewelina Zawada, Sanmi Oguntunde, Andrea Pineda, Kutloano Headbush, Lenae Miles, and BFA actors Spencer Holly and Styr Juliusson on scenes from a variety of plays. He guided the actors, helping them to personalize each moment and find the nuances in their performances.
In the Q&A afterwards, he spoke about acting as a calling and his relentless drive to pursue his craft. "I would eat through brick to do this job. If you don't have that passion for this job, then I will buy shoes from you." His humor drew many laughs, but he emphasized the drive an actor must have to be successful in the business. "You have to figure out your own journey. Whatever your challenge is, your talent must override that challenge. Your talent is bigger than your challenge."
Working with each scene he told the actors "Once you have tasted something new, something you haven't thought of we will move on." With that Henry directed each actor and brought them insights into their work. He gave the following notes: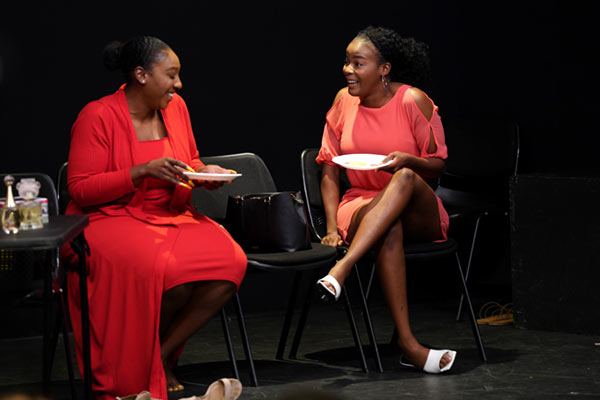 To Clara and Ewelina (Top Girls):
Acting is listening. You can only respond if you hear what your partner is saying.
You must adjust your energy to the stage. Your energy must fill the room and embrace everyone in the audience.
To Lenae and Kutloano (5 Women Wearing the Same Dress):
When you make a choice, you have to make it a big choice. You have to trust that what you are doing at the moment is enough.
Styr and Spencer (The Pillow Man):
Personalize every moment. Don't dance around it but go to the center of things.
You have to write down and memorize your objective.
To Sanmi and Andrea (My Children, My Africa):
Your anger (in the scene) is wonderful but there are more colors than just your anger.
Solve your dilemma first, don't worry about the anger.
He praised the actors for their understanding of the material and their connection with each other. Henry took several questions and offered some gems for the audience:
A million people are going to say "no." Somebody is going to say "yes" because you are going to get up and keep going. Because you believe in yourself and keep working on your instrument all the time."
Acting is different from auditioning: You have one job- to get the job. Once you get the job, your job is to do the job. The audition is different from the job. You are going to use every bit of your talent, your everything to get the job.
He thanked the actors and applauded their "enormous" talent. Henry ended his class by saying, "I love what I get to do." It was quite clear to everyone in the room that he does.
by nyfa