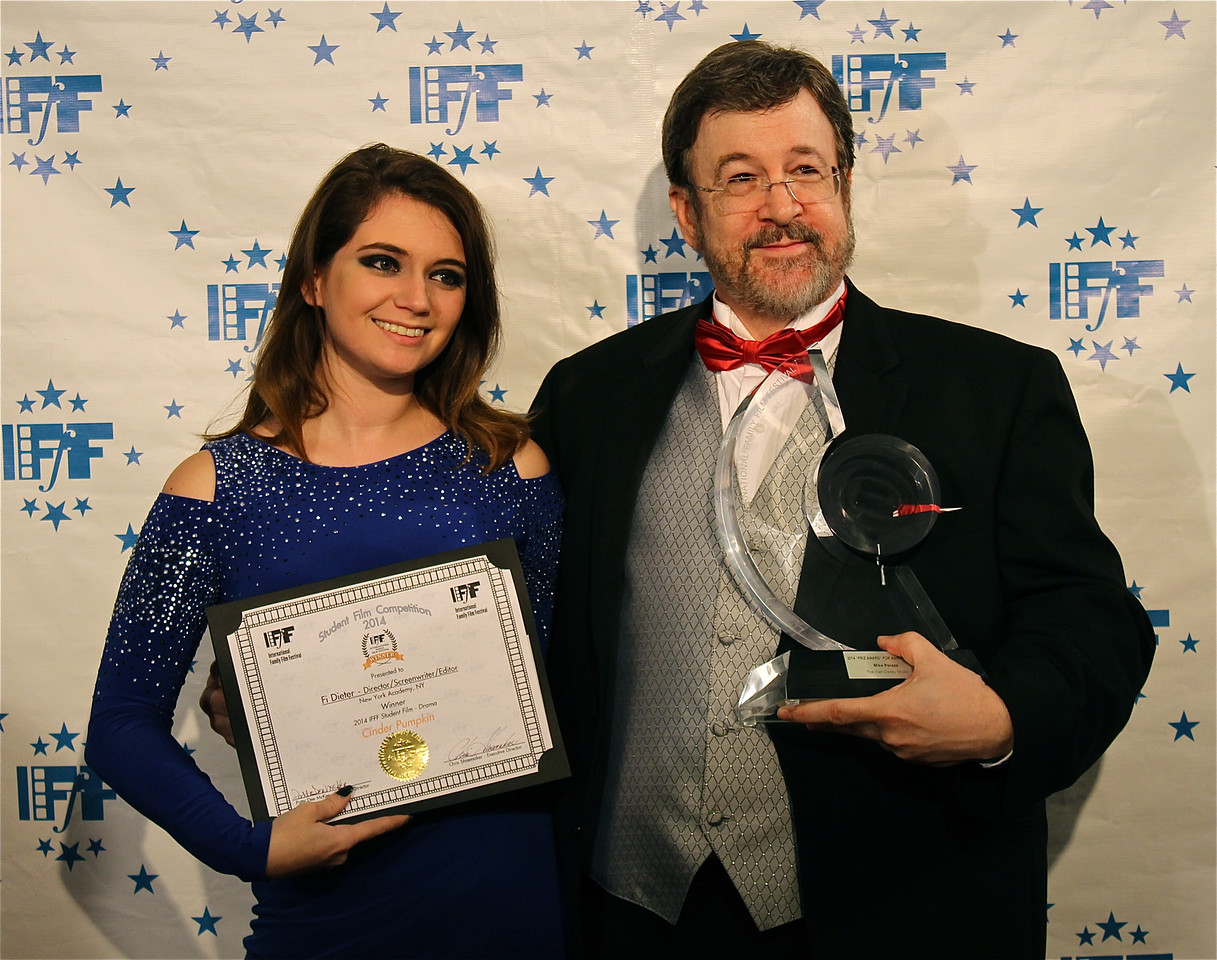 They say fairytales can come true. Well, for Fi Dieter, fairytales are opening major doors for a bright future in the entertainment industry. The New York Film Academy BFA Filmmaking student, of Prince of Arabia Entertainment and Stedica Film, won the prestigious Award of Excellence from The Best Shorts Film Competition, Best Student Film at the 2015 California Women's Film Festival, Best Student Drama at the 2014 International Family Film Festival at Raleigh Studios in Hollywood, and has been an Official Selection in more than 10 festivals including the prestigious LA Shots Fest, the Playhouse West Film Festival, and the Women's Director's International Film Festival in New Dehli, India! The award was given for Dieter's exciting fairytale adaptation drama short Cinder Pumpkin, which was her Intermediate Thesis Project at NYFA Los Angeles.
Cinder Pumpkin features an exceptional storyline about a bright, socially-awkward girl named Cinder Ellen James (played by Jacquelynn Camden), who believes the only thing she needs for the gorgeous, unreachable Max (played by Travis Daniel Brown) to fall in love with her is one chance. With the help of her loyal friend Tom (played by Billy McCartney), Cinder is determined to take that chance herself. She trades glasses for a pair of high heels and experiences, for the first time, a world of teenage fantasies that makes her rediscover her value as a woman.
"This award [Award of Excellence] honors not only the great amount of hard work put into our production, but also the growing voice of female directors," says Dieter. "Cinder Pumpkin is about staying true to who you are even when the odds are against you, a fundamental lesson for all women who fight for gender equality."
Dieter is an award-winning Austrian filmmaker, actress and editor. Fi began acting in theater and commercials from an early age, always on a quest to find truth and depth in all she does.
"Through my work, I intend to raise the voice of female filmmakers," says Dieter. "I believe that little specific 'somethings' allow for a story to become universal and have the power to touch people. I aim to go beyond what is expected of young women to achieve in filmmaking. There isn't a feeling I enjoy more than the satisfaction I get from proving there is more to me than what meets the eye."
Fi is currently in development on a three-part feature, based on a new take on the origins of Merlin the wizard, entitled Extraordinaire. It is a fantasy comedy with two endearing, magical characters whose major flaw is their inability to work together in times when their unity might make or break a kingdom. Extraordinaire Part One will be her thesis film.
by nyfa