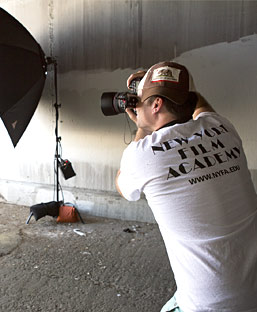 To say that photography as a profession has changed somewhat in the past decade alone would be the understatement of the century. While many photographers are still able to run a successful business specializing in one field of photography—be it wedding, fashion, or portraiture—more and more photographers are finding that to succeed as a professional in 2014, they need to be versatile and able to shoot one-of-a-kind photos across a range of genres.
Since camera photography began in the 1820s, photographers were limited to a particular specialty for well over a century, often shooting locations or portraits. However, with the rapid technological advances in photographic technology and cameras now available on smart phone and tablets, photographers, whether professional or amateur, now have the mobility to dabble in a wide range of styles.
However, for the aspiring professional photographer, he or she must be well-versed in a wide range of styles and techniques to optimize the number of jobs they are qualified for and to support the field of photography that is their passion. For example, numerous fine art photographers supplement their work with jobs in commercial, journalistic, and fashion photography, including many members of the faculty at NYFA's Photography Schools. As such, our instructors make it a priority to ensure that students are as well-rounded in as many genres as the length of their program or workshop will allow.
Below is a list of some of the different types of photographic genres available to the aspiring professional photographer. As fashion, fine art, journalistic, and commercial photography are taught across our workshops and programs, we've decided to focus on lesser known fields of photography that a professional photographer can practice.
Landscape Photography: An historically popular strain of photography, landscape photographers are continually in demand and boast such luminaries as Ansel Adams and Galen Rowell as pioneers in the field.
Wildlife Photography: Like zooming in on the landscape, wildlife photographers get up close and personal with nature, often shooting assignments for nature publications.
Sports Photography: A field that requires fast reflexes and an ability to get the perfect shot in a matter of milliseconds, sports photographers get a front row seat to the action on the field or court.
Wedding Photographer: While the wedding photography industry has declined in recent years with the proliferation of affordable and quality cameras, an accomplished and well-reviewed wedding photographer can still expect to find steady work.
Aerial Photographer: For those not afraid of heights, aerial photography has grown in demand as services like Google Earth have created a demand for quality aerial photographers.
Event Photographer: While shooting a seven year-old's birthday party might not be the realization of your artistic ambitions, experienced and qualified event photographers can often find a steady stream of gigs as one positive recommendation can often lead to many others.
Concert Photographer: Grab your earplugs and stake your ground in the front of the stage in this exciting yet competitive field. While there is certainly no lack of concert photographers out there, those that can truly take one-of-a-kind images can often find additional work quickly.
Family Photographer: If you have the wedding and baby photography market cornered, why not expand your business to take timeless pictures of familial bliss?
Scientific Photographer: A field of photography where a degree in science is almost as important as a degree in photography, science photographers take stunningly intricate and breathtaking images and once one has established oneself in the field, one can expect a high demand for work.
Food Photographer: Having exploded in popularity over the past couple of decades, now any publication or restaurant simply can't exist without hiring an extraordinary food photographer.
Street Fashion Photographer: An area of photography that is constantly expanding, street fashion photography was popularized by Bill Cunningham in his weekly column in the New York Times, but has become a much more crowded field in the age of blogs and social media.
Of course, there are many other photographic genres the professional photographer might want to consider including stock, pet, real estate, astrophotography, medical, school, and micro and macro photography. These fields can be explored at New York Film Academy. The fundamental and hands-on experience taught at the Academy focuses on creating versatile photographers who could quickly adapt to these different genres. Best of luck in finding the fields of photography that work for you!
by nyfa