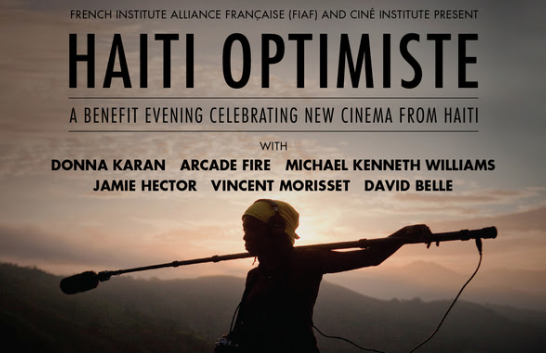 New York Film Academy students, faculty and alumni are invited to a phenomenal star-studded event called Haiti Optimiste this Thursday, February 20th at the Florence Gould Hall on 55 East 59th Street, NYC. Haiti Optimiste is an annual benefit organized by Ciné Institute and L'Alliance Francaise, celebrating new Haitian cinema with the purpose of raising funds for the film and media education of young Haitians.
Ciné Institute provides desperately needed free college education and employment opportunities to underprivileged Haitian youth. It is the only college of its kind in Haiti, where just 1% of high school graduates can afford to attend university.
The evening will include a screening of films from the Institute, followed by the announcement of the new Brioni film fund and a Q&A with Ciné Institute supporters, fashion designer Donna Karan, Arcade Fire video director Vincent Morisset, and actors Michael Kenneth Williams (HBO's Boardwalk Empire) and Jamie Hector (HBO's The Wire). Members of the Grammy Award-winning rock band Arcade Fire will also be present for the evening.
This is for a great cause and could be a great networking opportunity for young filmmakers in the New York City area. If you're interested in $25 discounted tickets (down from $60-$300), send an email RSVP to Ihuoma Mambo at [email protected].
by nyfa