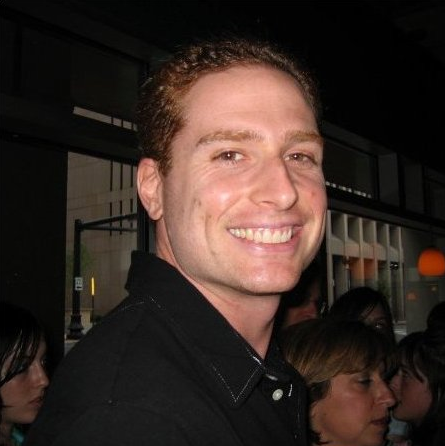 On November 25th, 2014, screenwriter and New York Film Academy writing instructor Dan Kay swung by our Business of Screenwriting class to regale his story of how he went from a kid growing up in Larchmont, NY to a rising Hollywood screenwriter, whose movie Pay the Ghost, starring Nicholas Cage, is currently in post-production.
Kay grew up on the east coast and was always a lover of independent cinema. "Movies like Clerks, The Brothers McMullin, solid independent productions, these were the movies I looked up to and wanted to initially make," Kay recalled. Kay studied English at the University of Pennsylvania, and upon graduation got his first movie into production, which he also directed, the indie Way Off Broadway about five recent college graduates who take a crash course in life as they explore the dynamic conflict in friendships, sex, love, and betrayal. Kay credits the movie getting made to indie producer Richard Perello, whose Cataland Films which financed the film has since gone on to produce all of the comedy troop's Broken Lizard's productions (Super Troopers, Beerfest, etc.).
"Traveling with the movie, as it played the festival circuit, is still one of the most memorable times of my career," Kay remembered. Way Off Broadway played in over 30 film festivals and won the Grand Jury and Audience Award Prizes at the Westchester, Stony Brook, and Waterfront Film Festivals. Small Planet Pictures picked up theatrical distribution and the IFC Channel picked up its TV rights.
Kay spent his first few post-college years in New York, working production and post-production jobs at night so he could write during the day, something he adamantly recommended to our writing students. "In my opinion, you want to allow yourselves the maximum amount of time to write and crank out new material, so it's best to get a job that allows you to have that precious block of time." Still, it wasn't long before Kay realized he needed to move out to Los Angeles. "The independent scene was changing and wasn't as thriving in New York as it had been. There were fewer jobs…" Kay headed out west, where he soon found representation.
Kay's first writing assignment may surprise some, as it's outside of the spectrum of what he's now known for working on (mainly thriller, action, and horror movies). It was Disney's Tinkerbell 2, a straight-to-DVD animated children's title. "Even though it was outside the realm of what I would normally do, I had to find a way to get excited about it, and put myself into it, something you always need to with your writing," Kay explained. Kay was working hard on the script and Disney was planning a whole slew of sequels, which Kay had already mapped out, but when there was a regime change at Disney Animation, they scrapped the whole endeavor, including all of Kay's work, a lesson Kay didn't soon forget — "Some things are beyond your control, especially Hollywood company politics, and as a writer, you have better get used to that and not take it personally. And keep writing."
Next up for Kay was his horror/thriller Timber Falls, his first foray into the thriller genre he's now becoming increasingly known for, about a weekend of camping in the mountains that becomes an excursion into hell for a young couple, because of the grotesque plot hatched by the deranged locals. Kay spoke pretty frankly about the evolution of this project, "Basically the director (Tony Giglio) who came on rewrote my script. On the poster is a man with a hatchet blade threatening a scared, bloody woman – yeah, neither of those characters were in my initial screenplay," Kay remarked, getting a few laughs. "It was in the era when 'torture porn' was increasingly popular due to movies like Saw and Hostel, so they transformed it into one of those," Kay shrugged. He explained this is pretty common. "At some point, a director is going to make changes to your story – it's inevitable. Sometimes they're drastic alterations as was definitely the case here."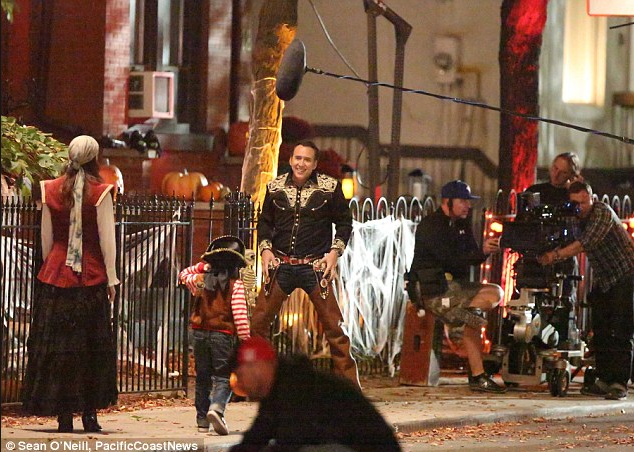 However, since Timber Falls, Kay has had increasing levels of success in the thriller genre. In 2007, Kay set up Details at Paramount Vantage with then rising (now-uber) horror producer Jason Blum, which tells the story of a daughter who disappears after uncovering a demonic force that only she can see, and the father who stops at nothing to bring her back. And it was actually back in 2010 that Kay initially set up Pay the Ghost, originally with financier SKE (Sidney Kimmel) and director Dennis Iliadis (Last House on the Left). The script tells the story of loving couple, whose young son is mysteriously abducted Halloween night, who one year later begin to sense his presence in frightening ways.
Despite all the elements in place, however, this incarnation of Pay the Ghost never came to be and it was only when the script went into turn-around and financier Voltage Pictures and Nic Cage came aboard that it regained momentum, which happens sometimes, Kay explained. In the interim, Kay kept writing and has a host of other projects in development as well, including the tech-thriller I.T. with Pierce Brosnan attached to star and John Moore (A Good Day to Die Hard) attached to direct. Kay has also ventured into TV, something he recommended to NYFA's students, setting up his supernatural thriller pilot Diabolic with eOne. "There's been a seismic shift in the film and television landscape, and it definitely behooves young writers to try their hands at both," Kay advised.
Kay closed out with a wise piece of advice on how he comes up with his ideas. "You have to remember that a good idea can really come from anywhere. And in the idea phase, it's a fragile thing, so don't stymie yourself early on. Let the idea grow, as you really never know what it might become…"
Kay is repped by APA and New Wave Entertainment. Pay the Ghost is currently in post-production and slated for next later this year. Kay lives in Los Angeles and teaches writing at the New York Film Academy Los Angeles.
by nyfa