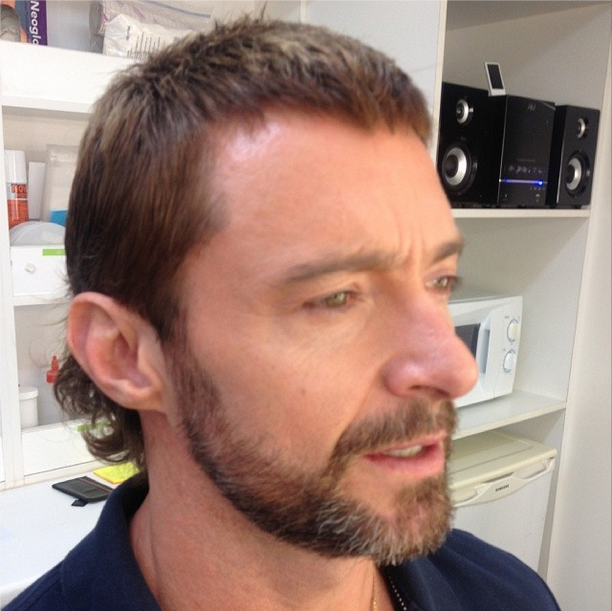 Chappie led the way at the box office this weekend, but it didn't take much. A film lineup over-packed with R-rated movies didn't seem to impress movie-goers, leading to weak earnings.
The sci-fi robot flick starring Hugh Jackman, Dev Patel, and Sigourney Weaver brought in just $13.3 million to top the list. Members of Die Antwoord, who are more used to starring in music videos than feature films, also made appearances in Chappie. Neill Blomkamp, who wrote and directed the movie, is a huge fan of the musicians and reportedly got inspiration for the film while listening to their music and working on Elysium.
During a weak box office weekend, perhaps the true battle for supremacy was who had the better mullet: Hugh Jackman or Yolandi Visser.
Will Smith's Focus, which previously topped the charts, dropped into second place.
Also premiering this weekend was Vince Vaughn's new comedy, Unfinished Business, which didn't fare very well, earning $4.8 million and barely managed to squeak into the top 10.
Overall, the weekend came in 40% under the same time last year. It's likely that a big part of the problem is that 6 of the top 11 movies were R-rated. This limits the audience by the very nature of the restrictive rating.
Kingsman: The Secret Service, The SpongeBob Movie: Sponge Out of Water, and Fifty Shades of Grey all stayed in the top 10 this weekend. The Second Best Exotic Marigold Hotel and The Duff both had pleasantly strong showings as well.
The top 10 films for the weekend were:
| | |
| --- | --- |
| 1. Chappie | $13,300,000 |
| 2. Focus | $10,020,000 |
| 3. The Second Best Exotic Merigold Hotel | $8,600,000 |
| 4. Kingsman: The Secret Service | $8,300,000 |
| 5. The SpongeBob Movie: Sponge Out of Water | $7,000,000 |
| 6. Fifty Shades of Grey | $5,604,000 |
| 7. McFarland, USA | $5,318,000 |
| 8. The Lazarus Effect | $5,100,000 |
| 9. The Duff | $4,850,000 |
| 10. Unfinished Business | $4,800,000 |
by nyfa