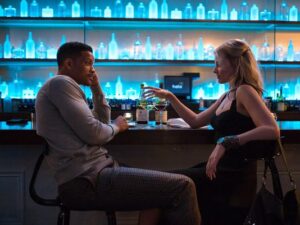 Is Will Smith's box office draw starting to wane? That's the main question being asked by industry analysts today after Smith's latest feature took the top slot at the weekend box office, taking in $19.1 million, which was under the projected $21-23 million. The film's debut, which co-starred rising Australian star Margo Robbie, made for Smith's second-weakest opening weekend ever, behind Seven Pounds' $14.8 million.
All in all, in a year where box office records are being smashed on a weekly basis, many analysts predicted this to be a slow weekend and the rough weather in the South and Midwest certainly did not help as the top twelve films brought in a meager $95.4 million collectively. In addition, this weekend also saw history being made as China's box office totals for the month of February outpaced the US box office for the first time ever.
The other big new release of the weekend, horror flick The Lazarus Effect also failed to make a major impact, bringing in only $10.6 million, trailing both 50 Shades of Grey and The Kingsmen. The latter film was able to leapfrog over 50 Shades to take the second spot in its third week of release.
As this was the first box office weekend following the Oscars, winners Still Alice and Birdman both saw an upsurge in both ticket sales and theater expansions, as both films added roughly 500 and 800 new theaters respectively.
The top ten films for the weekend of February 27 – March 1 are as follows.
| | |
| --- | --- |
| Focus | $19,100,000 |
| The Kingsmen | $11,750,000 |
| The SpongeBob Movie: Sponge Out of Water | $11,200,000 |
| Fifty Shades of Grey | $10,927,000 |
| The Lazarus Effect | $10,600,000 |
| McFarland, USA | $7,797,000 |
| American Sniper | $7,700,000 |
| The DUFF | $7,150,000 |
| Still Alice | $2,695,00 |
| Hot Tub Time Machine 2 | $2,400,000 |
by nyfa