On June 15, New York Film Academy welcomed Matteo Borghese and Rob Turbovsky, co-executive producers and writers of the Hulu hit series, Only Murders in the Building at the Los Angeles campus for a Q&A. 
The evening, moderated by Creative Director Lynda Goodfriend, was filled with laughs and inspiring stories from the writing team. Borghese and Turbovsky, have a long list of credits including Silicon Valley, Lady Dynamite, Black Monday, It's Always Sunny in Philadelphia, and Detroiters. They have developed original pilots at Comedy Central, TBS, ABC, and Fox. In film, they have contributed to the scripts for Spider-Man: Into the SpiderVerse, Ghostbusters (2016), Office Christmas Party, The Peanuts Movie, and Borat Subsequent Moviefilm, among others. Borghese and Turbovsky have been writing partners for ten years and both received an MFA in screenwriting from USC. They are Emmy, Golden Globe, PGA and two-time WGA award nominees. 
The Hollywood Reporter named them "Best Hollywood Punch Up Guys"— "Matteo Borghese and Rob Turbovsky are Hollywood's go-to guys when Phil Lord and Chris Miller or Paul Feig need a script to be funnier."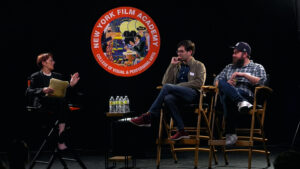 Lynda Goodfriend, Matteo Borghese and Rob Turbovsky during the Q&A at NYFA LA Campus 
Rob and Matteo talked about their own journey as writers. They explained that they originally met as students in the Masters for Screenwriting program while at USC.  Borghese quipped, "After graduation, the first step was to completely bottom out, to feel like you're never going to accomplish anything, you're going to have to move back to your parents' house, and you sit with that for 6 months and then realize you have to do something. So, you call your best friend Rob." Rob Turbovsky, who was interning for Judd Apatow at the time, then joined with Matteo to write a pilot script. The script got them an agent and their first writing job on the show, Silicon Valley. Thus, a writing team was born. 
The duo, who is currently working on the 3rd season of Only Murders in the Building, shared their advice to the writers in attendance and spoke to the writer's career in the television industry:
Q: How did your writing classes as a student help you as a professional writer?
A: They both felt the best lesson was that "you just have to do it." "Even if it is terrible you have to finish it."
Q: How do you get an agent?
A: You have to have material. It doesn't really matter what kind of writing sample it is, don't limit your interest. But you need a sample that is good! An agent can always come later, they are always looking for good writers. Once you have some good samples ask anyone you know who may be connected- an agent's assistant, somebody in the mailroom, another writer, a friend on a show to pass it along.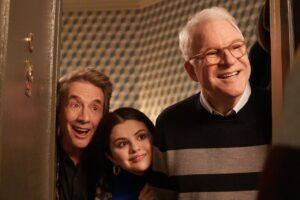 A still of Only Murders in the Building. Courtesy of Harper's Bazaar
Q: How do I know if a script is good?
A: The most valuable thing is a first impression. Start with people you know but don't put much stock in one person's opinion. If you hear the same note several times, be willing to make the changes. Get a sense of what the script needs. Some notes are technical, such as "I can't track what the characters are doing." Pay attention to those. 
Q: What is your process?
A: The importance of the outline cannot be overstated. The outline is difficult but you have to have it first. Once the outline is together it helps to have the Big picture. We split it up and write sections. Inevitably we will need to write a new outline and work again from that.
Q: Where do writers get their ideas?
A: Some people see articles, some just write down a list of ideas. You don't have to have a lot of information. Sometimes a producer has an idea they want to write. It can come from somebody else, but we have learned we can still bring our own essence to it and get passionate about it. 
Q: Who decides who is in the Writer's Room?
A: It's a decision made by a lot of people – the show runner, producers, network. On Only Murders [in the Building] they also have novelists and playwrights on the writing staff as well as writers who've written on other shows. It's really about if your material would fit the show. 
Q: How do you get invited to the Writers Room?
A: When meeting to be hired for a show, a lot of the meetings are about finding out if you like the show, how much you like the show and do your ideas for the show demonstrate that you "get the show. Enthusiasm goes a long way! Even if you go in with 'I'd be lucky to have this job,' it really has to be 'I'd die to work on this show.' When we met on Only Murders [in the Building] we had read the pilot script and loved it- really loved it. And we loved Steve and Marty. Our work was also tonally very close to what they were looking for.
Q; What's a pitch session like?
A: It's a 15-minute explanation of the idea for the show. Networks want to know why it's you- why are you the one writing this? 
Q: What kind of work besides television can writers look for?
A: There are other writing focused jobs-punching up voice over, writing for reality shows, commercials, and public service announcements. Writing is writing. You still have to craft something and it's good practice.
Rob Turbovsky and Matteo Borghese ended the evening with some final words of advice to our students: 
"Keep writing. When you're on a show you don't know if you're coming back for another season so you need to keep writing your own stuff rather than waiting for a staffing job…You can't wait for inspiration. You just have to go to work and write."
Turbovsky said, "I don't think the insecurity ever goes away. It's important to know that writing is hard for everyone. Everyone makes bad work but you keep writing. Because you will write good work too."  Borghese added, "When I see an audience laugh at something I wrote it's really wonderful. The feeling that something you write is enjoyed by an audience powers you through."
The audience enjoyed the writing team of Borghese and Turbovsky and left with some excellent words of wisdom to help them on their own journeys. 
Only Murder in the Building is streaming on Hulu!
by nyfa