Earlier this month, New York Film Academy (NYFA) MFA Screenwriting Alum Inés de los Santos received word that she won the Stephanie Rothman Fellowship.
The Stephanie Rothman Fellowship is a contest for female filmmakers and writers that create thriller, horror, and fantasy stories. Every year, they grant a female creator with a cash award allows the artist to produce the screenplay, or another project they would instead like to make.
Inés de los Santos applied to the contest with her thesis project, a comedy-horror pilot about a nun-in-training who accidentally performs an exorcism on her one-night-stand, and is subsequently sent to an exorcism academy.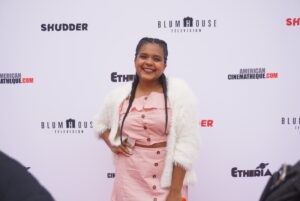 "This story has been one of the most passionate projects I've ever had," de la Santos tells NYFA. "And even though it's based on someone that is not part of my life anymore, I was able to adjust it and make it even more personal to me—all thanks to my teachers and classmates' notes and suggestions."
Inés de los Santos enrolled in Fall 2017 to earn her MFA in Screenwriting from Burbank-based New York Film Academy. NYFA congratulates Inés on the Stephanie Rothman Fellowship and looks forward to seeing her project come to life!
by nyfa