Did you know that New York Film Academy (NYFA) has welcomed students from 140 countries?! 
NYFA offers a unique experience for artists to blend their education and talents with a diverse range of international culture. The Academy has had the privilege of teaching students from all over the world in a creative space of acceptance, community and teamwork.
Recently, NYFA celebrated International Education Week, an entire week dedicated to recognizing students from around the globe through music, food, education, and storytelling.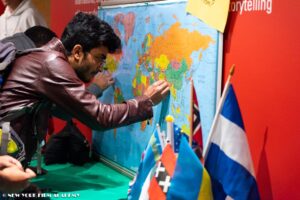 One of the most popular events of the week was the Food from Around the World & International Map Pinning Party, where delicious Latin American, Mediterranean, European, and Asian foods were brought together under one roof for all to enjoy. 
The event not only allowed students to discover new and exciting tastes—it gave them an opportunity to reconnect with home. A world map displayed during the event was surrounded by proud students eager to represent their cities with colorful pins.
When asked what they like most about studying at NYFA, here's some of our students had to say:
"It's always nice finding people from all over the world and experiencing different ways of thinking."
– Alessio Giurgola (Italy)
"Learning about different cultures helps me build my characters."
– Max Abadilla (USA)

"I've lived all over the world—Nigeria, Ghana and Dubai. I like that I'm not basic, there is so much to talk about as an international student."
– Sushi Kohli (India)

"I was born in China and have lived in New Zealand for eight years. Had I not come to NYFA, I would not have met so many people from different counties. I have the opportunity to expand my horizons!"
– Qiao Qiao (China)
There is no doubt that NYFA is a special place, one filled with creative, colorful, expressive, and committed individuals! Cheers to oneness, togetherness, and to celebrating diversity every day!
[su_carousel source="media: 33342,33352,33346,33335,33345,33337,33336,33347,33348,33338,33349,33339,33340,33350,33351,33341,33343,33353,33344,33334″ limit="60″ link="lightbox" target="blank" width="780″ height="360″ title="no" autoplay="0″]
written by Lena Purtu
by nyfa