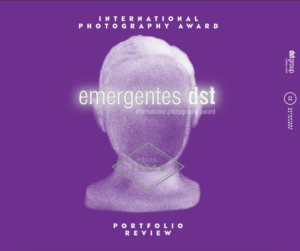 Here is a unique opportunity for New York Film Academy photography students and alumni to win an award for their portfolio. The International Photography Award Emergentes dst is an initiative of Domingos da Silva Teixeira group, organized by Encontros da Imagem, with a monetary prize to be granted to the best 2014 Contemporary Photography Portfolio. The Photography Prize Emergentes dst will be awarded after the Portfolio Review which gives photographers the opportunity to showcase their work to commissioners, gallery owners and expert editors, thus establishing solid foundations for the promotion of their work.
NYFA students and alumni interested in applying to the Emergentes dst Award should follow these rules:
1. APPLICANTS
Every creator who uses photography as main expression may apply, regardless of nationality, gender or age.
2. PRIZE
The Photography Award Emergentes dst grants a prize money of 7,500 euro and an individual exhibition at the Festival Encontros da Imagem – 2015.
3 . SELECTION WILL TAKE PLACE  IN A TWO STEP PROCESS
3.1 PRE-SELECTION
At this step, each applicant must submit no more than 20 digital images (b&w or color). It must be an original and recent portfolio.
Deadline for the submission is August 15, 2014. The pre-application fee is 10€.

A pre-selection from a committee of experts will select 80 photographers who shall be invited 

to submit their portfolio to further review from specialists and photography and visual arts analysts.

Ranking shall be based on interest, originality and coherence of the projects, as well as on the conceptual quality of the work. Finalists shall be notified of the results until September 1.
3.2 SELECTION OF ENTRANTS TO THE PORTFOLIO REVIEW
The second step consists of the choice of 8 experts for the portfolio reading, by each of the selected candidates. Deadline for this choice is September 8. Portfolio analyses will take place during the Festival Encontros da Imagem, on September 17 and 18. The winner will be announced on September 20 in a special ceremony at Theatro Circo, Braga. Every selected candidate will have a 20 minute session with the assigned reviewer. All the finalists must pay a 140 € registration fee, which will also entitle them to the Encontros da Imagem 2014 catalogue. Every selected entrant must upload a chosen digital image (eligible photographs must be size 40×50 and 300dpi resolution) that will be exhibited at the opening session of Encontros da Imagem at September 19.
4. PORTFOLIO REVIEW
During the critical review of Portfolios, each expert shall elect the best portfolio and one photograph to be produced in a format chosen by the author. There will be an exhibition of the whole set of photographs selected by the judges, at the ceremony of the announcement of Emergentes dst Award. The author of the Photography Award Emergentes dst will be elected from the selected portfolios. On September 20, the prize winner of Emergentes dst shall be announced in a formal ceremony where the entitled Prize will be handed out and during which a presentation of the portfolios of the finalists shall also take place. The exhibition of the awarded photographer's works shall be on display at the official section of Encontros da Imagem 2015.
5. USE OF IMAGES
The finalists agree on the reproduction of images from the portfolios that were sent
for the contest, either to display or to promote the prize. The prize winner is to give the sponsor two pieces produced and exhibited to the venue in 2015. Any other use will be agreed between the Festival and authors.
RULES AND MORE INFORMATION:
Fill in the application form available online at www.encontrosdaimagem.com. You must send the receipt of the application fee along with your portfolio.
[email protected]
by nyfa