When Acting Instructor Victor Verhaeghe made his way into the office, he had so much to say to the New York Film Academy. Beyond just his teaching hours at NYFA and students, Victor has a lot of projects up his sleeve.  In the beginning of February, Victor will start shooting the second season of HBO's Boardwalk Empire, continuing on as Ward Boss Damien Flemming. While tailoring his 1920's themed character, Victor simultaneously acted as a Real Estate agent, alongside Rosie Perez and John Leguizamo while filming the summer 2011 full-length film Fugly.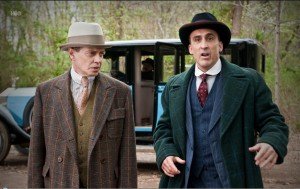 If you haven't gotten enough of Victor, you can catch him every month- live!
@7pm on the last Sunday night of every month-  you can see Victor at the Abingdon Theatre ($15.00 regular admission, $10.00 NYFA student cost- must show valid ID).
Reservations for the Victor Verhaeghe Hour (for January 23rd, February 27th, March 27th, and April 24th): (212)868-4444.
by nyfa