Continuing success for NYFA alumni is always something to celebrate—and this year, Cinematographer and NYFA alum James Friend won the Academy Award for best cinematography for his work on All Quiet on the Western Front (2022)! "It's not my birthday, but I feel like it is," Friend said in his acceptance speech, which was the first of four wins for the Netflix-distributed German film.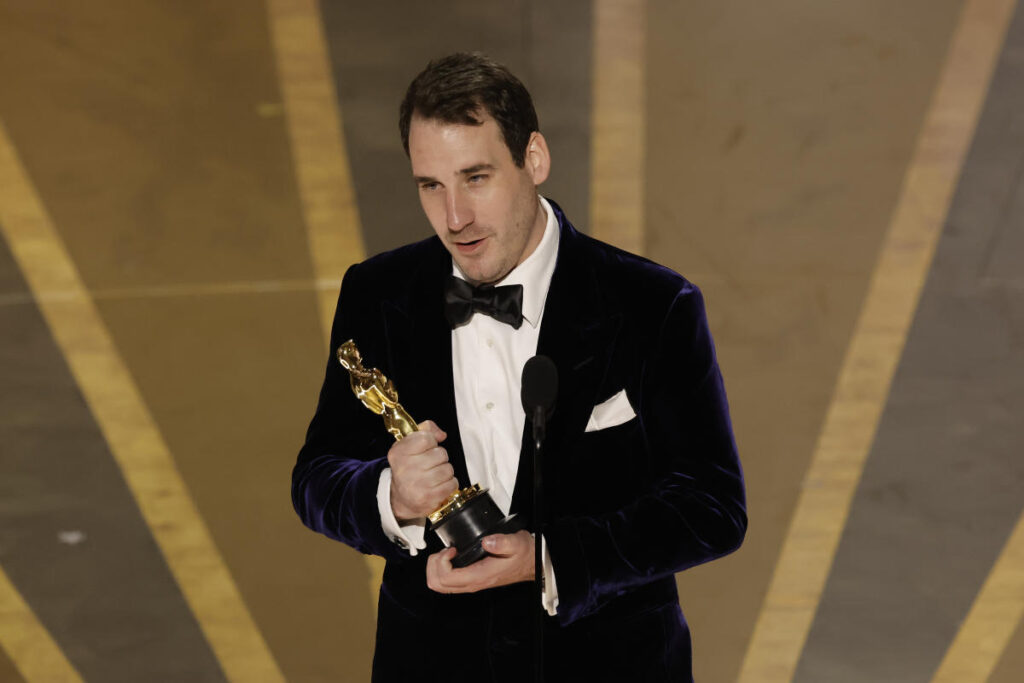 All Quiet follows a young German soldier during World War I, excited to join the fight, who encounters terrible distress on the front lines. James Friend is now a multi-award-winning cinematographer through this film and capped off award season by winning the Oscar in his first nomination. Friend attended two programs with NYFA in 2004, and we're thrilled with his success and his recent win.
NYFA Alum James Friend Wins the Best Cinematography Oscar for All Quiet on the Western Front
Even though Friend's first Oscar nomination was this year, he was no stranger to the awards stage. Friend has been the cinematographer on many high-profile television series throughout the last decade, including Emmy-nominated shows such as Victoria (2016), Patrick Melrose (2018), the recent Disney+ series Willow, a sequel to the 1988 cult classic by the same name, and Your Honor (2020) starring NYFA guest speaker Bryan Cranston.
Friend won his first BAFTA in 2017 for his Photography & Lighting work on the British series Rillington Place (2016) and won his second for All Quiet this year. He joined the British Society of Cinematographers in 2013, which has awarded him with three BSC Awards, including this year for All Quiet, and joined the American Society of Cinematographers in 2019, when he was awarded an ASC Award for his work on Patrick Melrose.
This Season's Cinematographers Were a Prestigious Group
James Friend wasn't necessarily the favorite to win going into the Academy Awards this year. He was nominated alongside four other incredibly-shot films. Friend won the Oscar over Darius Khondji for Bardo (2022), False Chronicle of a Handful of Truths (2022), Mandy Walker for Elvis (2022), Florian Hoffmeister for Tár (2022), and Roger Deakins for Empire of Light (2022). Although a majority of the group was first-time nominees at the Oscars, all five have acuminated numerous awards between the group. 
Roger Deakins alone has been nominated for sixteen cinematography Oscars, winning two of them for Blade Runner 2019 (2017) and another recent stellar World War I film, 1917 (2019). Friend's win and Deakins win at the 2020 Oscars mark two out of the last four Best Cinematography winners going to films depicting World War I.
All Quiet Picked Up a Total of Four Oscars
All Quiet on the Western Front won the second-highest amount of awards on Oscar night, only following the former NYFA summer camp counselors directing pair The Daniels' film Everything Everywhere All At Once (2022), which won Best Picture. After James Friend kicked off All Quiet's wins with Cinematography, the film won Best Production Design, Best Original Score, and Best International Feature Film. Made in Germany, it was the only non-English language film nominated for Best Picture this year.
All Quiet on the Western Front is a remake of the 1930 American film All Quiet on the Western Front (1930). The film won Best Picture at the 3rd Academy Awards in 1931, where it also won for Directing and was nominated for Cinematography (the other awards that the recent remake won were not yet categories in 1931, including International Film, Original Score, and Production Design). In 1979, a made-for-television remake of All Quiet was released, making the one James Friend won for the second remake. All three films are based on the 1929 book of the same name. The book was written by a German author, making this most recent film the first to return to the original German storytellers.
War Movies Have Typically Excelled at the Academy Awards
All Quiet at the Western Front is the latest in a long line of war films recognized by the Academy for its achievement. In recent years, Academy voters have gravitated toward films depicting the brutality of war, focusing on one protagonist who becomes overwhelmed seeing the horrors on the battlefield. In the last few years, films like Hacksaw Ridge (2016), Dunkirk (2017), Jojo Rabbit (2019), and 1917 (2019) have been nominated for Best Picture, and all have the same overarching message: war is terrible.
That theme has been prevalent in All Quiet on the Western Front since the original novel. The newest film depicts war more brutally than ever before, with modern technology and filmmaking styles. This way of filmmaking has made the film feel more realistic than previous war films. Friend's cinematography emphasizes it especially well, with close-ups of the frightened soldiers and gorgeous landscape shots showcasing the scope of the battle's production. "We wanted it to be as realistic as humanly possible. And we wanted it to almost have a documentary approach, but not necessarily in the photography, but in the overall filmmaking, you want everything to feel as authentic as possible," Friend told Gold Derby.
James Friend's Success Continues in the "Star Wars" Universe
Following his Oscar win and his recent work shooting on the Disney+ series Willow, Friend will take his talents to another Disney+ show, The Acolyte. Set in the Star Wars universe, the show will take viewers to a new group of characters at the end of the High Republic era and stars a talented pool of actors, including Jodie Turner-Smith, Amandla Sternberg, Carrie-Anne Moss, Manny Jacinto, and Lee Jung-jae. Friend also has two feature films in development that he will shoot, both with plots kept under wraps.
NYFA is always happy to see our alumni succeeding, and we congratulate James Friend on his Oscar win and are very excited to see his upcoming work! If you'd like to attend a program like Friend or are interested in learning about our other programs offered at NYFA, including filmmaking, acting, and more, request additional info today!
by Eric Heckler