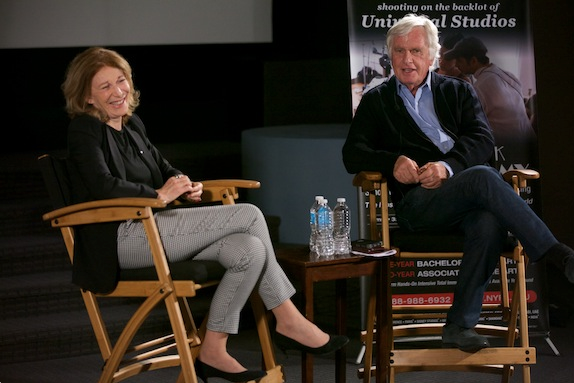 Last week, acclaimed director, Peter Medak visited New York Film Academy Los Angeles after a screening of his 1980 horror film The Changeling at Warner Bros. Studios theater for an in-depth Q&A with Tova Laiter and students. As a first assistant director, Peter worked with legendary British film directors Sir Carol Reed, David Lean, Fred Zinneman, and Alfred Hitchcock. As director, Peter Medak's 1972 film, The Ruling Class, starring Peter O'Toole, was nominated for an Oscar. His other works include The Krays, A Day in the Death of Joe Egg with Alan Bates, The Hunchback of Notre Dame with Mandy Patinkin and Salma Hayek, and Romeo is Bleeding with Gary Oldman, to name a few. In television he has directed episodes of iconic series such as Breaking Bad, House, The Wire, and Hannibal.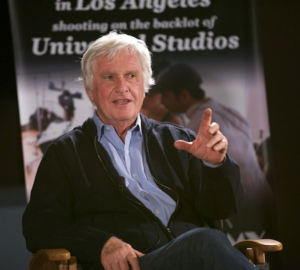 Peter had a rocky upbringing growing up Jewish during the Nazi invasion of Hungary and the events that followed. He spent much of his childhood years inside his family's apartment, unable to attend school because the threat World War II and the subsequent occupation of Soviet Forces posed. He would often look through the keyhole in the apartment's door, struggling to see what little he could of the outside world. The few films Peter was exposed to were magical to him and ignited his imagination. His aunt was a world-famous traveling opera singer who visited Peter often and gave him a camera and some film as a present. Peter was hooked on filmmaking from that moment on. Later Peter and his family fled to England as refugees. His aunt was able to help him get is first filmmaking job as a trainee in an editing room. He eventually moved up the ranks to work as an assistant director. However, Peter always had ambitions to direct. His big break ironically came when he made one of the biggest mistakes of his career. Peter had failed to call an important actor to set one day. The producer was furious and made Peter admit his mistake to the director himself. Instead of firing Peter though, the director simply coached him on how he could do better next time. The director inquired about his accent and Peter informed him that he was a Hungarian refugee. Admiring his perseverance in the face of adversity the director promoted Peter the very next day to second unit director and his directing career began.
Peter's 1980 film The Changeling is regarded as a masterpiece in the haunted house/thriller genre. The director admitted the script gave him chills the first time he read it. He couldn't put the screenplay down and the material actually frightened him. Peter said that a script that can affect you so profoundly is gold and you should pursue is relentlessly. Throughout his life, Peter has always had an intimate connection to the paranormal. He believes in ghosts and confesses to having seen them. Peter's experience with the supernatural has informed his filmmaking within the subject. It's not the ghost that you see up close, right in front of the camera that's frightening, because it never happens that way. It's always a glimpse of something that you catch in the corner of your eye that makes the hair on your arms stand up. To that effect, Peter suggested that to show a ghost on film you could fog up a room and wait until only ten percent of the smoke remains. It's not the effect that's in your face but the subtle hint of something there that's scary.
Peter Medak went on to entertain students with stories from his legendary career and share invaluable advice he's gained along the way. It was a privilege for all attending to be in the presence of and learn from such a master of his craft. We look forward to seeing what this brilliant mind produces next.
by nyfa