On Saturday, March 7, New York Film Academy Los Angeles (NYFA-LA) had the pleasure to once again host Lunafest, a series of films by and about women for the Zonta Club of Burbank. Crickett Rumley, NYFA Director of Film Festivals, moderated the event. Lunafest was also attended by Burbank Mayor Sharon Springer and Council Member Tim Murphy.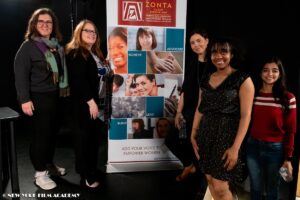 In order to combat the underrepresentation of women in film, Lunafest was created in 2001 as the first all-women traveling film festival. Since then, the festival has opened opportunities to more than 150 women filmmakers, giving them the recognition and platform they deserve. In addition, Lunafest travels to nearly 200 cities annually, raising funds for local women's causes. This year, proceeds from NYFA's presentation of Lunafest were allocated to Zonta Burbank, a volunteer organization working to empower women through service and advocacy.  
Following a screening of the short film program, Rumley began a guided conversation where students and panelists had the opportunity to talk about the films. Students from all backgrounds saw themselves in the stories, and even felt uncomfortable, in good ways–they had moments of realization, moments of uplift, and moments of inspiration. 
NYFA previously hosted Lunafest in 2019. Panelists included members of the campus Film Festival Club, including its president, Jumanah El Shabazz; NYFA alum and recipient of the Zonta Wings Grant, Roshni "Rush" Bhatia; NYFA Acting Faculty and Academic Adviser, Lee Quarrie; and Director and Producer of the Lunafest-selected film Lady Parts, Jessica Sherif.
Speaking on the relatability of the films to both students and Zonta Burbank members alike, Rumley shared, "Lunafest is such a strong program, and it was fascinating to see how the films reflected audience experiences." She continued, "Not only was the dance in Ballet After Dark beautiful to watch, the protagonist's determination to survive trauma spoke to women of all ages. And Zonta members who have been breaking glass ceilings for decades were heavily impacted by PURL because the main character faced such an uncomfortable, if not hostile, all-male workplace that she had to overcome."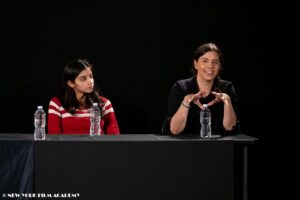 The writing and emotional impact of the films pierced through to everyone in the audience. NYFA student Nadiia Pavlyk-Vachkova, stated, "I invited my friend, a director from India, and I wasn't sure that he would endure 90 minutes of content devoted to women. But all the films were so strong and well done that we got the impression we were watching Oscar nominees. After the performance, we discussed the funny and tragic moments that we both learned from." 
New York Film Academy thanks Lunafest, the Zonta Club of Burbank, and the panelists for joining us for such a successful event and sharing it with our students.
by nyfa