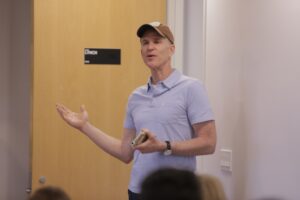 Acclaimed, veteran actor, Matthew Modine paid a visit to the New York Film Academy's first Acting for Directors class in Los Angeles, where he was able to elaborate on being an actor as well as a director. Modine, known for his role as "Joker" in Stanley Kubrick's masterpiece Full Metal Jacket, has directed a number of short films and is currently in pre-production on a feature called The Rocking Horseman. In addition to Kubrick, he has also worked with Christopher Nolan, Jonathan Demme, and countless others.
"He was very approachable and casual, and discussed the importance of being prepared before going on set and how an actor has to do his work beforehand," said NYFA LA Acting Instructor, Paz Leon. "He also told us that when he worked with Christopher Nolan, he noticed that he never looks at the monitor and always stays close to the actors. This made the actors feel safe and protected by him. So he advised the students to try that instead of being so close to the monitor."
Students were thrilled with the experience, one student said, "It was really great to meet an actor of his stature, yet see how down to earth he is." While another added, "It was obvious from his energy that he's passionate not only about acting, but also directing. I was really inspired."
The New York Film Academy is grateful for having such a prominent actor like Matthew Modine come in to provide insight and encouragement to our students. Once again, we'd like to thank Matthew for his time at NYFA!
by nyfa