Students from the New York Film Academy (NYFA) 2018 Master of Fine Arts in Filmmaking program had the opportunity to tour Buzzfeed's LA Lexland campus on Thursday, Sept. 12, 2019. The MFA Filmmaking students, who study at NYFA's Los Angeles campus, were joined by producer and on-camera talent Rie McClenny for their field trip.
The visit included a chance to tour the studios, offices, prop room, and canteen, as well as the Buzzfeed Tasty Studio where McClenny whips up all manner of desserts for the Tasty Channel. The students enjoyed seeing the new media campus and learned a great deal about how the company operates.
"Huge thanks to Rie and Buzzfeed for having the class!" says NYFA instructor Rebecca Louisell.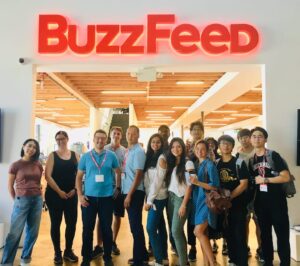 From the left, front row: Rie McClenny (Buzzfeed), Rebecca Louisell (Instructor), Mahmoud Abul Burghul, Adilet Zhumabek, Kritika Chawla, Agnes Shinozaki, Veronica Badell, Haining "Carl" Gu, Shiran Wang. Back row: Ryan Mechling, Nick Sivakumaran (Instructor), Chin-Wei Chang, Lan-Chi Chien, Ether Tian Jin
by nyfa