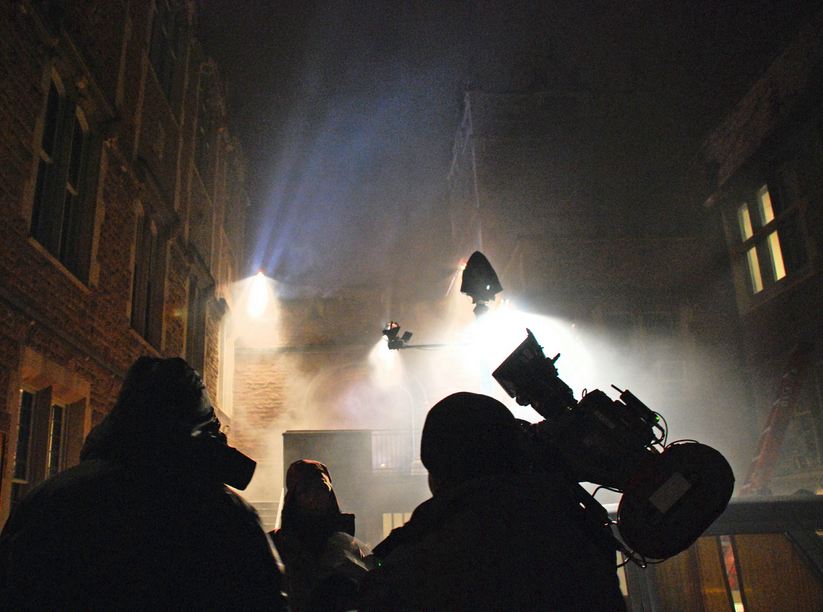 Imagine being in charge of a 2 million dollar feature film, written and produced by the same guy who wrote The Crow. Your only experience is from directing a student film at the New York Film Academy. That is exactly what director, Michael Staininger was going through when he was thrown in front of 150 crew members on set of The Tomb. Luckily, he had the hands-on training from NYFA to prepare him for the real world. "Diving into filmmaking from day one, being thrown into the cold water with very little previous experience, that is what prepares you for the real world; and the madness which will await when you step onto your first feature film set. The ability to make one hundred plus mini and big decisions per day, mostly based on instinct and preparation, is what will set you apart from the competition."
Michael was born in Vienna, Austria to an upper middle class family who expected him to pursue a career in business. But, like most creative filmmakers, he gradually began seeking adventure, searching for the unexpected, rather than pushing for the obvious. Michael used his imagination to open horizons and create new worlds through the moving image. From there, and a few viewings of Braveheart, Michael's fascination with the magic of film was born. Directing became his path in life.
So, how does a boy from Vienna end up directing a $2 million film in Los Angeles with producers George Furla and Randall Emmett? 
George Furla was one of my first producer acquaintances in the first year I moved to LA. We understood each other right away and tried to put something into the pipeline. It took several efforts (4 projects didn't happen) and a little more than a year until the first draft of the "Ligeia" script, which distributors later renamed The Tomb, went through the Emmett/Furla Films office. They started my career. The main reason I signed on to do the film was because I'm such a big fan of The Crow, which "Ligeia" screenwriter John Shirley also wrote. John Shirley really understands darkness and mysticism.
What was it like working with actors like Michael Madsen and Wes Bentley?
I had seen these actors on TV and had admired their performances in American Beauty, The Four Feathers, and Reservoir Dogs. I would have never imagined that my first scene as a director would be with both of them at one table. I had done a student film at NYFA, and suddenly I was giving direction to two experienced, well known character actors. I had to lose this thought very quickly and come in as strong as I could. Credibility is everything, especially when 150 people work for you full time and you are the most inexperienced of them all. An actor or actress needs to trust his or her director. They emotionally strip themselves down to their very core; this is why you have to embrace the opportunity and exude an aura of professionalism at all times.
What advice would you give to the aspiring filmmaker dreaming to shoot their first feature film?
Very simple: believe in yourself and never stop. Don't let anyone discourage you; if you have a dream, live it, but always know that it's a world full of vultures. Once you exit the safe haven doors of NYFA, you will be on your own, and you will have to prove it. Make mistakes, learn from them, and move on. Don't think back and wish you would have done it differently. Once it's on film, it's pretty much irreversible. Know what you want and be a good motivator. Be charismatic and tough, but don't be a dictator. Respect the team and those who work for you; only if everyone on set gives their very best will you get the result you desire.
You have chosen one of the toughest jobs on the planet, but equally one of the most fascinating and rewarding. Stay with it, but do not fall into the trap of wanting the big things too fast. Once you get the shot you have been waiting for, think twice, and think again, because it doesn't matter who does what and who makes which mistakes. Ultimately, you will be held accountable for how the movie turns out.
Finally, as [NYFA Directing Instructor] Paul Warner rightly puts it, "It's all about the script." On The Tomb, I focused too much on the visuals and aesthetics, which are key, but the words carry the story. The story is what the audience comes to see. Always remember that when you break down your script!
If you're interested in enrolling in the same 1 year filmmaking program that Michael did, Click Here!
by nyfa