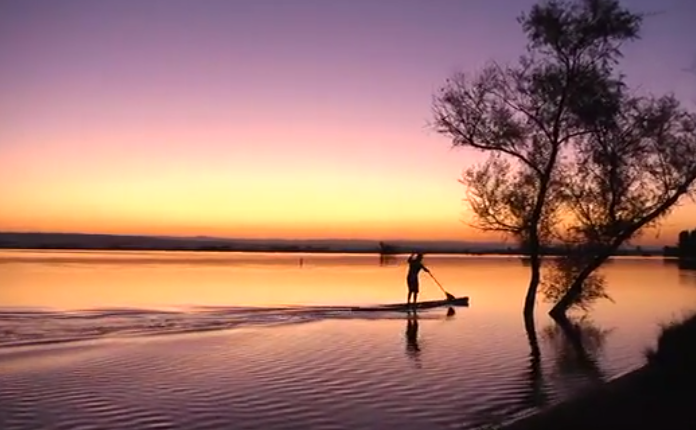 As an extremely talented musician at a very young age, Michael Valenzuela learned to play over 20 instruments. Performing in diverse ensembles comprised of choir, musicals, marching, jazz, rock, folk and contemporary bands, Valenzuela was nearly a prodigy. Despite that, his artistic talent took a back seat after graduating from high school due to his life-long dream of serving his country as a Naval Aviator.
Valenzuela enlisted in the United States Naval Academy, even though he could've attended the Berklee School of Music. "I joined the Navy because I wanted to be a fighter pilot since I was a little kid and serve our country," said Valenzuela.
In 2000, Venezuela received his wings of gold and began a career as a carrier-based F/A-18 Strike/Fighter Pilot. Over the course of his military career between combat operations, Valenzuela was given the unique opportunity to be a Demonstration Air Show Pilot, VIP Liaison, and was introduced to the art of filmmaking by working in front of the camera on over 20 episodes of dramatized training films for the Naval Aviation community.
His passion for the arts continued while stationed in San Diego. While taking commercial and acting for film workshops, Michael appeared in numerous television shows, movies, commercials, as well as documentaries, which inspired him to work on a travel series called Aviator's Paradise. It was from there where Valenzuela's life would take a drastic turn.
"Unfortunately, both my aviation and acting careers were brought to a sudden and tragic halt due to a work accident that left me paralyzed from the waist down for a span of two years," recalled Valenzuela. "After two major reconstructive surgeries and years of rehabilitation, I returned to the cockpit as an Advanced Aerobatic and Emergency Maneuver Training Instructor. During my recovery, I discovered Stand-Up Paddleboarding (SUP), becoming a Professional Athlete in the arena of SUP and Snowkiting, and recently became a Crossfit instructor."
Turning his life around tenfold, Valenzuela found a new calling in athletics and reaching out to other Disabled Veterans. He began volunteering a considerable amount of his time mentoring and coaching other disabled athletes. He essentially became an ambassador for Disabled Veterans in local and international competition and his accomplishments were featured on an AT&T Uverse Sports series about inspirational athletes.
With a diverse range of hurdles and accomplishments behind him and with the help and guidance of the staff and students at the New York Film Academy, Valenzuela is enthusiastic about returning other passions of his: acting and filmmaking.
"I wanted to continue working in the film industry and improve my skill set from a reputable institution. I am looking forward to exploring my passions for motion picture storytelling and have the ability and desire to not only act in front of the camera, but I look forward to collaborating with other artists in a creative environment, obtaining the all-around filmmaking experience to ensure my success within the profession."
As a current student, the sky is the limit in terms of what projects Valenzuela would like to pursue after graduation. Though, his interests as of now lie in commercials, travel shows, adventure documentaries and feature films.
With Valenzuela's proven track record of overcoming arduous obstacles, we believe he has a bright future ahead of him in the sometimes daunting pursuit of filmmaking and acting.
by nyfa