New York Film Academy (NYFA) alum Sebastiano Caccetta (Oct '13 MA, Film and Media Production) scanned the ballroom of the Hollywood Roosevelt Hotel where a press conference launching the Cinema Italian Style festival was taking place. Onstage stood "Alias Grace" star Sarah Gadon, Italian directors Jonas Carpignano and Francesco Bruni, and other major players in the contemporary Italian film industry. Sebastiano was at the press conference in his role promoting cinema and music for the Italian Trade Agency, one of the festival's sponsors.
Earlier this month, Sebastiano had reached out to his alma mater, New York Film Academy in Los Angeles, to invite students to this year's events. Celebrating its 13th year, Cinema Italian Style annually presents Italy's official submission to the Oscars as well as other recent Italian films.
All NYFA students, faculty, staff, and alumni were invited to take advantage of free tickets to festival screenings at the Aero Theater from November 17-21. In addition, New York Film Academy students Alice Nicolini and Nicolo Azzaro were selected to attend Opening Night festivities, which included a red carpet event, a screening of Italy's Oscar nomination, "A Ciambra," and a gala dinner at Mr. C's in Beverly Hills.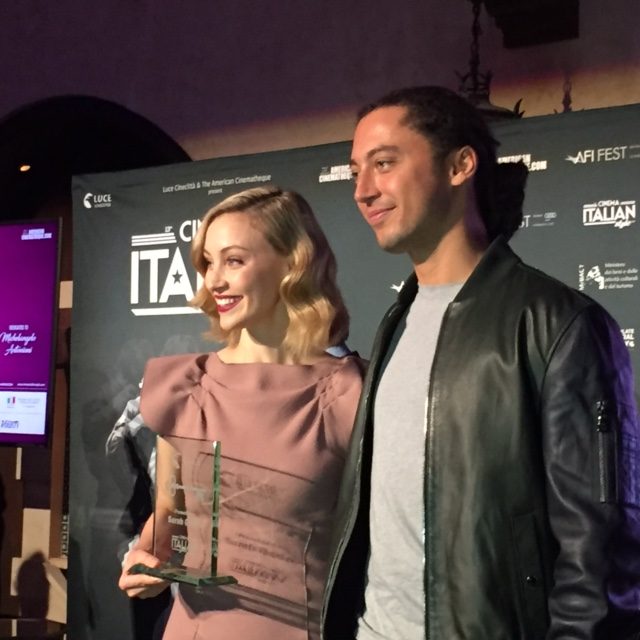 At the press conference, Sarah Gadon, star of Netflix's "Alias Grace" and a citizen of both Canada and Italy, was presented the key to historic Cinecitta' studios in honor of their 80th anniversary. A production, distribution, and film archives entity, Luce Cinecitta' has been the home of iconic filmmakers such as Federico Fellini, Sergio Leone, and Marcello Mastroianni. When Sarah noted that the key was not actually a key but a heavy glass award, an Italian official quipped, "You will just have to come to Rome to get the real one."
Jonas Carpignano was introduced as the writer-director of Italy's Oscar nomination "A Ciambra," which was executive produced by famed Italian-American filmmaker Martin Scorsese. Raised in Rome and New York City, Jonas started making films when he was an undergraduate in the US. His first feature, "Mediterranea," debuted at the Cannes Film Festival, and his second ("A Ciambra") won the Europa Cinema Label prize for best European film at Cannes, both impressive accomplishments.
Speaking of his festival experience, Jonas said, "It's always an accomplishment to get into a festival. There are different approaches to getting into them. You ask the question where can the film play? What kind of credibility and momentum can this festival give us?"
When asked if he had any advice for filmmakers on how to navigate the film festival circuit, Jonas was at first reluctant to give an answer because he has made only two features. "I feel I have an infinite amount to learn," he said. After a moment of thought, though, he came back with this: "Don't wait for someone to say it's okay to make your film. If you believe in your ideas and the people you're making the film with, go do something. Shoot some scenes. Make a trailer. Just don't wait for someone to say it's okay."
Meanwhile, alum Sebastiano Caccetta reflected on how he got where he is today. "I was 28 when I moved to LA to attend NYFA. The school taught me the American way of working and gave me a very strong work ethic. The teachers were so supportive, and the environment pushes you to do your best. Pitching my film ideas in front of my classmates gave me confidence. I learned about teamwork, how to network, how to build my schedule. Today my ability to work with Cinema Italian Style, it's because of NYFA. I'm working promoting Italian cinema for the government thanks to NYFA. I'm so grateful."   
by nyfa